It is Time to Unlock My True Potential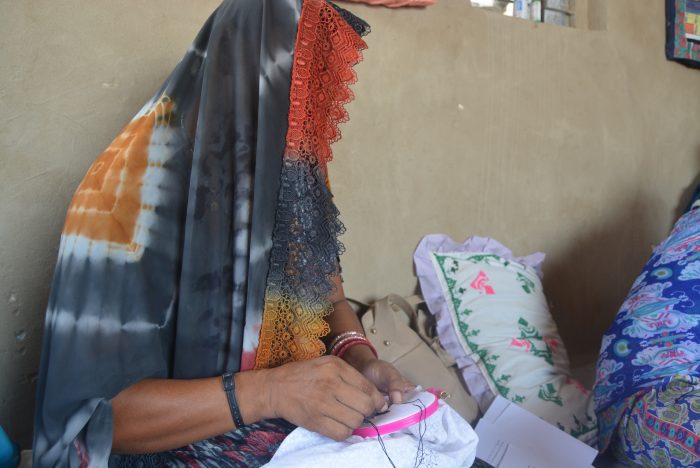 Life was not easy for Indra, a mother of three children and married to a mentally handicapped man, Hoto Mal. The family lived with Hoto's parents in the village of Kundo Meghwar, and Indra worked hard to support her family since her husband was unable to work due to his mental condition. Despite these difficult living conditions, Indra remained positive and hardworking since she believed that her situation was God's will. She chose not to worry about anything but instead to accept everything as it came. Indra was content and loved her family.
Six months ago, Community World Service Asia started a skills-enhancer program of Embroider and Appliqué in Indra's village, and it selected many women from rural villages in the district to become artisans in the program. Indra was amongst the women chosen. Through this program, women artisans are supported to become self-sufficient by teaching them embroidery and sewing techniques, linking them to the markets, and are also taught business tactics so that the women will sell their products at a market rate. Indra was already sewing women's clothes, but she now has another platform through which she can enhance her handicraft skills. After being chosen as an artisan, Indra expressed,
I really feel proud of myself because now I can manage all my domestic expenses without any help and can give my children a better life. My aim in life is to educate my children so that they can live fulfilling lives.
Indra learned many new stitching styles such as the Hurmich, Kacho, Pako and Moti Taakna at the trainings, along with making trendier and subtler designs. She tried different color pallets and identified the ones that had the most demand. She is delighted and thankful that she was able to learn new handicraft skills through this program.
After enhancing her skills as an artisan through the program, Indra now receives product orders from surrounding villages and designers based in Karachi (through the project). Through the course of the trainings, she has established strong linkages with buyers in nearby villages and the local markets. This is where she plans to sell the orders that she is currently working on and also to promote her own private orders.
Indra has already received orders from local retailers and villagers. Once the trainings and the project ends, she also plans to introduce her own new products and designs to ensure that she provides unique and one-of-a-kind products to her clients.
Through these gained handicraft skills, women artisans like Indra earn decent incomes that are unprecedented for rural women. Besides acquiring skills, these trainings and classes are an imperative avenue of social interactions and much needed entertainment for these girls and women. Prior to her participation in the project, Indra was not allowed, and even did not get the time, to go out of her house or her village much. Now, she has made many close friends at the training centers and is looking forward to meeting them every time.
I feel much happier as a person now as I now have friends whom I can talk to, share my views with and also gossip with,
smiled Indra.
We artisans will use these lifetime skills to earn as much as possible. I really appreciate the positive and rare work environment provided to women like me. This type of environment will not only change the future for artisans like us, but it will also enhance the skills of and inspire other non-artisan women.