Inspiring the women of Village Ranta
Dr. Shazia Shah, 30 years old, from Jamshoro, Sindh, is a humanitarian worker and a practising gynaecologist. She works for Community World Service Asia as the only lady doctor serving the community of Union Council Bijora, District Thatta, in the Sindh province. She tells us about the experiences, the challenges and what drives her in her work.
"My mother, Ghulam Zahra, is my biggest inspiration. She always encouraged me to do better. It was her dream to make me a doctor."
While talking about her work in the humanitarian sector, she shares:
"My work is rewarding for me, I count myself very lucky to be able to make a living doing what is in alignment with my values and the things that I believe in. The contentment I draw from working in this field motivates me to make it my life's mission to improve the lives of women and children."
When asked to share an inspiring story which she will never forget, she took a pause and recalled a former patient with a beaming smile:
"I will never forget the smile on Noor Jehan's face after she saw her new-born baby for the first time. When she came to me, her medical situation was complicated and she had no money or other means to get medical care. She was scared and in a lot of pain, I assured her that despite the complication, I would try my best and she wouldn't have to sell her livestock to pay the medical bills. She gave birth to a healthy baby here in the Maternal, Neonatal and Child Health (MNCH) center."
Dr. Shazia added that empathy and compassion are the keystones for humanitarian work; it is the ability to feel what the other person is feeling. This ability connects you with people you work for; it makes you realize that how similar we all are despite coming from different areas, background and cultures.
 "The people I have met in this line of work are among the most wonderful friends and colleagues I can imagine. The bonds that are formed working together in intense situations are very powerful, so they stay with you for life."
As the only female doctor in Ranta village, Dr. Shazia provides access to health care for women and children in need. Her services touch and affect many lives; and a huge amount of energy goes into making sure the necessary support is delivered.
Working as a humanitarian aid worker exposes you to a side of human nature and reality that we are shielded from in our privileged modern day lives. While talking about the challenges and risks she faces during her work, Dr. Shazia is candid. "It gets messy, chaotic, and difficult at times—but I am hooked." She added that, on a personal level, this experience has transformed her from a naive newcomer to a hardened, hopeful but critical realist. She expressed, "We all know that humanitarian work, especially in crisis situations or in unprivileged areas, is not easy work, but we still go for it because we believe in the worth of the work."
Dr. Shazia is a beacon of hope and a role model for many mothers and young girls in Ranta village. Not only does she provide them with medical support, but is constantly changing the traditionalist mindset of the villagers too. They are now more open to the idea of sending their daughters to study in schools.
She believes that the world needs more empowered women, and that we should motivate and mobilize women by enabling them to live their life and their dreams to the fullest potential.
"Humanitarian work can be conducted anywhere in the world. What you do today can change a person's life, so always try to celebrate humanity in your own capacity."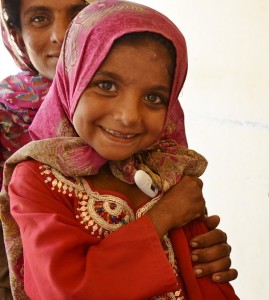 On the World Humanitarian Day, Shazia articulates, "I want to see women unified and empowered by sharing the belief that they hold the power to create and shape. They are a powerful agent of change so we all should do more to support women and promote their role in the humanitarian action"