Improving life standards- a mother steps up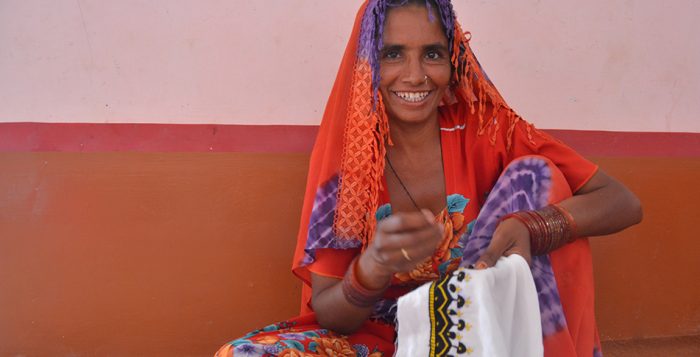 Koshlia, a mother of five, three daughters and two sons, lives with her husband Chatoon at Kharoro Charan Village in district Umerkot. She is a born artisan, belonging to a humble rural background. Koshlia struggled to meet the survival needs of her family everyday as their family had no regular source of income.
"My husband is a mason. He does not earn on a regular basis. I am an artisan and have been crafting products at our village and nearby areas. As our income is insufficient, it becomes difficult to solve emergency situations and unforeseen daily crisis."
Hope was raised when the training center was set up in Kharoro Charan. Koshlia believed that the centre encouraged the women of her village to promote and refine their handicrafts skills and culture to make them financially independent, helping them resolve their household issues. "I felt that I could change my life with new ideas, skills and exposure."
In the developing world, there are thousands if not millions of rural artisans that are living in vulnerable families and communities. There is little coordination with the outside world and as a result there is a lack of learning and skill development. An important way to strengthen and develop the talent of these artisans is to help them interact with professionals and built market linkages. While it is good to network in meetings and events, often the best way to learn is to visit and see with ones own eyes. Koshlia shared that her happiest moment was when she visited Karachi.
"It was my first time going to Karachi. I was very excited to see the products sold in the big cities and meet new people. I met with the students and designers who were crafting similar products as we did back in our village. We learnt about designing and the usage of different colors. We came to know about the vast variety of patterns that can be used to make our products unique and appealing. I feel I was very lucky to be part of such an interactive and communicative visit."
Rural women contribute to the income of families and the growth of communities in a multitude of ways which makes them resourceful economic agents. However, due to lack of resources and interaction, and restricting gender norms they face persistent discrimination. This hampers the use and achievement of their full potential. She gladly expressed,
"I am happy to be an artisan which is also our identity.  It is true that the rural women can be meaningful economic agents but limited resources have lessened our growth opportunities. I am thankful to the training centre for providing a platform of learning and development for me and many like me. I will further engage with other rural artisans to share the knowledge I gained in this exposure visit so that they can benefit as well."
Koshlia is currently earning well as she has received more orders as her products have become more trendy since her exposure visit to Karachi.
"I have been very fortunate as now I am contributing  to the income of my family. I now see my children growing in a better and healthy environment. We purchase drinking water on monthly basis and I occasionally purchase livestock fodder for our goats as well. I intend to fully support my children in acquiring education."
Women like Koshlia are striving to build a better life for their families and to bring in economic, environmental and social change in order to maximize access to better standards of living, health care and education.