Home
Newsroom
Stories
Home-grown produce help disaster-hit, small-scale farming families sustain additional income and food...
Home-grown produce help disaster-hit, small-scale farming families sustain additional income and food security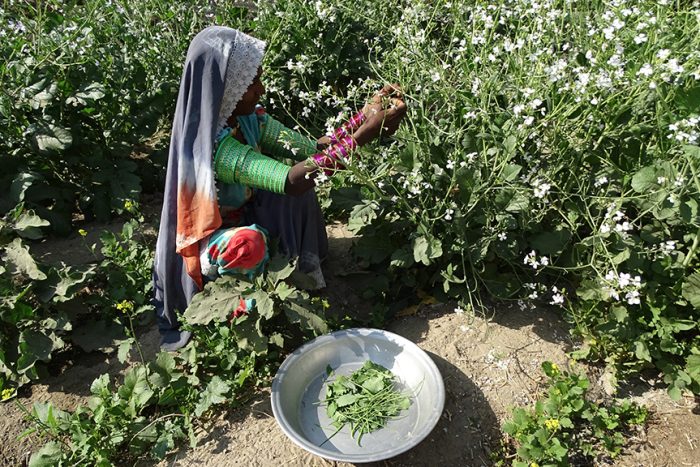 Home to 50.4 million people and vast agricultural lands, Sindh is vital to Pakistan's economyⁱ. About 37 percent of Sindh's rural population which is almost half of the province's entire populace, lives below the poverty lineⁱⁱ. The province is particularly vulnerable to natural hazards due to its geographical location, socioeconomic vulnerability, and extreme climatic conditions.
Sindh has been disproportionately affected by different climatic hazards in recent years, including flash floods, droughts, cyclones and heatwaves. In 2022 alone, different regions of the province were simultaneously hit by a drought, heatwave and floods. These disasters significantly damaged people's houses, livelihoods, livestock, agricultural and irrigation systems and the overall infrastructure, leaving millions displaced and in need of immediate humanitarian and long-term assistance.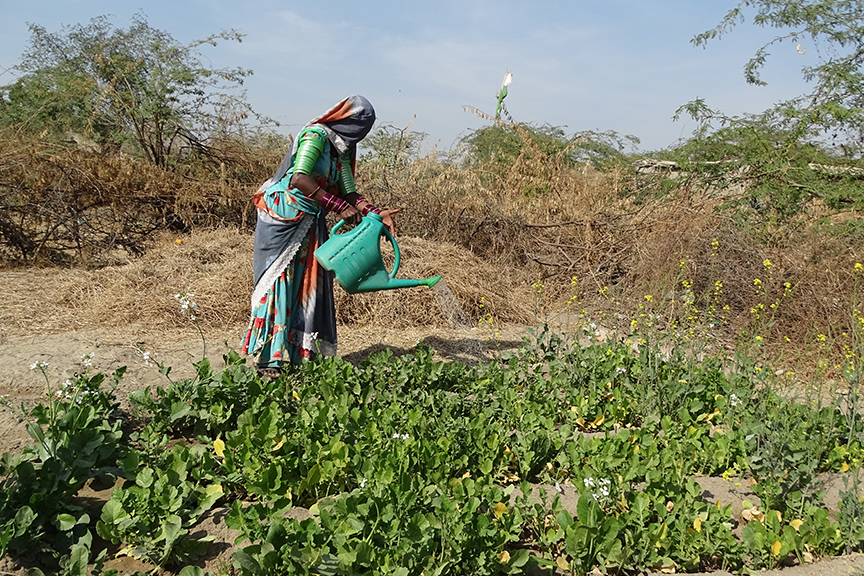 Umerkot's food insecurity in driven by underlying poverty, locust invasion, COVID-19, droughts and the recent floods. In the recent floods, a total of 1,860 houses have been damaged, affecting a population of 109,246 and displacing 18,207 men, women and children in Mirpurkhas and Umerkot. In response to the crises, Community World Service Asia (CWSA) with the support of Diakonie Katastrophenhilfe (DKH) is supporting disaster affected communities by promoting kitchen gardening as an integral part of the farming system among women in Umerkot. Though, most families in the target villages were primarily small-scale agrarian households, many of them did not keep or maintain vegetable gardens before.
Rural women in this part of the province are solely engaged in domestic chores such as cooking and ensuring that the family is well-fed and taken care of. To increase their household decision-making role and ensure a sustainable livelihood and food security source, our project focused on the women of the affected communities as key participants of the kitchen gardening activities planned under the projectⁱⁱⁱ. Since July (2022), 500 men and women, out of which 56% are women, have been trained on sustainable farming and kitchen gardening.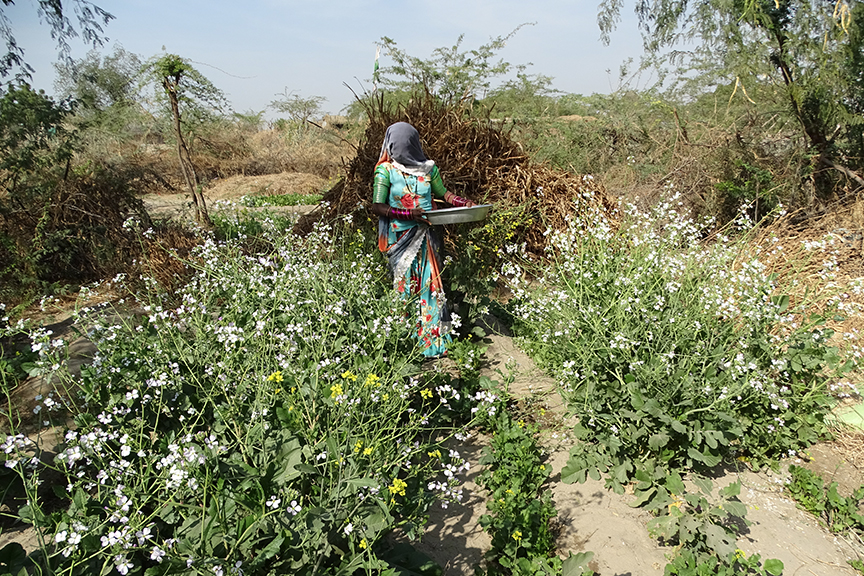 Jamna, a mother of three children, lives in Revo Kolhi village of Umerkot district. Jamna's husband, Jagsi, worked in the agricultural lands near their home in return for a small share of crops or daily wages. "He was unable to work in the fields due to continuous rains and floods this year. That meant no source of livelihood for our family. When I learned about the kitchen gardening training from the village leader, I was eager to be part of it as this initiative would allow us access to fresh vegetables and fruits at our doorstep and would give us a chance to improve the food security of our family and our growing children."
After participating in the kitchen gardening training in July, Jamna prepared her patch of land from the kitchen gardening seedsⁱᵛ she received along with a gardening tool kitᵛ.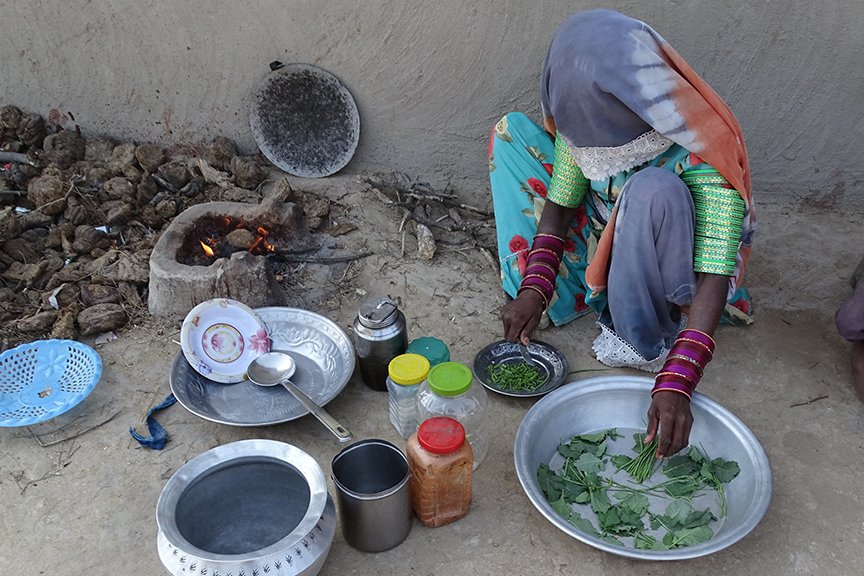 "At the training, I learnt household techniques for effective plantation of seasonal vegetables and fruits using minimum land and water. Today, I am a skilled and confident woman, proudly supporting my family financially and putting healthy food on the table. My two children under four years help me in the garden as well. They enjoy taking care of the vegetables and sharing with their friends their contribution towards growing healthy food."
Jamna began to sell the surplus of her garden's produce in the village, which helped her earn an estimate of PKR 500 every week (Approx. USD 2). "Okra, ridged gourd seed, indian squash, wild melon, bottle gourd, bitter gourd and brinjal are among the vegetables I am growing in the garden. I cook these vegetables at home, allowing me to serve diverse dishes every day. I began to save the money I used to spend to buy vegetables from the market and have saved additionally by selling the surplus. Eventually, I bought a goat from the savings. I plan to buy more livestock in the near future from saving more money. This way I will sustain my livelihoods. In times of future emergencies, my husband will not have to stress over looking for work. Our garden and livestock will help us provide for food and keep us healthy."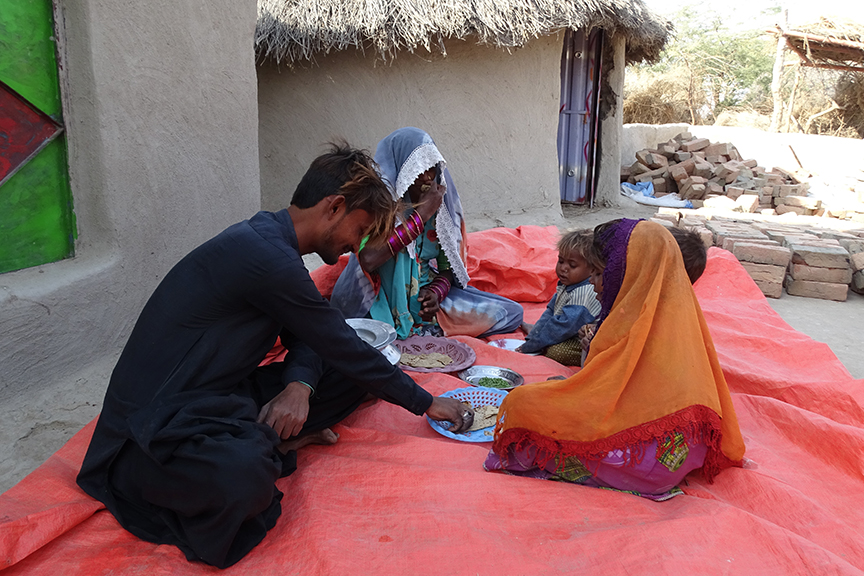 This project is helping increase food security and resilience of local agrarian communities affected by extreme climate conditions. Jamna's husband, Jagsi, received cash assistance, in July and August 2022, under the same project of PKR 24,000 for three consecutive months. "From the cash support, Jagsi bought groceries including flour, sugar, tea and other staple goods to compliment the dishes I am making from the home grown fresh vegetables," says Jamna. The kitchen gardening and cash support is helping affected families like Jamna's to overcome food insecurity and rebuild their lives.
---
ⁱ https://www.worldbank.org/en/news/factsheet/2022/12/19/factsheet-sindh-flood-emergency-rehabilitation-project
ⁱⁱ Worldbank fact sheet 2022
ⁱⁱⁱ Strengthening the livelihoods and resilience of vulnerable agricultural communities in rural Sindh, Pakistan
ⁱᵛ All the participants in the trainings received 50 grams of diverse vegetable seeds including okra, Indian squash, bottle ground, bitter ground, wild melon, eggplant seed and ridged guard.
ᵛ Including Hand sprinkler, Hoe, Rake, Sickle, Hay rake and Green Net