Giving a sense of hope for differently-abled people in rural villages of Sindh, Pakistan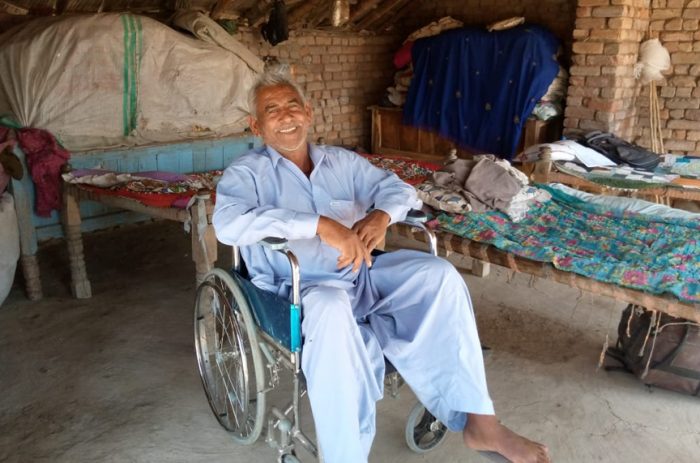 Lalo is from a small village in Umerkot's Pithoro tehsil[1] called Achhlo Kolhi which mainly homes a Kolhi[2] community settlement, consisting primarily of farmers from a religious minority population in Sindh. The village is located at a 10 kilometres distance from Community World Service Asia's Maternal, Neonatal and Child Health (MNCH) center in Pithoro, which was set up under its health project[3] in collaboration with Act for Peace. The Kolhi community have limited livelihood prospects due to their heavy reliance on agriculture and many of them are living below the poverty line. Currently, eighty of the Kolhi households in the village even lack basic amenities such as safe drinking water, education, and health care.
Lalo supported his wife and seven children working as an agrarian farmer for long hours on agricultural fields in the area. His elder sons also worked on the fields with him and the family survived and sustained on the income from the farming on a day to day basis. Something tragic that happened last year (2020) deprived Lalo of this livelihood, changing his life forever and left the family in a crumbling state.
"Working in the agricultural fields provided me with a monthly income of PKR 10,000 (Approx. USD 63). In April of 2020, I paid a visit to a relative of mine, Geno, who lived in a nearby village, Bacha Band, during monsoon season and it was raining heavily. We were in a room when the roof fell over us, burying us beneath the rubble. Both of us were seriously injured and were transported to the hospital straight away. Geno succumbed to his injuries after a month in the hospital. While I was left with a crushed femur (thighbone) and have been unable to walk since."
Lalo was well known for his social skills and actively socialised within the community. He was a hardworking father and husband who worked for hours in the agricultural fields, collected fodder for the animals daily, visited the nearest town to buy household groceries and happily took part in all religious rituals and family events. However, the accident changed this lifestyle of Lalo. It became very difficult for him to manage anything on his own. Most of his days were spent lying down in bed, as he struggled to move about with only his hands. Lalo could not work on the fields anymore, an activity he had grown accustomed to and was a sole source of income for his family and him.
With the help of the wheelchair, Lalo has been more mobile and is able to attend to some household chores as well as socialise as he used to. "At times when I felt more pain, I have not been able to visit the MNCH. However, now I am able to visit the health centre when needed. I am also participating in our religious rituals again. This initiative has given me hope to come back to the normal life I had and step towards a good and healthy life."
---
[1] In Pakistan, a tehsil (or taluka) is an administrative sub-division of a District. Those are sub-divided into union councils.
[2] Kolhi is a subgroup of Koli community native to Sindh, Pakistan. Kolhi's mostly are Hindu but some of them are Christian and Muslim.
[3] Umerkot Health Project, implemented by Community World Service Asia and funded by Act for Peace