Evacuating to Safer Grounds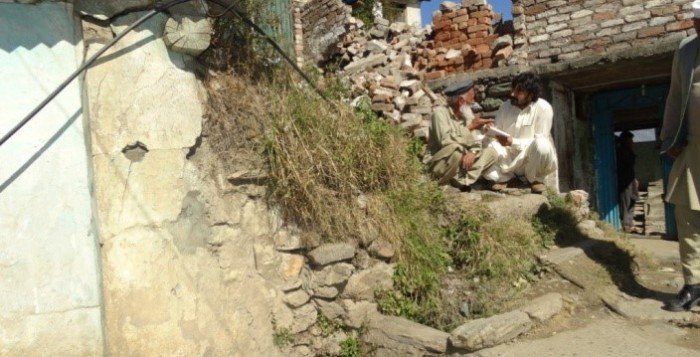 "My entire family was at home as the earthquake struck. I yelled at all of them to come out to the open yard in front of the house. They all rushed out. We all gathered outside, staring in awe at the shuddering building of our house and everything around it. However, as the earthquake continued, the brick wall of the mosque next door to our house collapsed, with bricks falling on three of my granddaughters, aged 16, 10 and 5.

 My dear grandchildren were trapped under a heavy pile of bricks and I was helpless as I could not rescue them from the rubble on my own, even when I tried. All of us were in a state of trauma and my hands were shivering.

After a little while of the earthquake ending, fellow villagers came to help me rescue my injured family members. We pulled them out of the rubble together and immediately took them to the Central Hospital in Mingora where all three of the girls were admitted and given treatment. Two of my younger granddaughters fractured their legs while the elder one fractured her jaw and a leg. Her jaw has been operated upon in emergency and the doctor has advised for a follow up operation as well."
This is the first account story of a 65 year old Rahim Gul, head of a family of ten. He belongs to and lives in the earthquake affected Union Council Malik Khel in District Shangla. Rahim Gul owns and runs a small tuck shop in his resident village, through which he supports and fulfills the basic needs of the family.
On October 26th, Rahim Gul had returned home for lunch when the dreadful earthquake of magnitude 7.5 struck their home village. Seeing his family affected and his grandchildren hurt, he has been feeling helpless.  Rahim Gul feels guilty for asking his family members to evacuate to the open yard outside his house since the house survived the earthquake without much damage. Little did he know they were in more danger outside than inside the house.
The concerned grandfather has not been interested in claiming any relief from organizations or the government but is worried for his injured grandchildren.
Community World Service Asia's Emergency Health Response team is currently providing health services through their Mobile Health Unit in District Shangla. The unit is supported by a Mobile Laboratory that diagnoses the affected communities through tests. The unit has so far conducted 1853 consultations in the five union councils of Kuz Kana, Shahpur, Pirkhana, Lelownai, and Malak Khel of district Shangla. A total of 869 male and 984 female patients have been checked at the MHU since it has been set up. These include children. In addition, 136 lab tests have also been carried out in these three union councils.
We have also distributed one month food rations to 371 earthquake affected families in Shangla as part of the response.  Provision of emergency winterization kits and more food packages as a means of extending the assistance is to be continued in the following weeks. Our current target districts for response are Shangla and Swat while expansion to other districts is subject to the community needs and the availability of funds.
Please follow our live photo update from the earthquake affected areas on our Facebook page at: https://www.facebook.com/communityworldserviceasia/