Empowering Communities Through Joint Action and Advocacy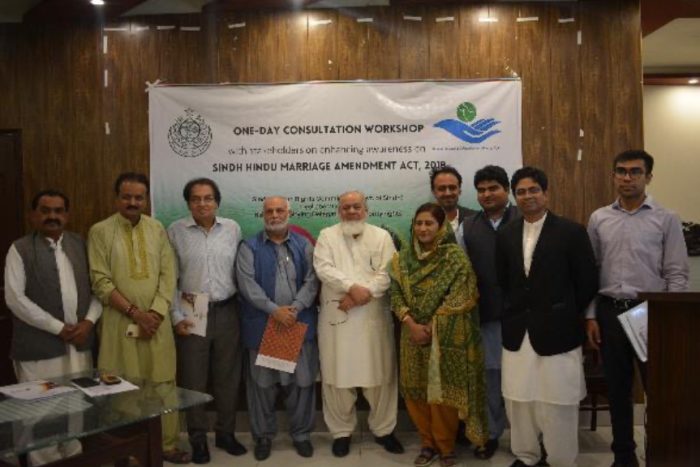 Community World Service Asia and the Sindh Human Rights Commission-SHRC collaborated to organise a series of interactive, day-long consultation/capacity-building workshops. These transformative events, held on March 15th and 16th in the cities of Hyderabad and Mirpurkhas, and later on April 28th, 2023, in Sukkur, aimed to identify and chalk out a path towards building a more inclusive society by raising awareness on the Sindh Hindu Marriage Amendment Act, 2018.
Drawing a diverse crowd of visionaries and activists, the workshops became a melting pot of joint wisdom and compassion. Dignitaries from the local government, including Regional Directors, Assistant and Additional Directors, Secretaries Union Councils, Town officers, and revered Pandits1, congregated under one roof. Their presence symbolised an unwavering commitment towards building am inclusive and just society where every citizen's rights are protected and celebrated.
With fervour and anticipation in the air, the workshops unfolded into energetic conversations. Participants embarked on a transformative journey, navigating the intricacies of the Hindu marriage registration process. Together, they delved into the web of documentation requirements, dissected the daunting challenges faced by the community in implementing the Act, and sought to identify the reasons behind the lingering delays in Pandits' registration process across Sindh.
The impact of these workshops was substantial and far-reaching. In a resounding show of solidarity, the Regional Directors of local government in Hyderabad, Mirpurkhas, Shaheed Benazirabad, Tando Muhammad Khan, Dadu, and Sajawal stepped forward to champion the cause. Their unwavering commitment led to the issuance of directives, breathing life into the noble aspirations of the Sindh Hindus Marriage Amendment Act, 2018, within their respective districts.
As the curtains fell on these inspiring gatherings, accolades were rightfully bestowed upon the National Lobbying Delegation (NLD). This hardworking and recognised group, featuring activists like M. Parkash, Krishan Sharma, Pushpa Kumari, Jai Parkash, Anthony Naveed, and Dr. Sabir Micheal, left an indelible mark on the workshops. Their sage guidance and expertise, interwoven with the passion of the Sindh Human Rights Commission staff, ignited a flame of hope in the hearts of all attendees. It was a true testament to the transformative power of collaboration.
None of this would have been possible without the meticulous management, guidance and planning of Community World Service Asia's team. The team's unwavering dedication and efficient implementation ensured that these workshops remained relevant to the cause and focused.
Through this effort of collaboration, a brighter future for marginalised communities begins to take shape. These workshops stand as a testament to the power of collective action, where diverse voices harmonise to redefine social norms and create a world where every individual is recognised, respected, and protected.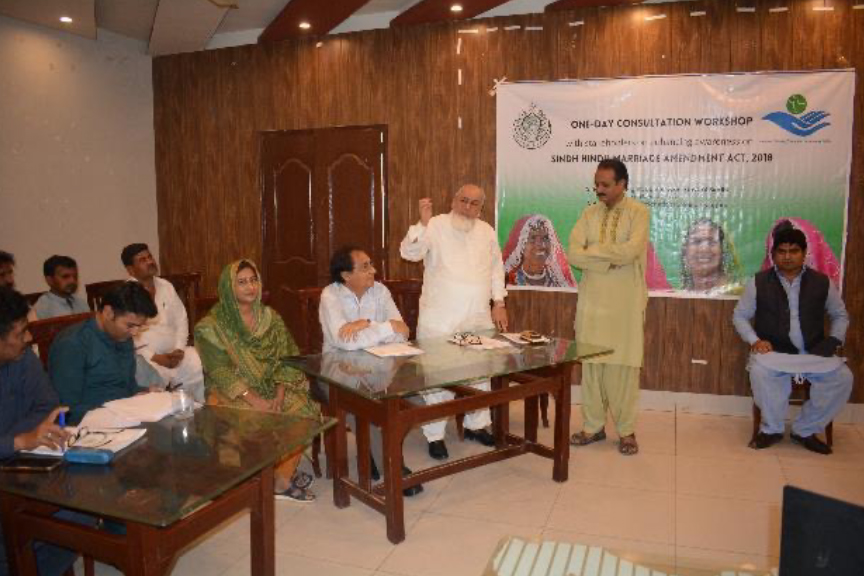 More about these collective efforts and their impact on the implementation of the Act in the media here:
---
Hindu religious leaders