Earthquake-Resilient Homes: A lifeline for survivors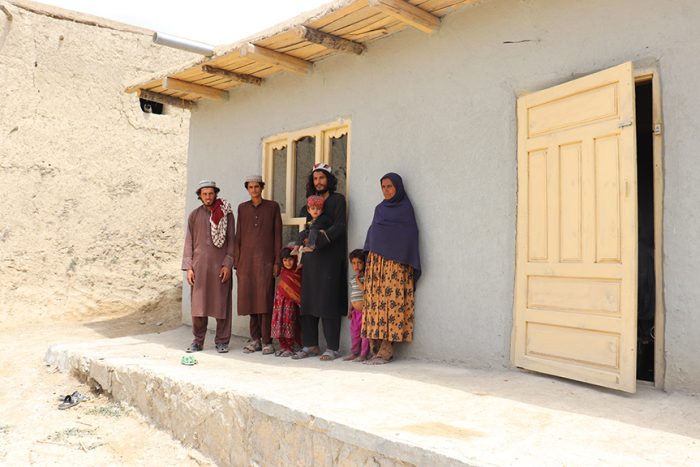 Samira, a 55-year-old woman, leads her family of eleven members residing in Warra village of Paktika province. Originally from the Laki Marwat district of the Khyber Pakhtunkhwa province in Pakistan, she married an Afghan man and has been living in Warra village since then.
In 2016, the entire family moved to Pakistan in search of job opportunities, hoping for a steady income and a better standard of living. Unfortunately, their aspirations for a brighter future were cut short when her husband fell ill with Black jaundice. The family spent up to PKR 1,400,000 (Approx. USD 5027) on his treatment, a significant portion of which came from loans taken from relatives. Till this date they are still unable to repay these loans.
To make ends meet, Samira's sons went out every day to find work as daily wage labourers, loading and unloading trucks in a local market. This earned them up to PKR 500 a day (Approx. USD 1.8). Living as undocumented migrants in Pakistan was not easy and made formal employment difficult to secure for them. In March 2022, the family finally made the difficult decision to return to Warra village. "My eldest son was suffering from a mental disorder due to various challenges since his father died, as he was the sole breadwinner supporting the household," shared Samira.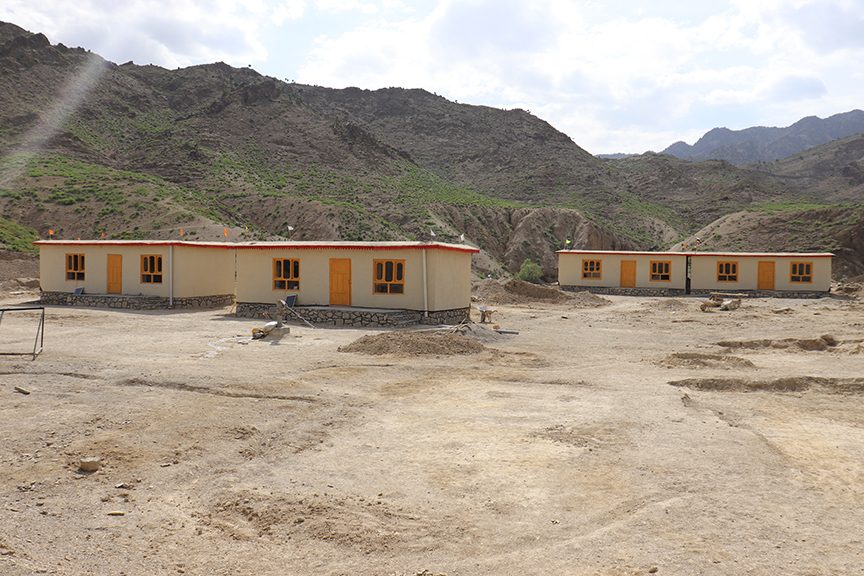 Upon returning to Warra village, the family faced even more challenges. They had no option but for all of them to live in a single-room house with a kitchen. They attached a tent to the house since one room was insufficient to accommodate their large family. The family included Samira's three sons aged between 26 to 21 years, two of them married and with their own families, a 19-year-old daughter and five grandchildren.
Since the family returned to their hometown at a time of economic crisis in Afghanistan, they struggled to find jobs and make ends meet. Their only source of income was their one jerib1 agricultural land, which produced wheat as an intercrop.
The young men began collecting firewood from the mountains and selling it in the local market at reduced prices as a source of livelihood. Samira's sons were able to earn up to AFN 200 daily through this. The mountains housed natural forest that held abundant firewood, considered public property, however they were being indiscriminately harvested by local residents due to poverty and the absence of laws and policies for sustainable resource management. For now, given the widespread poverty and rising inflation, local communities are grateful for this source of income, but in the long run it will have irreversible negative consequences on the country's natural resources and on climate change.
Three months since their arrival in Warra, a devastating earthquake shook their entire village, reducing their home to rubble. Fortunately, there were no casualties, but Samira's entire family, including young children, found themselves without a house and lived in tents for an agonising eleven months. Their financial situation was dire, preventing them from procuring building materials or borrowing more money, as they still had unpaid debts from the past.
Samira recounted the hardships they endured, stating, "We had no choice but to use the wood that my sons had stored for sale. With temperatures plummeting to -20°C during winter, it was challenging to keep the tent warm. Adjusting to a reduced food supply became our norm, but the absence of proper shelter was an entirely new challenge. My younger grandchildren fell ill frequently, and we lacked the funds to purchase medication. Consequently, I heeded the advice of fellow villagers and turned to herbal remedies. Throughout the winter, my daughters-in-law and I stayed up all night, tending to the sick and ensuring the heating remained on to shield them from the brutal cold."
The June 2022 earthquake introduced a fresh set of challenges and hardships for Samira and her family. Taj Muhammad, the second son, encountered an additional burden as his wife developed a mental disorder due to the earthquake's trauma. They had to borrow AFN 50,000 (Approx. USD 660) from relatives to fund her treatment, leading to four visits to Ghazni provincial hospital. Fortunately, she has since recovered from her mental disorder.
In the initial months following the earthquake, some humanitarian NGOs provided the family and other affected communities with food assistance. However, being a large family, this aid quickly dwindled despite their careful rationing. Again, they were compelled to use the firewood they had intended to sell for income to instead heat their tent during the harsh winter months. Consequently, they endured the winter with a meagre diet comprising mainly of wheat bread, corn, and potatoes they had managed to purchase.
Under Community World Service Asia (CWSA), Japan Platform and CWS Japan's safe shelter project, fifty families including Samira's were provided with USD 2,486 (Equivalent to AFN) for the construction of earthquake resilient homes. The construction process was guided entirely by the technical expertise of CWSA's engineering team, who made regular visits to oversee construction, inspect construction materials, and provide guidance to the families throughout the construction phases. Additionally, as part of the project's broader scope, awareness sessions on safe shelter were conducted. These sessions raised awareness among earthquake affected communities on construction techniques for earthquake-resistant structures, local disaster preparedness, and resilience. This knowledge-sharing extended to a total of 1,600 individuals, including members of the community, engineering students from Paktika University, and technical engineers from other non-governmental organisations.
"Life grew increasingly difficult with debt, poverty, and hunger as constant companions. Enduring freezing temperatures below minus 20°C in a tent added to our daily hardships. However, when the project commenced, my brothers and I eagerly began construction under technical guidance. We were the first to complete our new house. For two months, we have enjoyed a return to normalcy, no longer fearing for our family's safety. Debts and food needs persist, but now we can focus our energy on addressing them," stated Taj Muhammad.
"This support has allowed us to embark on a life of normalcy and dignity. Every contribution made by these humanitarian organisations is a lifeline for individuals in a country like ours," expressed Samira.
---
The jerib or djerib (Persian: جریب; Turkish: cerip) is a traditional unit of land measurement in the Middle East and southwestern Asia. 1 Jerib = 0.4995408631772268 Acre (ac).