Home
Newsroom
Stories
Collaborating on Strengthening the capacity of present and future NGO practitioners in...
Collaborating on Strengthening the capacity of present and future NGO practitioners in Pakistan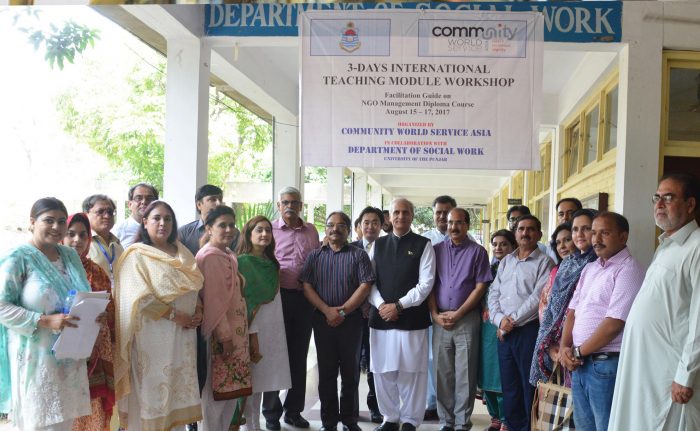 As part of developing the syllabus for the Post-Graduate diploma in NGO Management, faculty from universities and colleges of Punjab, Peshawar and Sindh (Jamshoro) along with representatives from the provincial social welfare department and Community World Service Asia staff came together for a three-day consultative workshop in Lahore this August. The key objective of the workshop was to discuss and agree on the main contents of the teaching guideline for each of the modules taught under the NGO management course and develop clear action plans for the course.
The interactive and discussion filled workshop facilitated by Takeshi Komino, Deputy Director and Disaster Risk Reduction (DRR) Expert, Community World Service Asia, had a participation of twenty academia practitioners, fifteen women and five men. These included University Professors, Assistant Professors, Lecturers and college teachers, from across Pakistan.
To support universities in teaching about humanitarian and development practices (based on field work) and empower them on tools and approaches used by development professionals, Community World Service Asia succeeded in developing partnership with two Universities i.e., University of Peshawar and University of the Punjab. Both of these universities are among the oldest institutions in Pakistan. In both the universities, the Department of Social Work has been assessed to being very similar to the work of the aid and development sector.
Community World Service Asia then initiated the process of supporting both institutions in designing this new post-graduate diploma course through a six step process leading to the launch of the degree. Peshawar University already launched the degree in February this year and received an overwhelming application response from graduate students and some NGO practitioners. While, University of Punjab aims to start offering the course in December this year and University of Sindh plans to initiate it sometime in their 2018 semesters.
This workshop is part of the technical and consultative support that Community World Service Asia is providing to the academia in assuring that the degree fully meets its objective of familiarizing students with the fundamental concepts of NGO management and its project implementations, its role in bringing about social change through explaining the various dimensions in which it works. The next step in this process is to conduct a Training of Trainers on "Creative Facilitation Skills" to further strengthen the capacity of faculty members teaching the various course modules.  This is planned to be held in Peshawar University this October.
Academia Insights: