Championing unity among communities of all faiths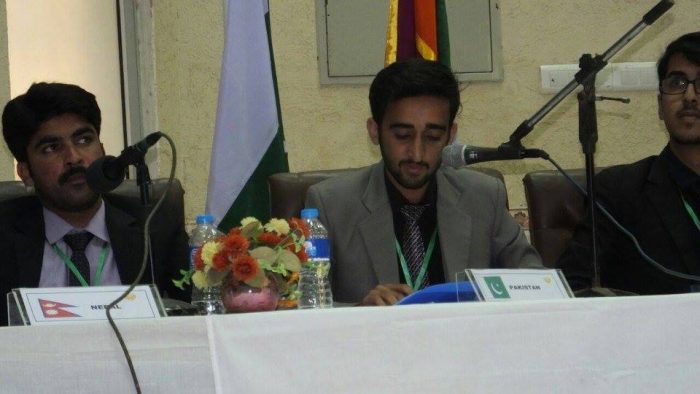 Every year on 12 August, the world celebrates International Youth Day. The annual occasion – spearheaded by the UN – celebrates young people and raises awareness about issues that affect them. There is a growing recognition that as agents of change, young people are critical actors in conflict prevention and sustaining peace. Young people like Ghulam Ali Asghar, are contributing their efforts to make social justice and sustainable peace popular.
Ghulam Ali Asghar Bhutto is a twenty-three year old student of the Department of International Relations at the University of Sindh in Jamshoro.  Social change in his view is a need which must become a reality now. According to Ali Asghar, the youth are the most affected by ground level social issues in a society.
"Social change has become a dire need for us. The youth's role is important in reshaping the society as their future depends on it. Essential modifications are required in increasing liberal values and towards lowering the levels of religious extremism. We should mend the wrong doings which are occurring in the society today and correct ourselves where we were taught wrong."
"Discrimination separates people on the basis of ethics, religion, race or even gender in many cases,"
added Ali certainly.
"Though existing in our society for so long, discrimination cannot be justifiable. It has always created negative differences amongst people and have been a cause of many fights in history. I want to admit here that I was wrong in many instances when I discriminated against my classmates on the basis of religion.  Being more aware of the teachings of other religions and of democratic and human rights, I have realized that I was wrong in doing so as people of faiths other than Islam have as much a right of living a free life as anyone else, anywhere,"
expressed Ali positively.
According to Ali, leadership roles allow youth the opportunity to be in positions of influence and develop skills.
"Youth leadership opportunities are often overlooked, either knowingly or unknowingly, but the results are the same; a lost opportunity for young people to take the lead. I believe that youth leadership is pivotal as tomorrow we will be the ones in positions of power, such as politicians, bureaucrats, lawyers or parliamentarians, having a direct effect on our society."
Ali conducted introductory sessions on "Youth and Social Change" in various departments of his university. He disseminated handouts among his fellow school mates on the Universal Declaration of Human Rights (UDHR), International Covenant on Civil and Political Rights (ICCPR), Good Governance, Democracy and Peace.
"All the students were amazed to know about the rights they have been granted nationally and internationally. The professors at the university appreciated our initiative and encouraged other students to share such information they believe is beneficial for all."
Ali, along with some of his friends, conducted a seminar on Youth's Role in Social Change in a church hall in Hyderabad on the 18th of May.
"As it was a church, all the communities, namely Christian, Hindu and Muslims from different sects helped in the preparation process. All of us organizers were divided into different groups; including the facilitation group, which gave presentations on Discrimination, Human Rights and Youth Leadership, while the theatre group performed a play highlighting the flaws in the society and how to combat them together. People from the various communities and students from different institutions attended the event and appreciated our efforts for organizing such an impactful event which delivered strong messages of peace and interfaith harmony."
Ali, with his peers, Irteza Jamil, Tanveer Ahmed and Mohammad Adeel, conducted additional sessions on Human Rights, Youth Leadership and Good Governance at the Askari English Learning Centre and Mehran Academy in Karachi. He disseminated the handouts at these sessions as well.
Young people's inclusion is key to sustaining and building peace in societies and civilizations. The youth is leading change, and International Youth Day celebrates their ability, skill, motivation and recognition in continuing to do so.