Home
Featured
Newsroom
Bridging education gaps as a massive humanitarian crisis unfolds in Afghanistan
Bridging education gaps as a massive humanitarian crisis unfolds in Afghanistan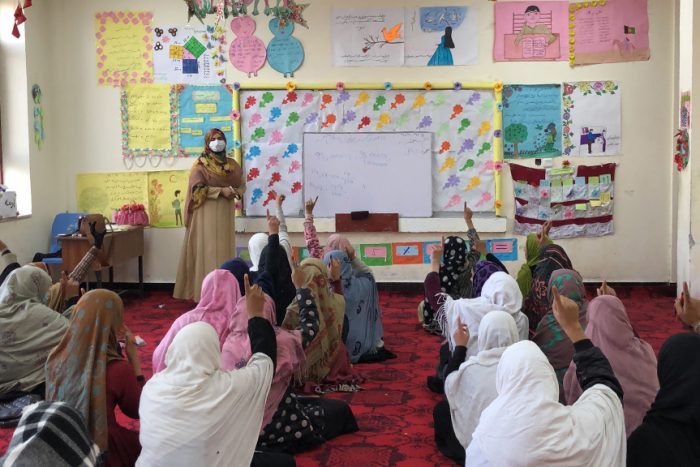 Education has always been strictly segregated by gender in Afghanistan, and with the new regime, this has become even more rigid and severe. In many provinces, girls and women teachers have been restricted from attending secondary schools. Some hope that this is temporary and that they will eventually be allowed.
"Schools opened for boys of Grades 7 -12, but there is still no word on when we may be able to return to our classes," said Kinaaz, a 16 year old student of Grade 12 from a Girls High school in the Behsud district of Nangarhar. Kinaaz's younger siblings are currently attending primary school.
Kinaaz is optimistic about higher schools reopening in some provinces. "We wish that schools will open up in Kabul and other provinces. We were very sad when we heard that our school has been closed. My father comforted and clamed me down that a day will come when I will resume my studies and gain high education to become a professional construction engineer."
"After a week of no school, I heard an announcement from a local mosque. It was about English language courses and other subject courses offered in an education centre for girl students. I jumped out of my bed excitedly and immediate ran to my father to share the news," shared Kinaaz.
Next day, Kinaaz joined two of her previous classmates and headed towards this new school. "As we reached the education centre, we went to the registration desk to enrol ourselves in the courses available. I enrolled myself in the mathematic course as I find this subject challenging."
Twelve education centres have been established in Behsod and Sukhrod districts by Community World Service Asia and Act for Peace. These centres aim to ensure the effective use of available educational resources and to foster parental and student satisfaction among local schools and its curriculums.
The centres are helping students overcome language challenges, supporting them with completing enrolment documents, facilitating some science courses and helping students and parents navigate through any other school-related matters. Students, parents, and communities are encouraged to consult Education Centres and awareness-raising sessions on the importance of girls' education and the role of education in enriching integration are conducted under the project in the local communities.
A total of ninety students enrolled in the centre set up in Behsud since November, 2021. While sharing her experience of the class, Kinaaz said, "The 3-month course has cleared many mathematical concepts and provided ample information on the subject. The teacher is very vocal and interactive with the students. After returning home every day, my father discusses the lesson we studied the same day in the class, giving me the opportunity to revise the lesson. The centres are well equipped with stationary kits, white board, flip charts, marker, handwashing kits, soaps and carpets to sit on comfortably. After the course completion in January 2022, I will enrol myself in the English course too to continue my learning here."