Beyond Despair: A survivor story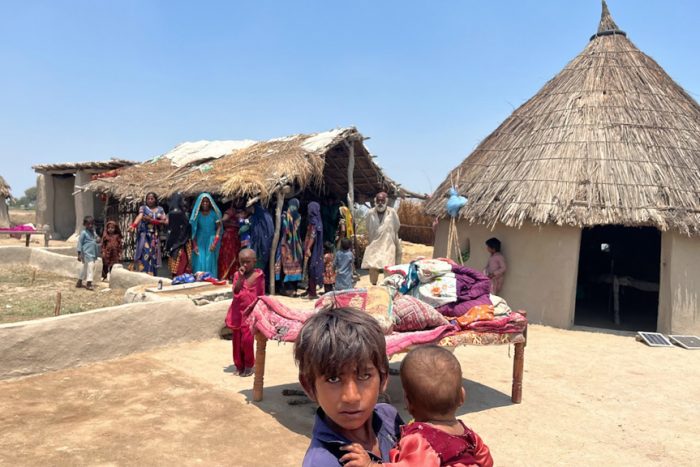 There was unease in the air that day over Arbab Nori, a tranquil village, nestled in Mirpurkhas district of Pakistan's Sindh province. And suddenly the clouds burst, unleashing torrential rains upon it and other unsuspecting villages. As the rivers swelled beyond their banks, a merciless deluge swept through Arbab Nori, transforming it into a sea of despair. Homes were submerged, roads were rendered impassable, and crops, which sustained the community, were mercilessly swept away. Unprepared for such a catastrophic event, the village quickly sank under the onslaught. Homes that stood proudly, crumbled to pieces, valuable possessions swept away. Families clung to each other in the chaos, desperately climbing to higher grounds, praying for salvation.
As the water rose, fear and panic gripped villagers. Families were separated, their anguished cries carried away by the current. The villagers left their homes and were away from their village for almost two months. During their time on the higher grounds, affected communities were desperately waiting for help. They had nothing to eat, drink or extra clothes to wear. "We were given a few food items by our landowner. No one else came to us," stated Ashida. The food items given to the villagers only lasted a week. In those dark days, the villagers were forced to spend weeks in makeshift tents without food or proper shelter.
Upon their return when the water subsided, the true magnitude of the devastation revealed itself. The village was unrecognisable; reduced to a desolate landscape strewn with remnants of shattered lives. The loss of loved ones, homes, and livelihoods was an unbearable burden that the survivors would carry forever. "My husband passed away in 2019. I had built my home with him. Now not even a wall of our house remained. The rain took away everything," shared Ashida, a 65-year-old woman, who lost the only asset her late husband left her with.
The scars of this disaster will always remain with the people who were hit hardest by it. For many of them destroyed houses were no longer places of comfort, but remnants of lost memories. But these are resilient people and they refuse to let their spirits be defeated. They are now finding new ways to sustain their livelihoods and rebuild their lives.
Amidst the rubble and ruins, affected communities began to piece together their shattered lives. Upon the return to the village, they were soon provided with some aid that helped them rebuild their lives from scratch. A strong synergy between Community World Service Asia and its partners has proven to be a force of change in the lives of these people, enabling them to rehabilitate and restore their lives and livelihoods. Community World Service Asia, with the support of Japan Platform, launched its Floods Response project in October 2022 that provided some of the hardest hit flood affected communities with a cash assistance of PKR 12,000 for three months.
"We had no food and no roof over our heads but the support provided has helped us put food on the table. We bought sugar, tea leaves, rice, wheat and spices from the cash given. I was able to save some money from which I could take my mother to the clinic and buy her medicines," said Babul, Ashida's son.
What made survival more difficult for these communities was the rising inflation. Some families housed more than five members and for them even this cash assistance hardly covered their most basic food expenses due to the extreme price hike in the country.
The flood submerged the village of Arbab Nori, but it could not extinguish the fire of hope burning in the hearts of the villagers. Humanitarian assistance, in all its forms, played a pivotal role in their survival and eventual road to recovery. The resilience and solidarity demonstrated in this collective effort is a testament to the profound impact that can be achieved when communities and their partners come together with compassion, empathy and a genuine commitment to making a difference.