Afghanistan Earthquake; Thousands left homeless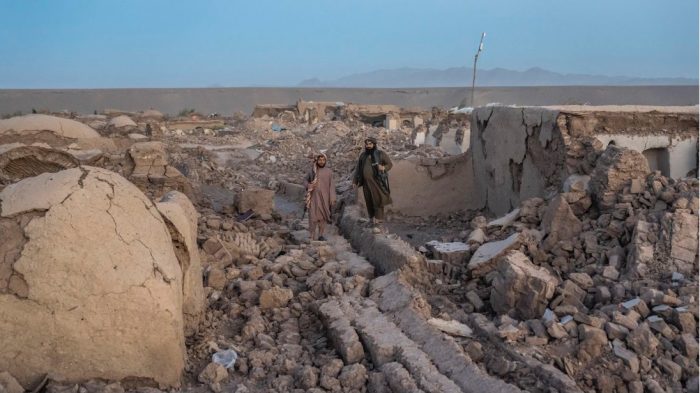 Photo credit: cnn.com
UNOCHA Afghanistan reports a hundred percent of houses totally destroyed in 11 affected villages in Zindajan district. An additional 416 people (203 men and 213 women) remain to be missing in this district. In total, 11,585 people (1,655 families) are assessed to have been affected across Zindajan (1,320 families), Injil (150 families), Gulran (95 families), Kohsan (60 families) and Kushk (Robat-e-Sagani) districts (30 families) till date. The number of casualties and affected households is expected to rise as search and rescue operations are still ongoing in remote areas and initial assessments are yet to be completed. Displaced communities are temporarily staying in congested shelters, with limited water and food.[2]
The majority of those injured are being treated in the Herat Regional Hospital, which is serving as the main referral point for earthquake victims. The hospital is currently treating 552 patients (81 men, 199 women, 229 children and 43 unknown). It has also confirmed the deaths of 252 individuals so far (WHO). Almost 100 severe cases were referred to five private hospitals for further treatment. Health professionals in the country warn of a potential increase of infectious diseases in the aftermath of the earthquake.
Since last night (Oct 8th), the de-facto authorities (DfA) have transported women and children from Naieb Rafi village whose homes have been completely destroyed to Herat City. On-going assessments have identified 33 unaccompanied minors, 15 unaccompanied elderly, and 48 women-headed households in Zindajan district.[3]
Priority Needs
Initial assessments are still underway but it is clear that a significant number of people have been displaced and are left without homes. An immediate need for safe shelters, winterisation and hygiene kits is anticipated for the upcoming winter season. Food security, especially nutritional supplies for children, pregnant and lactating mothers have been identified as a priority at the moment as well. There is a great need for psychological first aid for survivors and child-friendly spaces for children experiencing trauma and loss of loved ones.[4]
Community World Service Asia
Community World Service Asia (CWSA) is a non-governmental organisation registered in Afghanistan, and has been working with Afghan communities since 1980, responding to humanitarian emergencies and implementing long-term development projects. Currently we have four offices in different locations in the country with an overall team of two hundred staff members in Afghanistan. Since the regime change in August 2021, the organisation has taken an even more active role in global fundraising for emergencies and in responding to urgent humanitarian needs in the country. In June 2022, CWSA was one of the first organisations to immediately respond to the earthquake that hit Paktika and Khost in eastern Afghanistan, reaching nearly 2000 earthquake affected households through cash for food assistance and provision of transitional, disaster resilient shelters in the two provinces.
CWSA's Initial Response:

Community World Service Asia's emergency teams are on the ground and are in continuous communication with relevant stakeholders, including UN-agencies, local authorities, and community members to ensure consistent coordination and an effective response, avoiding an overlap and duplication of humanitarian response in the area.

Our key areas for immediate emergency response are:

» Emergency shelter: 1000 winterised tents → Budget: US $ 420,000
» Multi-Purpose Cash Assistance (MPCA) for 3 months for 1000 affected households → Budget: US $ 1,590,000
» Winterisation Kits: 1000 kits for a thousand affected families → Budget: US $ 420,000
» Quality & Accountability Resources & Training → US $ 35,000
Contacts:
Shama Mall
Deputy Regional Director
Programs & Organisational Development
Email: shama.mall@communityworldservice.asia
Tele: 92-21-34390541-4
Palwashay Arbab
Head of Communication
Email: palwashay.arbab@communityworldservice.asia
Tele: 92-21-34390541-4
---
1 Varying numbers reported so far. UNOCHA Afghanistan reports 1,023 deaths while ANDMA reports 2445 today (Oct 9th)
2 https://reliefweb.int/report/afghanistan/afghanistan-earthquake-herat-province-health-situation-report-no-2-8-october-2023
3 https://reliefweb.int/report/afghanistan/afghanistan-earthquake-herat-province-health-situation-report-no-2-8-october-2023
4 https://reliefweb.int/report/afghanistan/afghanistan-earthquake-herat-province-health-situation-report-no-2-8-october-2023