Home
Newsroom
Stories
A Force to reckon with: One Woman's Determination to Improve Marginalized People's...
A Force to reckon with: One Woman's Determination to Improve Marginalized People's Lives through Social Work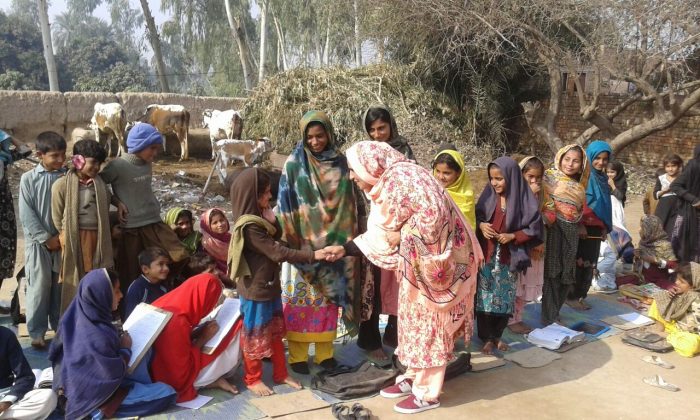 Social mobilization is the backbone of any non-governmental organization.  Since most work of NGOs are centered around communities, social mobilizations becomes essential,
insightfully remarked, social worker Umme.
Social workers act as changing agents in the society by motivating communities to think about their social and economic problems in a community forum. This enables the community to work together in achieving their mutual goals of social welfare.
Forty-seven-years-old Umme Kalsoom Siyal, resident of one of the poorest and most under-developed areas of Punjab, Pakistan, has always had a passion for social empowerment and improvement. Umme is the first woman social worker from Dera Ghazi Khan, a district in Southern Punjab province of Pakistan, and home to a community that largely discourages women from stepping out of their homes, even for basic needs. Umme, however, is a fearless lady who not only stands up for herself but also for the disadvantaged community around her. Her numerous demanding experiences in her social work reveal this inner strength and resolution, encouraging her to never give up.
Umme first began her career in social work in 1994 as a supervisor, along with her husband, in an education project called "Alif Laam Mim." The education department tasked them with conducting a survey of fifty nonfunctional schools so that they could devise school improvement plans. Umme recalls,
This field task was extremely difficult. We had to travel for 7-8 hours on a motorbike to reach the schools, which were located in the desert. Sometimes, it would take days to reach the right places. When we started working in the field, we observed that people had to deal with manifold issues; low income, poor health, food, education and others.
As Umme and her husband sought to empower struggling communities, the communities developed high expectations from the couple. Consequently, Umme and her husband decided to establish Social Youth Council of Patriots (SYCOP), which works with communities to improve their lives. SYCOP was registered in 1996 under a government act in 1961. The organization had humble beginnings, as it began in a one-room office in Rajanpur. However, it slowly expanded over the next twenty-one years into a highly distinguished non-governmental organization.
Umme and her husband first worked as supervisors in SYCOP, but after her husband's death, Umme took charge as Executive Director. In addition to this role, Umme is a member of Zila Council Assembly and Punjab Commission on the Status of Women from Dera Ghazi Khan Division.
Notwithstanding her countless years of social work, Umme had never received proper training on social mobilization before she attended Community World Service Asia's training in July this year. Rather, she learnt all her social mobilization skills through her fieldwork and had no knowledge of the specific tools used in social mobilization. However, this summer, Umme learned the fundamentals of social mobilization through the training in July.
The training not only personally benefited Umme, but it also had positive impacts on SYCOP.
During the training, Umme easily connected with the other participants, and they exchanged their field experiences and discussed community behaviors. This exchange of ideas benefited the participants, as they had diverse experiences and came from all over Pakistan. Umme is still in contact with the friends she made at the training, and they share networking and funding opportunities with each other. Umme explained,
Sharing this experience and conversing with participants has left me with innovative ideas and ambitions for the future.
Furthermore, Umme learnt risk management and conflict resolution at the training.
That was the first time I realized how important it is to go to a new community fully prepared. Social mobilizers should be aware of the underlying community conflicts and risks so that they can develop a risk management plan.
Umme also appreciated the experience of conducting a mock survey on Disaster Risk Reduction with a trainer in a village since she learnt all the practical steps of initiating such a field survey. She particularly benefited from this exercise as SYCOP is also working on Disaster Risk Reduction, so she says it could help SYCOP to replicate the same activity with their communities. In the activity at the social mobilization training, the participants conducted a field survey on hazard identification and then held a community meeting.
Another key part of the social mobilization training was cost management. The training improved Umme's budgeting skills, so now Umme can discuss SYCOP projects with partners and donors with more clarity. Therefore, Umme is more confident in negotiating project agreements for her organization. Moreover, her communication skills have also improved through Community World Service Asia's social mobilization training. These skills have helped her build contacts and linkages with other stakeholders' including government departments, civil society organizations, communities and staff.
Umme replicated the social mobilization training with the SYCOP staff and also shared training results with her board members. They plan to develop a social mobilization strategy for SYCOP, as the organization intends to register with the Security Exchange Commission of Pakistan at a national level.
SYCOP has enhanced its' mobilization skills, and now the staff is working on the field on challenging projects, such as reproductive health. Umme believes that it is important to work with men first in order to break social taboos as it is difficult to get women participation in such projects. She said that her team discussed the health issues of women in the community with their husbands openly and made them realize to prioritize health needs of their wives. After listening to them, they acknowledged SYCOP for taking such useful initiatives and asked them to work with women and protect their lives.
Umme asserted,
The social mobilization training met my expectation, and I am happy that I not only learnt myself, but also that I passed on the information to the other staff. In this way, I transferred the training's benefits to the communities with which they work.
Umme recently experienced an incident of community conflict while working with the community. A dispute between two community members of a target village of SYCOP was adversely affecting the progress of one of their projects. Umme called both members to the SYCOP office and had individual meetings with them. In these meetings, she discussed the matter in detail with them by listening to them and identifying the reasons for conflict. Hereafter, Umme held a joint meeting with both of them in which she calmly discussed the issue. She gave both of them time to talk to each other and understand each other's point of view. Both the parties were able to clear their misunderstanding by the end of the discussions. Umme expressed,
I believe that there is no conflict which cannot be resolved through discussion.
The Social Mobilization Training equipped Umme with necessary tools that will strengthen her social work, harnessing her potential to achieve even greater accomplishments in social mobilization.