Home
Newsroom
Stories
Zahra's field experience in a freezing Bamyan winter: Remaining resilient and motivated
Zahra's field experience in a freezing Bamyan winter: Remaining resilient and motivated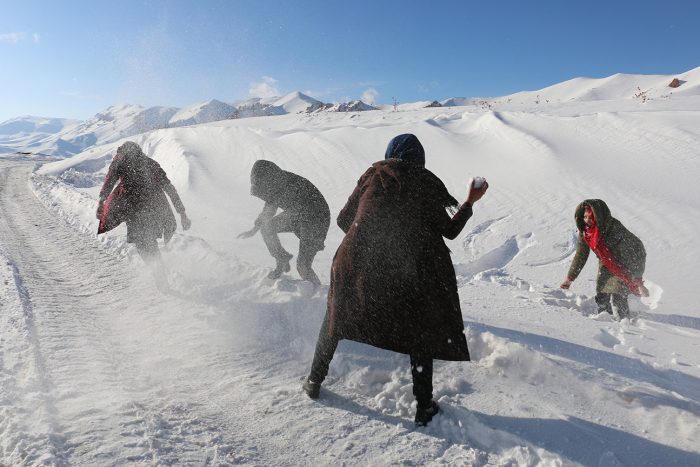 Community World Service Asia rolled out an emergency humanitarian assistance project funded by Presbyterian World Service & Development (PWS&D) and supported by the Canadian Foodgrains Bank (CFGB) to increase food security among some of the most vulnerable internally displaced and returning refugees households in Bamyan province.  A total of eleven thousand families in four districts of the province, namely Bamyan Center, Yakawalang #1, Panjab and Waras, were supported with priority given to persons with disabilities, woman-headed households, and families most affected by the COVID-19 pandemic.
The first cash installment took place in the Panjab and Waras districts of Bamyan in the middle of a very cold winter in December 2020. Bamyan province is mostly mountainous or semi-mountainous and is positioned at the western end of the Hindukush mountain range, concurrent with the Himalayas. This means Bamyan's climate is transitional between cold arid and semi-arid, with freezing winters and warm, dry summers. The province mostly receives rain in late winter and spring.
Zahra Karimi, is one of Community World Service Asia's staff who worked on the project as a Data Management Officer, based in Bamyan office.
"The selection process of the project participants had its own challenges and hardships," says Zahra.
"Despite the challenges, the emergency team's dedication and hard work successfully lead to the completion of the first cash distribution activities. Our team of 11 women and 10 men initiated the cash distribution activities by travelling to our office Panjab's, which was a five-hour arduous drive on a rugged and barely existing road from the centre of Bamyan district." 
The team travelled to the target districts together.
"We became a family for those ten days. We had our meals together, spent leisure time, played games and worked actively throughout our field visit. All the women staff, eleven of us, stayed in a 4 by 7 bed-room that was part of our office in Panjab district. The other room was designated for the men staff."
The emergency team's field visit which primarily focused on cash distribution activities lasted for eight days in Panjab district and two days in Waras district. Panjab was much cooler and the distribution areas targeted there were located at a far distance as compared to in Waras.
"We used to wake up at 6:30 AM in the morning, rush to breakfast at 7:30 AM and assembled ourselves in the car by 9AM. Since some distribution sites were quite far to reach, the roads were covered with snow, and were mostly frozen. Sometimes we had to commute earlier to reach the destination, which could take up to five hours."
"There were many times during this field visit when our car was stranded due to heavy snowfall, or would stop functioning entirely due to technical faults or the climate being too cold. This caused delay in our work. The distribution sites and their surrounding areas mostly did not have telephone networks and remained out of Wi-Fi ranges. Therefore, since we were trapped in the snow, we were unable to report to other teams or call for help. To avoid more of such incidents, we then started to travel in two cars so that if one would get stuck, the other could help immediately and we could better time manage and avoid losing out on a day.
Road blockages due to landslides, heavy snowfall and broken roads are very common in Bamyan, especially in the winter.
"Our cash assistance activities in Panjab and Waras were delayed by two days as we were unable to reach the site as planned due to road blockages. The challenges we faced a result of road blockages and heavy snowfall allowed us to take caution and analyze risks for future distribution activities."
"With everything said and all the challenges aside, our arrival at the distribution sites always brought smiles on the faces of project participants and that made it all worthwhile. At -25℃, the participant families travelled for hours on foot to reach the distribution sites as the heavy rain hindered travel through vehicles. The dire need of those families for this cash assistance encouraged us to push our limits and deliver the cash to these families at their homes as well for people who were unable to make it to the distribution sites due to other limitations."
"I remember one participant, a man who had no finger print as he had worked all his life on land and fixing grass-pile ropes. His hands had become so stiff and hard that no pattern was left on his fingers to leave a thumbprint while registering as a participant for the project. On another occasion, we travelled to deliver the cash grant to a woman who headed her family. She was unable to come as she had just delivered a baby a week before the cash distribution activity. Witnessing the hardships of these people and the extreme need for the assistance, we suddenly did not feel tired or agitated to travel in such extreme weather."
The distribution activities usually initiated at 1:00 PM and would for a last an hour or two, depending on the number of community members selected for distribution on that day.
"We often had lunch in the car before reaching our distribution site or had it after wrapping up the activity. After the activity was completed, we travelled back to offices in the concerned districts and usually reached by 7:00 PM. We would have our dinner at 8:00 PM and would mostly go straight to work to plan for the next day. After completing our work, we would usually then relax, play games or would go to sleep bed as we would be very tried."
"We had five mothers among us. We would talk to their children through mobile phones after reaching office late in the evening. Many times, we would get emotional after talking to our families as the extreme weather conditions and everyday work would remind the comfort of our homes which we all were eagerly waiting to go back to. We cheered ourselves up by making a snowman or playing in the snow and taking photographs. We played Pictionary, truth or dare and other games to pass time and do some team building. Even while travelling, we kept ourselves engaged in jokes, asking IQ questions or playing small games to kill time and bring fun to our time away from our families."