Home
Featured
Newsroom
Working together with hazard prone communities to reduce disaster risks and increase...
Working together with hazard prone communities to reduce disaster risks and increase resilience
Afghanistan's steep economic and humanitarian crises was made worse with the high-intensity earthquake that struck its Khost and Paktika provinces in June 2022.
A multitude of factors made recovery from the earthquake more challenging. The mountainous and isolated areas where the earthquake hit has limited infrastructure, non-existent roads and barely any technology making access to affected communities harder. Healthcare facilities are particularly limited, making it difficult for healthcare professionals to treat affected communities. The structure and material of the houses (mostly built out of clay) in the affected areas also increase the risk of people living in them and make them more vulnerable to natural hazards like earthquakes, landslides and floods.
One of the many villages severely hit by the earthquake is Sutan village, located in a remote area of Nangarhar's Dara-e-Noor district. This mountainous village1 houses over 600 homes whose main source of livelihoods is agricultural and livestock production. Not only have the residents of this village lost their homes with the earthquake but also their livelihoods.
The earthquake left deep, visible cracks on the big boulders, posing a great risk to the population and properties set up on the elevated areas of the mountain. Possible landslides (of these big boulders) directly threaten the infrastructure, water supply, and 10 hectares of agricultural land belonging to a large population of the village. Some residents knocked on every door and evacuated people out of their houses. While volunteers from the hamlet helped evacuate another 200 homes, a high school, and a madrassa. Many families also went on to live with their relatives in nearby areas, whereas some were forced to live under the open sky in makeshift tents.
Since the children of Sutan were unable to go to school or madrassa, more than 700 pupils were out of school and without any formal education for over a month.
"In the early mornings following the earthquake and as aftershocks continued to strike our village, we evacuated our homes in a hurry. So much so that we were only able to take along our most basic essentials. But with winter just around the corner, we prayed the displacement won't be long and were eager to move back into our homes to keep our families and children warm," shares Amir Hamza, a resident of Sutan village. Amir and his family of seven members moved to their relative's home in Majgundel, six kilometres away from Sutan, for a month.
The news of land sliding quickly spread in the community. Villagers began to approach different sources including the government and civil society for help and provide assistance. Wahidullah, popularly known for his work in disaster risk reduction, was consulted by the villagers. Wahidullah has been a member of the Hazard Mapping team since 2017, under Community World Service Asia's Disaster Risk Reduction (DRR) project, and has actively been involved in community-based DRR initiatives.
Community World Service Asia and the Ministry of Foreign Affairs, Japan has been working with hazard prone rural communities, government bodies and academia in Afghanistan to enhance their DRR capacity and strengthen their resilience against frequent climatic and natural hazards. The focus has primarily been on floods and landslides which are more common in the target area. Wahidullah has participated in various training programs under the initiative, including trainings on QGIS2 and risk assessment.
In order to evaluate the potential threats and better understand the Sutan topography, he and his team developed a hazard map for the village during one of the QGIS training sessions. With the new information explored through hazard mapping, Wahidullah initiated awareness raising sessions in Sutan to inform the locals of the hazards associated with living in hilly areas and how to minimise such risks.
After the sessions, the Hazard Mapping team approached CWSA with their concern for the residents of Sutan. The DRR team visited the area and assessed the risks and advised the locals to reside further away from the boulders as they can slide at any point, causing harm to whatever comes in their way. The DRR team prepared a report on the impact of the earthquake on Sutan which included a technical proposal to mitigate further risks and shared it with long-time partner, CWS Japan and Japan Conservation Engineers & Co., Ltd (JCE) for their financial and technical support. The mitigation plan involved breaking down the boulders in small pieces with the help of a hole saw3. It also proposed that the villagers would develop a bed or terrace to collect the smaller boulders that may potentially roll down towards the houses during the breakdown process. The technical partners from Japan approved and supported the proposal.
The same proposal and plan was then shared with the local government, ANDMA (Afghanistan National Disaster Management Authority) and the residents of Sutan for their final approval and inputs. They all approved. CWSA's DRR Team in Afghanistan and a group of volunteers from the local community worked together and monitored the entire process and its implementation. Throughout the procedure, the safety of the community and employees was prioritised and ensured. The rocks were broken down piece by piece, reducing the risk to houses and people. Once the process was completed and the area was marked safe, all the 200 families evacuated from Sutan returned to their homes and the schools were reopened. Students happily went back to school.
"We came back home after a month of staying under a tent. My friend was very generous in supporting our five member family. After the boulders were removed, we felt safe coming back to our homes and for my children going back to school," shared Gul Zaman, another resident of Sutan.
The DRR project has assisted more than 500 communities in the course of nine years, most of which reside in remote areas with limited resources and no or limited accessibility to education, healthcare, proper infrastructure and other basic facilities. The communities have been and still are involved in various DRR activities such as awareness of flood and landslide risk-prone areas, mapping of risk-prone areas, enhancing their resilience and capacity. Many communities, such as those in Sutan village, face significant and multiple danger when living in hazard-prone regions. Such DRR interventions have made it safe for communities to live in their ancestral homes, where their livestock and farms are accessible and their livelihoods intact.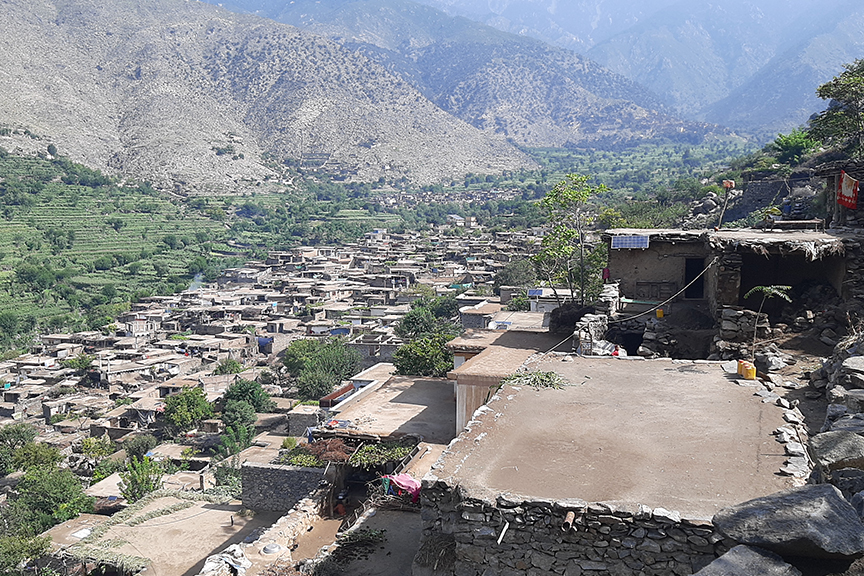 ---
1. Kunar Mountains
2. QGIS (Quantum Geographic Information System) is a free open-source software that allows users to create, edit, visualize, analyze, and publish geospatial information.
3. A hole saw is capable of cutting holes with a much larger diameter than a standard drill bit.