Home
Featured
Newsroom
Uprooted families forced to live in cramped and unhygienic shelters in IDP...
Uprooted families forced to live in cramped and unhygienic shelters in IDP camps in Afghanistan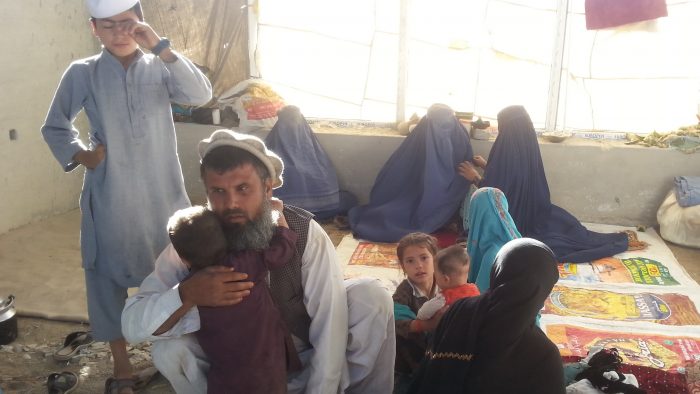 The ongoing conflict in Afghanistan has lead to new widespread displacements, forcing large groups of the affected population into camps that were originally assigned for internally displaced people (IDPs) from earlier conflicts. Janat Gul and his family are among the many thousands of people who have been forced to relocate to the Sultan Ghazi Baba IDP camp in Mehterlam district of Laghman province in Afghanistan.
A political conflict erupted on the third day of Eid-ul-Fitr on the Nuristan highway. More than two hundred thousand people live along this highway, with many acres of their land alongside harvested with wheat, fruits, and vegetables for their own consumption and for sale. These agricultural fields were hit by countless rockets and missiles of the on-going combat, damaging crops and livelihoods.
"We were forced to evacuate our houses in the middle of the night," shared Janat Gul who is a 37-year-old father of six children. "We walked all night to get to Sultan Ghazi Baba town in Mehterlam district."
As the family fled for their lives, Gul was forced to leave all of his personal belongings behind.
"We abandoned everything we owned, including our bed, carpets, cooking utensils, and livestock. We do not know what might have happened to our possessions and our houses now. I am a farmer and I owned some land in my hometown. Unfortunately, we were forced to abandon all our cultivated grounds, and now have to begin a new life here."
Gul, his wife and children all share one room at the camp. The conditions there are unsanitary and people living in the camp have limited or no access to basic necessities such as healthcare, education and clean drinking water.
"The Sultan Ghazi Baba campsite is a large expanse of ground with two partially constructed structures. Some families live in open rooms of partially constructed buildings, while others live wherever they find space in the grounds and build themselves temporary shelters out of wood and plastic sheets. The campsite now houses over seven hundred families. Like us, there are many families who are crammed into one small room," said Gul.
Every day Gul leaves their one-room home to search for work to be able to earn an income. He has been returning home without much success.
"The COVID-19 pandemic has further minimised work opportunities in our country."
"Some humanitarian organisations have been supporting us with food provision on some day but that only lasts us for a day or two. Other days, we struggle to make ends meet. We are in dire need of assistance in terms of food and more hygienic living conditions. Families in the camp require a cleaner and more adequate space to accommodate bigger families. WASH support, including latrines, clean drinking water and access to basic health facilities are much needed for people living on this campsite."