The troubles faced by a young and single refugee mother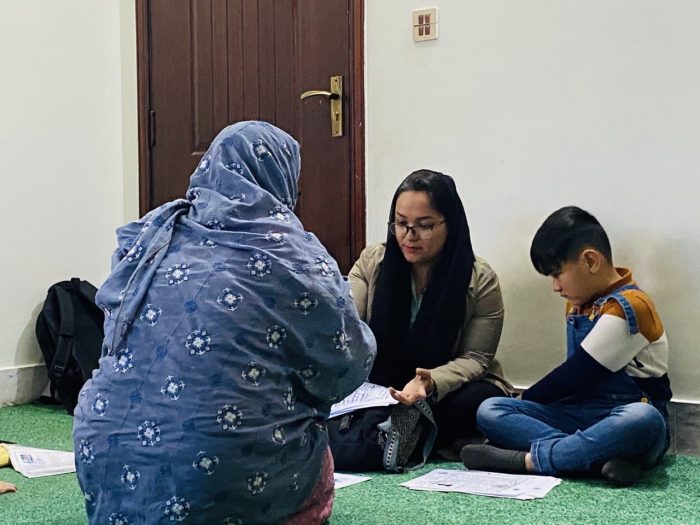 Millions of families in Afghanistan are facing displacement, food insecurity, poverty and inflation since the recent humanitarian crisis in the country. Jehan Amiri's family is one of them.
Jehan and her family were forced to leave their home in Kapisa village[1] due to the growing conflict and insecurity in the area. The thirty-five-year-old mother of five children lived a simple and happy life. Her husband worked with the government and earned a sufficient income to sustain the family. "My children were attending a local school. My husband and I have always encouraged our children to gain education for a better future. But we did not imagine the chaos we were about to face. In August 2021, an intense conflict arose in our village and my husband was killed in the crossfire. I was left alone to care for my children with no source of livelihood."
As the conflict continued, Jehan and her children, aged between two and fourteen years, left Kapisa to temporarily settle in Kabul, accompanied by neighbours who were also fleeing the violence in their hometown.
Soon after Jehan realised that whether in Kapisa or in Kabul, her children and her were no longer safe in Afghanistan. She decided to leave the country and cross the border into Pakistan. With no money, belongings or a shelter, Jehan's family arrived in Pakistan following a travel time that lasted three days. "We had no place to stay. For many days we were surviving on the streets of Islamabad. A kind man took us in, who is actively working to shelter the refugees from Afghanistan. He took us to a home and gave us a room to settle in."
"We are sharing a house with eight other refugee families like ours. The house has eight rooms with four bathrooms and four kitchens and is rented out by the kind man. Each family has one room to themselves and the rest of the common space is shared." The good Samaritan who has rented out the house for these refugee families also provides them with monthly food rations. Though not sufficient for all, it helps them survive the day.
"I am lucky to have found a shelter that I currently do not have to pay for but I am still very worried for my children and myself. I found out that I was expecting my sixth child just before my husband died. I have no source of income to bear the medical expense of my delivery or to fulfil the basic needs of my children."
Jehan does not leave the house as she does not feel comfortable leaving her children at home with many other people living there. She fears for their safety. "It is difficult to live with so many people. You cannot trust them with your children. Moreover, we are all cramped in one space with no supply of water and gas. We have to request for water from the neighbourhood. We have to live in the house despite the challenges we face as we do not have any other place to go."
In February 2022, Jehan received PKR 15,000 (Approx. USD 84) as a monthly cash support under a humanitarian response project implemented by Community World Service Asia, with the support of ACT Alliance and members. The short-term project aims to improve food security and immediate wellbeing of displaced Afghan families that have migrated to Pakistan. Many of these families have hurriedly left their homes, bringing almost nothing with them. They are now living in cramped, unsanitary conditions in temporary shelters, rented spaces and camps that lack basic facilities, such as water, gas, hygiene supplies and urgent medical supplies.
Jehan gave birth to a healthy baby girl on March 21st, 2022 in their shared house in Islamabad.
The emergency cash assistance is helping families purchase food and other life-saving essentials. With the help of our international partners, we continue to support refugees arriving in Pakistan while also provide ongoing support to displaced communities within Afghanistan.
---
[1] Which is in the centre of Kapisa province in Afghanistan