Home
Newsroom
Stories
The Power of Choice: How Cash Assistance Improved Food Security and Nutrition...
The Power of Choice: How Cash Assistance Improved Food Security and Nutrition for Saalih and his family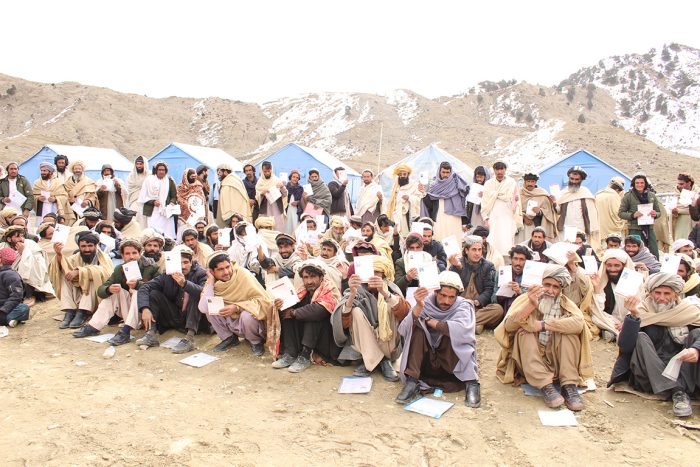 In the small village of Alukhel, lives Saalih, an 18-year-old young man, shouldering the responsibility of providing and caring for his family of six members since the untimely passing of his father five years ago. With limited resources and increasing responsibilities, Saalih shares his journey of survival and perseverance, proving how his sheer strength and determination have been a driving force for the family.
The loss of Saalih's father left their family vulnerable, relying only on their mother's small backyard poultry farm to meet their basic needs. However, this source of income proved to be short-lived due to an epidemic disease as well, forcing Saalih to seek alternative ways to earn a livelihood for the family. Saalih was skilled in trapping wild partridges so he utilised this skill and opened up a small bird shop, selling the ones he caught. Though the income was small, it sustained them for a while. Unfortunately, decreasing customers and the time-consuming chase to capture the birds made the business difficult and led him to close the shop last year.
With the shop closed, Saalih went on the search for a job again. This was as difficult as could be in a rural area like Alukhel and its surroundings. Since Saalih was unable to find a job and the family's survival was becoming more and more difficult, his mother decided to defy societal norms and take up multiple domestic chores at houses in the neighbourhood and agricultural labour on some larger fields. For her labour, she would get paid in cash or by agricultural produce. The earnings from all her hard work were still insufficient to meet their family's everyday needs.
Saalih and his family faced added hardships when the destructive earthquake of June 2022 struck their village. Their living conditions worsened as one of their rooms sustained damage, with their walls left cracked. As winter arrived, an already scarce job market left them struggling to find work. It was a tough winter for the family; their house was cold and their meals that heavily relied on donations from neighbours reduced to barely two a day.
In these difficult times, only Farrukh, Saalih's younger brother, continued going to school as the family could not afford any of the other children continue their education. So, his younger sisters and brother stayed home and contributed to household chores like collecting wood for cooking and fetching water. Neither was there a school in their village or nearby and nor did they have the money to afford transport to farther schools for the girls. Purchasing stationary and uniforms was also out of the question for the family.
Saalih's mother soon found some relief when she was identified as a project participant under the earthquake response project launched by Community World Service Asia (CWSA) and Act Church of Sweden. Through the project, the family received a total of USD 240 (equivalent to AFN) distributed in three equal instalments between February and April 2022. This cash assistance reduced some of their financial burdens and enabled them to procure essential food items, including rice, flour, beans, sugar and potatoes, ensuring their sustenance for the next three months.
While Saalih and his family is currently more secure in terms of food, he still dreams of acquiring a sustainable livelihood so he can support his family without stress and worry. By generating a reliable source of income, they hope to build a brighter future for themselves and eventually overcome the continuing hardships that surround them. While the challenges they face are significant, the humanitarian support received instils hope and encourages them to strive for a better tomorrow.