Taanka – Giving Kamla the hope to stitch her way up to her dreams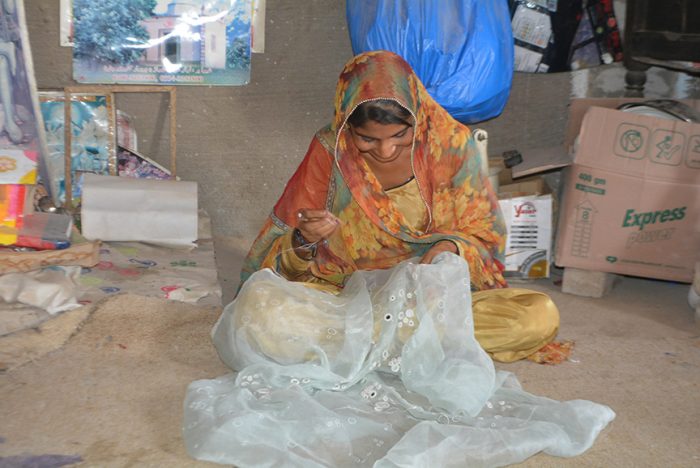 Kamla is a 16 years old artisan and member of the Women Enterprise Group (WEGs) working for Taanka. She belongs to the Kharoro Charan village of district Umerkot and lives with her seven siblings and their widowed mother in a one-room house. Their father passed away two years ago. Kamla and all her siblings are currently unmarried. While their two youngest brothers attend school, none of the others are currently studying. The highest any of the older siblings have studied is till 8th grade.
With tailoring being a sort of family profession, as their late father worked as a tailor in Karachi, Kamla's  eldest brother also worked as a tailor, for which he left the village for Karachi soon after he graduated from class 8, to learn the skill from his father and earn an income for the family. Two more of Kamla's brothers are also currently working near the village to earn a livelihood for their family.  One runs a general store of his own, while the other mends embroidery machines. Together the two brothers earn around PKR 15000 (Approx. USD 95) a month.
Taanka not only employs Kamla, but two of her sisters as well. All three sisters work as artisans for the social enterprise brand that sells high-end fashion and home products in large urban centres like Lahore, Karachi and Islamabad.  The sisters worked very hard on the handicrafts they produced and earned well from it whenever they got orders. Kamla was the most highly educated among all three of them and had further enhanced her skills. She really enjoyed studying as well but had to leave school after grade 8 as none of her brothers could accompany her to school.
Kamla's education expenses beyond primary level were paid for by my brother. I wish she could continue, but this is not possible. How will we make both ends meet if she leaves her handicraft work and starts studying again?
expressed Kamla's mother.
Financial problems in Kamla's household heightened when her eldest brother returned to Kharoro Charan from Karachi because of his receding health and a newly diagnosed mental disorder where he kept forgetting and repeating things. With the little savings that he returned with, he planned to build a house.
Our brother first constructed a toilet as we did not have a toilet in our house. Soon after the toilet construction was completed, he collapsed and has never been normal ever since. The construction work was stopped immediately because he needed treatment and the money he had saved had to be prioritized for his medical treatment,
Kamla said.
The brother's health has now exacerbated to a situation where the family experiences sudden and repeated episodes of aggressive and violent behavior and angry verbal outbursts. He also breaks and tears apart the family's belongings.
In most of rural Sindh, it is considered against the local culture for women to work outside their homes. Therefore, many women utilize their time working on ethnic embroideries and stitching apparel and home accessories; a skill that is passed on through generations. As per local tradition, the women are supposed to hand-embroider and stitch products for their own dowry or that of their daughters.  Keeping this ancient local tradition alive, Kamla and her sisters learnt embroidery at a very young age at home and hand-crafted most of their own clothes. Kamla particularly enjoyed this the most. Before working for Taanka, her sisters and she used to receive apparel design and embroidery orders from the Gumbar community in the neighboring village.
The money we made through personal orders was far too less compared to our expenses, raw materials or the time we spent on making them. Collectively, the three of us hardly made around PKR 5000 (Approx. USD 31) a month.
Kamla herself has not participated in any of the vocational trainings that WEG members of Taanka had been engaged in. She enhanced her in-born handcrafting skills through learning from her aunts and sisters who actually took part in the trainings organized by Community World Service Asia and its partners' project to develop and strengthen the Taanka brand.
I feel motivated to work on new designs every day because the wages I earn through Taanka orders are fair. I learn new designs every day through the orders we receive from urban clients. The work is entirely different from what we did growing up. Designs are diverse, the fabric type is very thin, and there are different kinds and colors of threads and needles. In the past we have worked only on Pashanⁱ fabric, but through Taanka, I had the opportunity of embroidering designs on pure silk fabric too,
shared Kamla excitedly.
Kamla says that their mirror work is really appreciated by designers and they are receiving more orders for mirror work. Currently, she is embroidering mirrors on a daisy colored jacket. The three sisters collectively make PKR 25000 (Approx. USD 160) monthly through Taanka orders now.
The majority of what we earn is spent on our brother's treatment. We also meet other household expenses with our earnings such as food, fetching water, and paying for our younger brother's education expenses. Financial conditions of other artisans working with Taanka are also rapidly changing for the better.
I think women should not hesitate to learn new things. When we learn new things, we bring change in our lives and the lives of our loved ones,
says Kamla, wanting to motivate other aspiring artisans.
Kamla is an expert in hand embroidery now but she also wants to learn modern tailoring in the future.  With the little she is able to save after contributing to all the family expenses, Kamla wants to fulfil some of her own dreams too.
When I had to discontinue education, I felt very upset because my friends continued education but I could not. The day I am able to save up a lot of money from our Taanka earnings, I will go back to school, buy myself beautiful payal (anklets), matha patti (head jewellery), restart the construction work of our home, and will learn English. When I was in school, English was my favorite subject
, she said.
---
ⁱ A graphic embroidered silk with a jubilant festival spirit.