Social Assembling: A 4-Day Training on Social Mobilization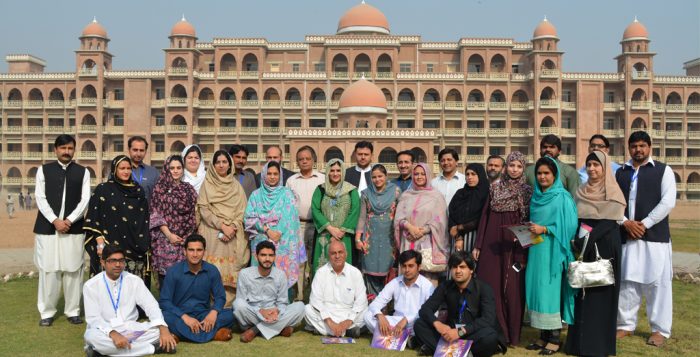 The success of rural development depends upon the willingness and active participation of the local people in the development process. To ensure this, NGOs carry out extensive social mobilization activities to raise awareness and create demand amongst the local people for particular sensitive issues that exist within the community. Social Mobilization is a cornerstone for participatory approach in rural development and poverty alleviation programs, it aims to create a sense of ownership amongst the people by involving them directly in the decision making process.
A third of its kind training, on Social Mobilization, was thus, conducted by Community World Service Asia under its Quality and Accountability program at Peshawar University this November. The workshop was targeted at training community mobilizers, social organizers and staff members representing small NGOs, in order to impart specific knowledge about community mobilization, participatory development, and various relevant and complementary elements. Twenty-three participants, including 8 women, representing eight organizations took part in the training.
The four-day event was managed by Lubna Hussain, Community World Service Asia staff, with Moazzam Ali, consultant trainer, as the lead facilitator. Mr. Rashid Iqbal who works for FLOWERS, a National Peshawar based NGO shared that this workshop was "very comprehensive".
Brainstorming, individual exercises, lectures, role plays, group work and interactive discussions were a vital part of this training. All these activities were used as tools to enhance the intellectual capacity of the participants towards utilizing the different tools of Social Mobilization in various contexts and situations.  Mr. Ibrahim Jan from Civil Society Human and Institutional Development Programme said, "We are working in community from years but did not have much command on basic needs of field as required so I am really impressed with this training which has developed a good foundation for us to start with."
The training also aimed on giving Social Mobilizers the right instruments to increase the level of awareness among poor and socially excluded communities through particular social mobilization and community development programs to improve the quality of services.
Participants Voices
"Overall the training was exquisite. I will share with my team whatever i have learnt here, I got a subtle chance of networking as well. I was practicing social mobilization but did not know the right terminologies. Now I will implement the learnings for the betterment of my organization and me".

Shamir Asif, Community Advancement Society (CAS)

"This was a good, informative & excellent training. I learnt so many topics which are new for me. The facilitator methodology was also easy to understand. The workshop & training sessions on different topics were very informative. I look forward to participating in other trainings and workshops as well."

Mr. Saif Ullah, Peshawar University

"Community World Service Asia is a leading capacity building organization in this area. The training on "Social Mobilization" was really informative. It fulfilled the needs of field workers who interact with the communities regularly, and showed us how to identify their needs and facilitate them in solving their problems. This training will facilitate us in our journey from welfare to development."

Mr. Syed Inam Ul Haq, Mercy Hands (MH)