Situation Alert: Typhoon Haima 'Lawin' batters the Philippines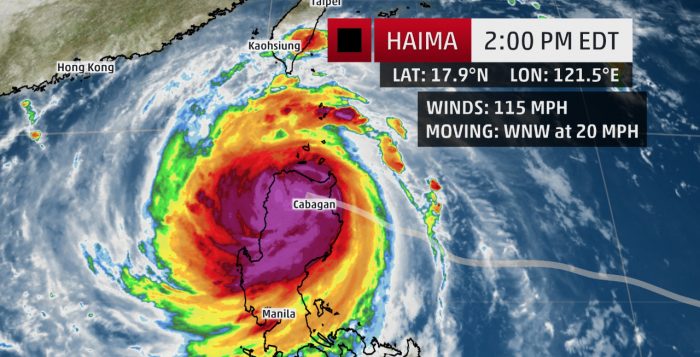 source: The weather channel
Situation: Typhoon Haima has made landfall in the northern Philippines as a Category 4, making it the second typhoon of that intensity to strike the area in just a few days time.
The Philippine Atmospheric, Geophysical and Astronomical Service Administration (PAGASA) said that the center of Haima, known as "Lawin" in the Philippines, came ashore at around 11:00 pm Philippines time on Wednesday near Baguio in the Cagayan Province. Maximum sustained winds were 140 mph at that time, according to an advisory issued by the Joint Typhoon Warning Center.
After topping out at Category 5 intensity late Tuesday-early Wednesday, Haima weakened some just before making landfall on northern Luzon Island. It remains a powerful and destructive typhoon, however1. It is expected to move westward through the mountainous northern end of Luzon and will exit the landmass by Thursday. It is then expected to track towards southern China.
Heavy rain and strong, damaging winds will continue to hammer northern Luzon through Thursday. Coastal areas will see battering waves and storm surge flooding, as well. PAGASA also says a storm surge of up to 10 feet is possible along more surge-prone bays of northeast Luzon.
Signal No. 4 is also raised over the provinces of Ilocos Sur, Mt. Province, Ifugao, rest of Abra and Calayan Provinces. The rest of Regions 1 and 2 are under Signal No. 3, while Central Luzon and parts of Region 4 are under Signal No. 2, The rest of Region 4, Region 5 and the National Capital Region (Metro Manila) are under Signal No.1 presently.
According to the United Nations Office of Coordination and Humanitarian Affairs (OCHA), an estimate of 2.7 million people are likely to be affected while the communities located along the Agno and Cagayan rivers are at the highest risk. It is anticipated that mountainous and far flung areas will be difficult to access as there is a high possibility of damaged bridges, landslides and collapsed infrastructures. This will will hamper access to these communities especially in the mountainous areas of the Cordillera and provinces in Regions 1 and 2.
Community World Service Asia's Response: Community World Service Asia is closely coordinating with its partner in the Philippines. Deployment plans have been shared and mobilization of its partners, local personnel and volunteers as well as inventory of stockpile. Community World Service Asia will continue to monitor the situation and will plan its response considering the needs.
1 https://weather.com/storms/typhoon/news/super-typhoon-haima-lawin-philippines-china-forecast
Contacts:
Emmeline Managbanag
Deputy Director
Disaster Management Program
Email: mae.managbanag@gmail.com
Cell: +63 0908 102 1016
Palwashay Arbab
Head of Communications
Email: palwashay.arbab@communityworldservice.asia
Cell: +92 42 3586 5338