Mehar's flight to becoming a Visual Communications Expert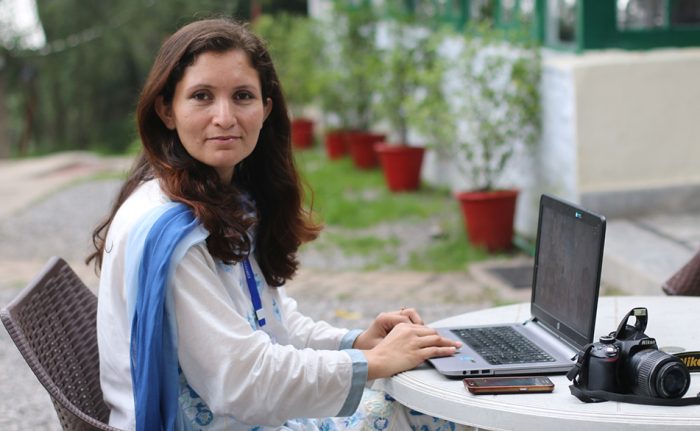 The use of visual communication in documents and presentations not only facilitates anchoring the attention of readers and retaining higher recall value but also makes content easy to comprehend; saving time and reducing reading fatigue. And most importantly, visual content incites a relationship of empathy and emotions between the reader and the subject or scenario described. Recognizing the value addition of this form of communication, there is an increased demand of more visual representation in reports, documents, and presentations in the aid and development sector as well. Reports with more visual data and information have higher readability and a greater acceptance by the audience. With the dynamics changing, the use of visual communication is becoming more and more essential.
Mehar Aftab Salma, Communications Officer in Aga Khan Planning and Building Service (AKPBS), Pakistan, rightly identifies these changing dynamics,
The way people consume their information is changing dramatically each and every day. With the rise in mediums such as blogging, live-tweeting, and video streaming, the way you reach your audience is never going to be the same again.
Mehar started working with the Aga Khan Rural Support Programme (AKRSP) when she was undertaking her Bachelors degree in Computer Sciences. She has been affiliated with AKDN for more than ten years now. "
I have worked under different agencies of Aga Khan Development Network. For more than six years, I was working with Aga Khan Rural Support Programme (AKRSP) in Gilgit, which focused on working for poverty reduction and socio- economic development. I am currently a Communications Officer at the Aga Khan Planning and Building Service, Pakistan (AKPBSP)
Today, it's easy for information to get lost or overlooked if it is not in an easily consumable format. Integrating visual content into your regular and annual reporting can boost the level of information your audience can absorb and remember.
A picture is worth a thousand words, and when it comes to capturing your audience's attention, you want to take full advantage of every chance you get to communicate your message,
says Mehar Aftab. She further elaborated that her field of work encouraged her to continue studying in a related field of her choice which allowed her to complete her Masters in Business Administration with specialization in Marketing.
The best part of my job is the different mode of communications I use to connect with the audience. We communicate through images, photo stories, case studies, news articles, videos and documentaries.
My role focuses on developing and sharing weather updates, monitoring media, developing quarterly e-newsletters, collaborating with other organizations on similar themes, drafting press releases and media briefs, development of IEC material for awareness raising, event and activity reporting and developing documentaries to share project challenges as well as successes.  In times of disasters, my role becomes that of an emergency communicator in which I am in continuous coordination with the program departments established close to or at the disaster area, for updates. In order to be accurate and updated with the right kind of information, I gather updates through phone or by travelling to the concerned area. By the end of the day, a situation report produced with details of the disaster and assistance being provided by AKDN agencies
.
Prior to the training, Mehar worked on Coral Draw, Photoshop and Publisher for photo designing and editing.
Having a basic understanding of the software, I managed to work on the software. There were times when I needed to go through some tutorials or ask a friend for technical help. Through a colleague, I got to know about the Visual Communications Course offered by Community World Service Asia. It immediately caught my attention and I wanted to attend this training as it was a good learning opportunity. The agenda of the training was delivering the theoretical and practical aspects of visual communications which I thought was very interesting.  The techniques and visual modes are constantly changing with time in the communications field. For this I believed that the training would help update us on concepts, knowledge and skills to deliver advanced and appealing visual content. In addition, I was expecting a platform of a diverse group of people from the communication and development world and an opportunity to share learning experiences with them.
My learning started from the day I heard about the training. I was eager to attend the training but it was difficult to leave my thirteen-year old daughter behind for seven days with my husband. The team was very cooperative and offered to accommodate me with my child. Hence with the support of Community World Service Asia's team, I managed to maintain my work and motherhood balance,
shared Mehar with a smile.
During the seven-day training on Tools of Visual Communication in the Development Sector, conducted in Murree this July, participants were enlightened with basic knowledge and the technicalities of visual communications. This included theoretical sessions on the various terms, formats and new modes of communication as well as practical sessions on how to use basic and latest communication equipment and softwares to develop content and achieve effective visual communication.
I knew the basic handling techniques of DSLR. However, the minor details of how to capture an impactful picture with all details like framing, posture of sitting, focus of subject, bringing out the inspirational and motivational aspect of pictures was new to me in the training. In addition, the diverse group of people differed in theme of work, age and organizations. Their experiences were different and to know their experience and challenges and how they overcame it in their work was a wonderful learning opportunity.
There were many young participants in the training who were more experienced with camera and tripod handling. They helped me during the practical sessions on how to use the DSLR and with placing it correctly on the tripod and how to use the tripod most effectively. The most interesting learning for me was when a participant from Doaba shared his knowledge and practice at work. Doaba also works in disaster management. He shared that he publishes information on areas or people which have experienced living through disasters to raise awareness and share information. It was an innovative approach which I thought of initiating once I got back too. This will allow a comprehensive awareness to the reading audience.
The training covered all aspects of visual communications.
The session on video making was all-inclusive. The facilitator, Imran Lashari, briefed all participants on how to edit and add relevant coverage through the use of Premiere Pro, software for professional video production. Graphical inputs were explained to make videos appealing and effective. Participants were also trained to provide technical feedback when reviewing and finalizing documentaries.
Normally the development of documentaries and videos are out-sourced. The communications department is in constant correspondence with them delivering all details required to showcase in the videos. Mehar was unable to provide technical feedback prior to the Visual Communications Training. The final piece of video had to be reviewed in detail but Mehar lacked in technical knowledge, therefore was unable to share feedback in relation to the post-production of the video.
The team hired for documentary making consists of technical experts. The training assisted in enhancing knowledge in the technicalities of video making,
added Mehar,
After the training, I have worked on two documentaries with the consultant teams. One focused on disaster management is in its finalization process and the video footage for the other is being gathered. While sharing inputs, I analyzed all aspects and gave detailed reviews. The consultant team was quite impressed and recommended me to join a video production house. Moreover, we are making an animated clip for the community and school students focusing on avalanche preparedness. During its initial briefing with the consultant, I confidently shared descriptive ideas on how to capture videos to make the clip short and crisp.
There is a need to deliver the right kind of message through videos and pictures to make a real impact.
We develop a lot of IEC material for disaster preparedness, health, hygiene and safer habitat awareness and it includes manuals, brochures, posters and briefs which are printed and distributed in various communities.  The newly learnt skills will really support me in developing impactful content which will help in delivering effective messages to the audiences.
I am more confident on providing feedback on visual content I receive from teams or consultants now. Even while developing a presentation, I am more selective of which picture to use to relate perfectly with the written text. The understanding of connectivity has been built which has improved the quality of my work. The quality of our visibility material has improved exceptionally with this new found essence of innovation.