Mastering Project Management for a holistic organizational growth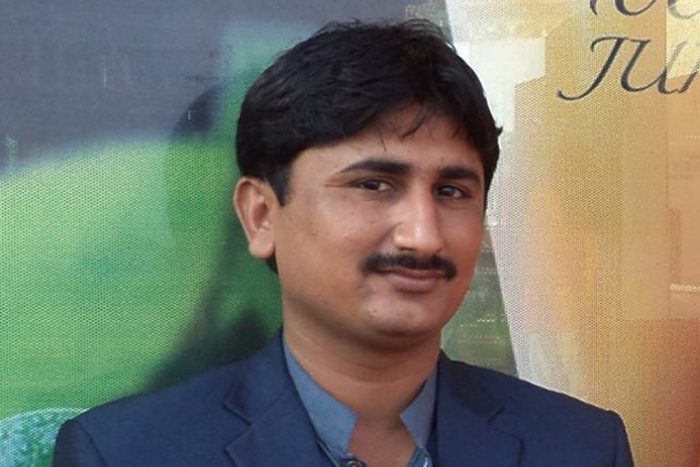 The aim of all professionally trained project managers is to deliver high quality deliverables at every stage of the project, with effectively utilizing their team and without compromising costs and deadlines. Professionals must be trained to be effective leaders and managers by developing key qualities and applying smart strategies that uphold the integrity of the organization. Recognizing this requisite, Shewaram Suthar felt that his organization and department needed to enhance their capacities on specific skills to ensure that their organizational goals and objectives are met timely, effectively and efficiently.
Shewaram is working as Manager Programs with the Association for Water, Applied Education & Renewable Energy (AWARE) and firmly believes that training and skills development provides both, the organization and the individual employee, with expertise and benefits making it a worthwhile investment.
I have been with Aware since 2014. We have four offices operating in Sindh. Our head office is in Umerkot with district offices in Badin, Tando Mohammad Khan and Tharparker.
Though I completed my masters in Zoology, I was always attracted towards the social sector. The work done for the development of the country and building better lives for the people of the country inspired me to join the development sector. I wanted to play my part in making the world or Pakistan a better place to live. We are not a very big country but playing our part to make living easier for even a few is an essential motive to achieve.
Shewaram is heading a group of teams implementing eight projects in four districts of Sindh.
Many challenges are faced internally and externally. One of the main problems in the organization was the lack of technical knowledge in reporting, project planning, financing and monitoring. With time changing so rapidly, new methodologies and tools are being introduced to improve the functions of various departments. However due to lack of resources, it is difficult to stay updated. This affects the quality of work we do on a daily basis. In addition, we particularly lacked in proposal writing skills. My team and myself, failed to develop winning and all inclusive project proposals.
Through November 2016 to March 2017, Shewaram attended trainings on Project Design and Project Planning conducted by Community World Service Asia. The trainings aimed to provide a systematic approach to managing and maintaining different types of projects, organizational changes and development. Shewaram also nominated his team members to participate in other topic and subject specific trainings conducted by Community World Service to enhance the organization's overall staff capacity.
Given a platform by Community World Service Asia, I thought of utilizing its benefits to the fullest. I sent relevant staff members to the trainings which were conducted under the Capacity Institutionalization Program. This capacity building opportunity offered to us provided all the necessary guidelines for seasoned and skilled professionals to effectively master project management,
quoted Shewaram. Prior to the participating in the trainings, the departments of Human Resource Management, Finance, Monitoring and Evaluation (M&E) and Programs lacked in quality management and technical knowledge shared Shewaram.
Coming back from the project planning training, I initiated work on revising all policies and manuals. All the documents for our Human Resource, Finance and M&E departments were updated. The Gender Policy, Child Protection Policy, Communications Strategy, Accountability Framework and other existing documentations were renewed. Each department assigned a focal person who was looking into implementation and enforcement procedures of the revised documents. That focal point would be contacted in relation to any query addressed by internal staff or external stakeholders, donors or partners.  The Logical Framework Analysis (LFA) of M&E was formed after two of our staff participated in the M&E Training conducted in March 2016 in Islamabad.
Shewaram further added that the M&E methodologies incorporated in the M&E LFA has helped to derive quality outcomes from the projects. The Complain Mechanism (CM) Policy was revised, providing a contact number to all staff members and assigning the number to the focal person appointed to handle complains according to the CM Policy.
Every focal person has a Terms of References (TOR) document according to which they deliver their duties. They are trained to research for new tools or methodologies for timely revision of all policies and manuals existing in all departments.
Shewaram also recognized that it is essential to have consistent collaboration among projects with multidisciplinary teams.
We established the Resource Mobilization Unit (RMU) lead by the CEO of Aware. The unit consists of seven members including the CEO, Manager Programs, three Project Managers, one M&E staff and a Finance Manager. The main function of the unit is to secure new and additional resources for the organization. It also involves making better use of, and maximizing, existing resources. This unit has filled the gap which existed between the employers and the management team. The RMU has become a useful tool through which we communicate effectively and share necessary updates about the status of the project and departments. The progress and challenges faced internally and externally on field by all departments are discussed and inputs are shared in the meetings we conduct on a monthly basis.
The training I attended on project proposal writing was very beneficial. I use to write basic proposals due to lack of knowledge in technicalities. The training helped built a better understanding in format writing, word limit, line spacing and various components attached to make a good proposal. We often overlooked these minor details which resulted in improving the quality of our proposals immensely.
Shewaram and his RMU have developed five project proposals since the proposal writing training out of which two have been accepted.
We developed the proposals as a team. I would draft the project proposal which was reviewed by the RMU individually or in a joint meeting.
The HR officer of Aware took part in the Human Resource Training held in July 2016 in Islamabad.
The training highlighted various HR tools which can be effective for the organization. Web Human Resource (WebHR) was one of the tools shared in the training, which is a cloud based HR application. After revising the HR manual, we brought WebHR through which we have been working efficiently. We are currently in contact with the purchasing company for more information on its working. WebHR has made it easy for the HR Department to start managing HR processes and maintain databases effectively. It acts as a bridge between human resource management and information technology. WebHR has converted human resources information into a digital format, allowing that information to be added to the knowledge management systems of the organization.
 In addition, three of Aware's Finance staff participated in the Financial Management Training conducted in May 9-13, 2017 in MirpurKhas to which Shewaram opined,
The quality of financial and budget monitoring reports have improved significantly due to the technical knowledge learnt in the training.
According to Shewaram, Aware is working in a more organized manner.
The teams' capacity has enhanced allowing the deliverance of quality work. With polices and manuals revised, the working of all departments is running smooth and orderly. Some documents are in process of being revised. Moreover, the staff sent to the trainings, shared their learning with their concerned departments This exercise allowed enhancing the knowledge of all departments in their field of work. I am pleased to say that we have progressed immensely in a year and half,
reported Shewaram proudly.
The series of skill-building opportunities not only reinforced the need to encourage unity and a sense of purpose where teams are working towards a common goal, it also allowed to assess areas where we can improve to be effective leaders with a result-oriented, yet humane, focus,
concluded Shewaram.