Mahavi observes increased food security through kitchen gardening in Umerkot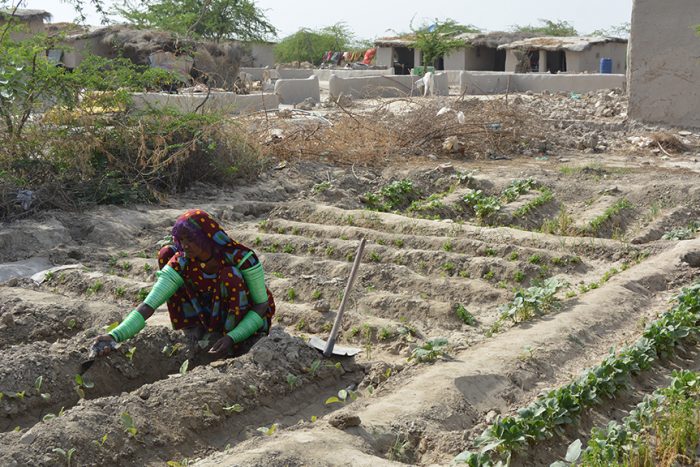 "If women farmers had equal access to resources, they could produce enough food to keep 100 to 150 million people from going hungry." Food and Agriculture Organisation (FAO), 2011.
Women's access to resources and effective technologies is often constrained by gender barriers. There is limited access to development resources and services that have led to large-scale illiteracy, poor health, gender-based violence and inequality among women and girls in most parts of the developing and under-developed world.
Community World Service Asia (CWSA), with the support of UMCOR, is promoting kitchen gardening as an integral part of the farming system among women in Umerkot. Daily household produce like fresh vegetables and fruits are regularly provided to local families through these home-based gardens. Since Umerkot is a predominantly patriarchal society, women are solely engaged in domestic chores such as cooking and ensuring that the family is well-fed, making them key participants of kitchen gardening activities planned under the project. To meet its goal of building resilient communities and empowering local communities and women, CWSA initiated a six-month humanitarian and early recovery projectⁱ for frequent disaster and climate change affected communities in Umerkotⁱⁱ.
Mahavi, was selected as a project participant in September 2021. The fifty-two-year-old mother of four children belongs to a remote village named Umed Ali Chandio, located in Umerkot district. Mahavi's husband has been struggling to earn a living as farming activities have largely reduced due to the droughts in the district. "Fifteen women, including myself, were part of a training session on kitchen gardening conducted by CWSA's emergencies team. The session enhanced our knowledge on saving and utilizing available resources without compromising on environment. It familiarised us with better farming techniques, off-season vegetables and kitchen gardening production and setting up of vegetable gardens among various households in remote villages."
To increase diversification in daily meals and to help her set up a productive kitchen garden, Mahavi was also provided with seeds of spinach, cluster beans, ridge gourd, bottle gourd, coriander, Indian squash, garlic, wild melon and eggplant. She now has access to green and fresh vegetables which her family consumes on a daily basis. Additionally, the five-member family was provided with a one-month food package to meet their dietary needs. Many women, like Mahavi, are playing a significant role in building a sustainable food security through these kitchen gardens. They are overcoming challenges of food insecurity and malnutrition by growing fresh vegetables and fruits in their luscious gardens. "I am ensuring that my children take a healthy diet by consuming the vegetables grown from my own garden. My family looks forward to every meal of the day as I am now making diverse dishes," said Mahavi, a satisfied project participant.
"We are happy we get to eat fresh vegetables. We feed ourselves, and, we also feed our neighbours through the extra produce the garden gives us. Many women in my village have started to make their own kitchen gardens after seeing how I am making different dishes without making an effort to travel to the market place to buy vegetables which are more costly."
"Climate change is threatening our planet, food security and livelihoods. We are so lucky to have these kitchen gardens as they support us to maintain healthy diets and livelihoods by growing organic vegetables and fruits. Families have come to embrace food security, increased nutrition and increased diet awareness which supports them together in a community of wellness and good feeling," reiterated Mahavi.
---
ⁱ Humanitarian and recovery support to the vulnerable communities continuously affected by recurrent disasters in Umerkot, Sindh, Pakistan
ⁱⁱ In 2021