Home
Featured
Newsroom
Introducing innovative and integrated approaches to Combating Locust Attacks in Umerkot, Pakistan
Introducing innovative and integrated approaches to Combating Locust Attacks in Umerkot, Pakistan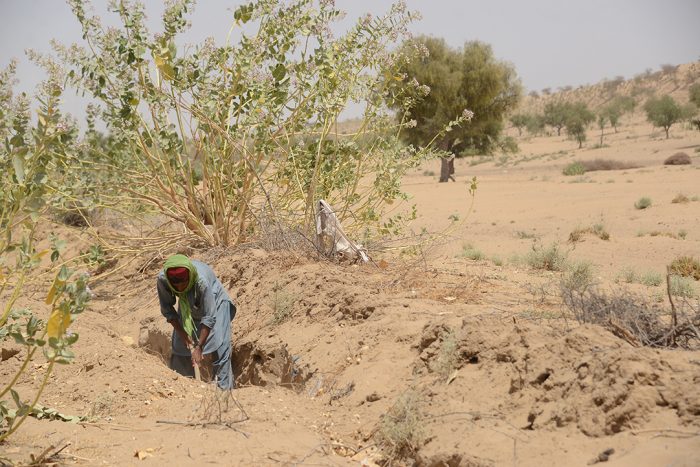 Pakistani farmers have been struggling to combat the worst locust plague to hit the country in nearly three decades. Large parts of the country were hit by severe locust infestations since June 2019, with insect swarms decimating entire harvests in the country's agricultural heartlands, leaving food prices soaring and many farming communities' food insecure. On February 1st 2020, tackling the insects was declared as a national emergency as a large scale of crop land was destroyed in the country's most fertile Punjab province.
Heavy rains and cyclones sparked "unprecedented" breeding and led to an explosive growth of locust populations on the Arabian Peninsula early last year. The same locust swarms made their way to Pakistan after wreaking havoc on agriculture lands in other neighboring countries, such as Iran. Locust swarms from southern Iran started migrating to Pakistan from the Iran-Baluchistan border. These locust swarms have since laid hundreds of thousands of pods which are likely to hatch as soon as they get a favorable environment. Local farmers feared their new batch of kharif seasonal crops would also be devoured by the locusts.
To mitigate further impact of the locust attacks on local small-scale farmers, Community World Service Asia (CWSA) in partnership with CWS Japan and Japan Platform (JPF) launched a project to assisted 1,600 farmer families with provision of cash grants for the tilling process in their lands. Under the project, 16,193 hectares (40,013 acres) of land has been cleared from locust eggs through introducing the tilling method to farmers in district Umerkot.
Tilling/ploughing is a renowned process used and adopted around the world to eradicate locust swarms. This process involves the ploughing of the infected land to a certain, carefully calculated depth and exposing the locust eggs to sunlight, which effectively destroys them.
"Community World Service Asia have been very supportive in Government's effort to eradicate locust swarms by introducing innovative ideas that are much helpful for the communities. The trainings provided to the local farmers on Integrated Crop Management have made the communities resilient and have allowed them to mitigate the risks caused by the locust invasion," shared Ayaz Kachelo, Agriculture O at the Agriculture Extension Department, Umerkot.
Through the project, the National Disaster Management Authority (NDMA) of Pakistan has also been provided with 58,508 liters of Lambda Cyhalothrine insecticides to use for chemical application on the mature/adult locust swarms. The local farmers have also been further trained on Integrated Crop Management (ICM) and Integrated Pest Management (IPM) techniques as part of the assistance. Since the tilling, use of chemical insecticides and the application of new farming techniques in the area no locust swarms have been seen. The farmers in the area have in fact also been able to cultivate their lands in time due to the effective tilling process.
"We were introduced to new techniques to eradicate locust swarms from our fields, such as digging trenches in the agricultural area. We have also been supported by the project teams in tilling/ploughing of our lands. The existing locust eggs on our lands were destroyed in the process. Our lands have finally been cleared from locust eggs, eradicating any future threat to our crops, and ensuring that the lands are ready for the next cropping season," shared Nago, a sixty-year old local farmer from Nagho bheel village in Umerkot.