Home
Featured
Newsroom
Increasing women's 'Voices' and 'Participation' in household decisions in remote communities of...
Increasing women's 'Voices' and 'Participation' in household decisions in remote communities of Bamyan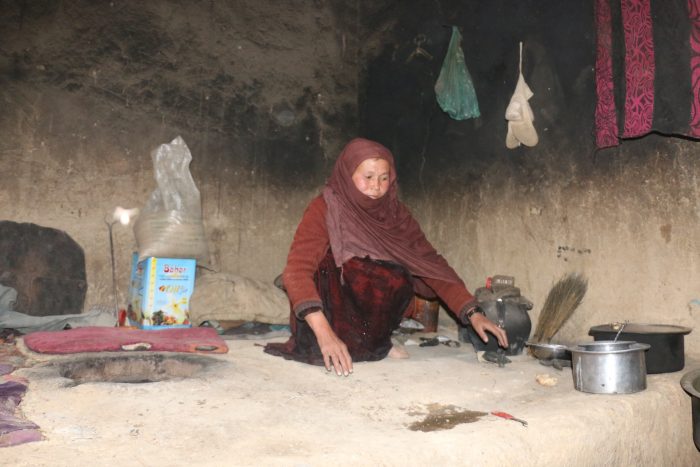 "I felt a sense of leadership and responsibility towards my community after being chosen as the Community Level Focal Person (CLFP) for Dahn Naik Gowder village in Bamyan province. Many people from my village came to congratulate and encourage me. The community's support lifted my morale and inspired me to do my best," shared Gulsoom who was selected as a participant under CWSA's humanitarian response projectⁱ, funded by Presbyterian World Service & the Development (PWS&D) and Canadian Foodgrains Bank (CFGB), with support from the Government of Canada, in Bamyan Province of Afghanistan.
Gulsoom is a 35-year-old mother to four daughters and two sons.
"I received a total of AFN 34,500 (Approx. USD 450) as cash assistance in five months (USD 90 in each month). We spent most of our money to purchase necessities like food and clothes. For the past six months, my family has been eating well, which has resulted in improved health of my children and made them resilient enough to fight and stay safe from the COVID-19 virus." Gulsoom further shared that the COVID-19 pandemic wreaked havoc in many remote areas of Afghanistan.
"Most of these remote regions have high rates of illiteracy, unemployment, and a scarcity of work opportunities. The pandemic added to the stress of the people living here. There are very few healthcare services and a lack of awareness on hygiene and healthy eating habits. The cash assistance has provided households like ours much relief and the purchasing power to consume nutritious food."
Most women in Bamyan province have had no or very limited formal education and barely any decision making powers, including cash control, within their households. In fact, women are often said to have no 'voice' in most communities here. Yes, they are the ones fetching water, walking miles every day, feeding and rearing their livestock, but they have no say in where hand pumps should be placed or when and where to buy or sell their livestock. Family planning is another such issue that most women in Bamyan have no control over. Similarly, decisions about girls' education and their marriages are also often made by the men in the family.
This humanitarian project in Bamyan empowered many women like Gulsoom, to increase their 'voices' and representation in their communities. To increase the role of women in the community and to ensure community participation and ownership, efforts were made to equally engage men and women from targeted villages in community-level activities. The project team selected Community Level Focal Persons (CLFP) from among the project participants. A total of seventy CLFPs were selected, with women accounting for 57% of the total number.
Each CLFP is responsible to coordinate and consult with other project participants and the CWSA team on project interventions, facilitate the identification of training and cash distribution centers, ensure the right use of cash assistance and share expected challenges. They are actively involved in project-related decisions at the community level. Gulsoom is the project's CLFP's for Dahn Naik Gowder village and is quite proactive.
"The project team conducted an orientation session, for all CLFPs selected under the project, which highlighted our roles and responsibilities. I started holding meetings with the women in my village to educate them about their fundamental rights and needs. In addition, I lead sessions on awareness around COVID-19, emphasizing on the virus's risks, harmful consequences, and preventative steps. The sessions also included information about treatment centres and hospitals where people could go if they had any suspected symptoms of COVID-19."
This has been the first time for Gulsoom to be involved in any kind of humanitarian or development work.
"I was so overwhelmed to be involved so actively. During my interactions with women in the village, I prioritised to voice out the fundamental rights of women and mobilised them to take part in decision making within their households. Additionally, to increase food consumption and improved nutrition of women and children, I sensitised the women to buy essential food items and nutritious vegetables from the cash assistance received. This ensured food security among targeted households which directly contributed to the overall well being of the families."
Gulsoom engaged many women on gender-based violence and family planning related discussions, aiming to increase their awareness on the issue, their rights and where to seek health care when needed.
"In my discussions, I tried to convince women to adopt family planning methods to improve the health of their children and themselves. I referred two women in my village to the closest health facility for consultation on family planning. Today, both of them are regularly visiting the health facility and have adopted family planning methods."
---
ⁱ Humanitarian Assistance to Temporarily Displaced People (TDPs) And Returning Refugees In Bamyan Province, Afghanistan