Home
Featured
Newsroom
Helping the aid community ensure results-based Protection work in COVID-19 Response
Helping the aid community ensure results-based Protection work in COVID-19 Response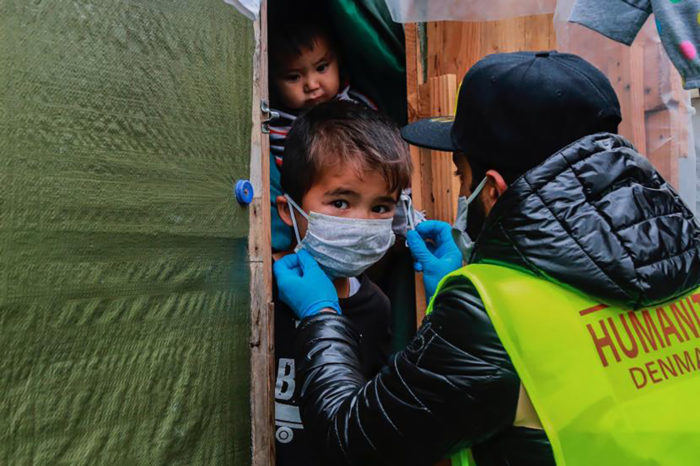 Photo Credits: Manolis Lagoutaris/AFP via Getty Images
In recent years, there has been a substantial increase in international interest in 'protection' and a range of new guidelines, standards and tools for protection practitioners. With serious protection risks arising due to the COVID-19 crisis in nearly every humanitarian setting, it is now more critical than ever for organisations to consider the protection obligations they have, and how they can proactively prevent, mitigate and respond to acts of violence, coercion and deliberate deprivation of rights.
Community World Service Asia and Act for Peace co-hosted this webinar focusing on the core methods and foundations of protection programming. Protection programming aims at reducing the risk of serious harm to vulnerable groups as a result of violence, coercion and the deliberate deprivation of rights and access to information, services and resources.
A hundred and fourteen humanitarian practitioners from thirty-one countries participated in this interactive webinar. James Thomson, Senior Protection and Policy Advisor at Act for Peace led and facilitated the 75-minute session on May 20th.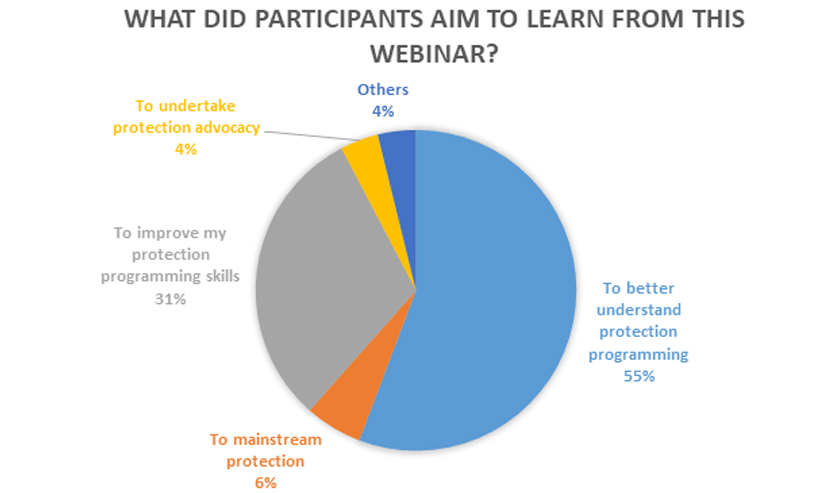 Layers of Protective and Counter-Protective Influence
With such a wide variety of actors now involved in protection, it is important to understand protection as a 'shared responsibility'. All actors have some form of protection responsibility, including humanitarian actors.[1]  People can best access their rights in safety and dignity when all actors fulfil their responsibilities to build and maintain a protective environment. With limited protection and assistance, vulnerable individuals or groups are less able to resist, recover from and prevent or avoid future protection problems.
Protection practice starts with identifying and assessing protection risks; that means analysing the interplay of the three factors that create risks: the 'threat' itself, the 'vulnerabilities' of the group targeted, and their 'capacity' to address protection problems. The aim of protection is to reduce threats and vulnerabilities, and increase capacity.
When you are trying to get people to acknowledge their protection responsibilities and act in accordance the most important thing to understand is what responsibilities they have and the source of their protection responsibilities, which may stem from moral and ethical standards, cultural norms, laws and principles, humanitarian standards, organizational mandates or policies,
James highlighted. When you understand what protection responsibilities they have, the source of their responsibilities, and their willingness and capacity to provide protection, you are much better equipped to engage in effective advocacy and programming. For example, understanding what responsibilities a local official has for distributing goods and services, and the source of that responsibility – under law, department policy, or as part of their job description – means you are better equipped to hold them to account if they withhold goods, exclude groups, or demand kick-backs.
The international legal framework for protection, which consists of three mutually reinforcing bodies of international law (human rights, humanitarian and refugee law) provides a strong accountability framework. Practitioners should endeavor to work within, and strengthen, this legal framework by using a rights-based approach to protection where possible.
Adopting a Rights-Based Approach
A human rights-based approach starts with recognising people as rights-holders and states as duty-bearers who have protection responsibilities. It aims to strengthen people's capacity to claim their rights and the capacities of 'duty-bearers' to ensure that they recognise and act on their responsibility to respect, protect and fulfill human rights of communities affected by conflict, disasters and displacement.  It further asserts people's right to request and receive protection and assistance from their governments. "It is not an optional or charitable act, it is a duty!" These actions promote equality and inclusion and ultimately create accountability between people and governments.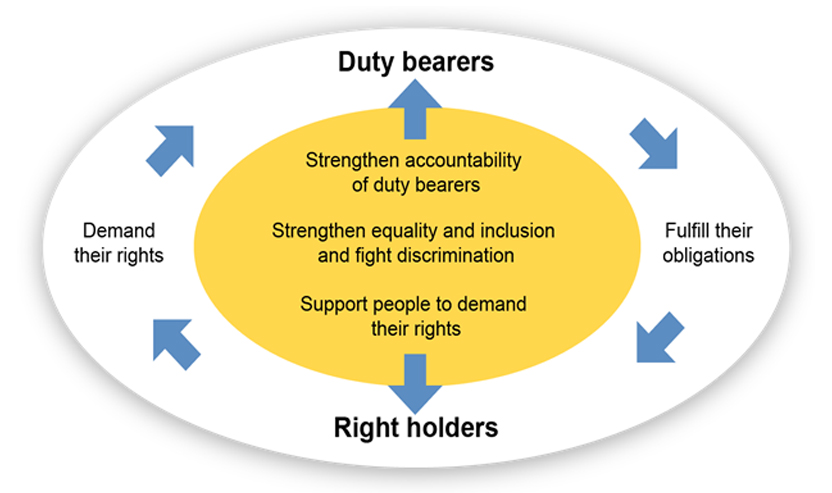 Participants raised concerns about protection amid COVID-19 globally. James noted that
COVID-19 has resulted in a severe global economic crisis. People are losing their jobs and livelihoods, experiencing family breakdown, and the crisis is inflaming conflict, racism and xenophobia. As it deepens, different social groups will face considerable risks as a result of increased vulnerability, new threats and reduced capacity to address these challenges, so it's critical NGOs assess these changing risks and respond through programs and advocacy.
Hannah Valentine, a participant asked how to identify threats and vulnerabilities that communities face, specifically in times like the COVID 19 crisis. James noted that
the best way to find out is to speak with individuals and groups who are facing the risks. They not only have the right, the capacity and the desire to participate in activities designed to strengthen their protection, but they also have a sound understanding of the risks they face, what options they have to respond and what help they need.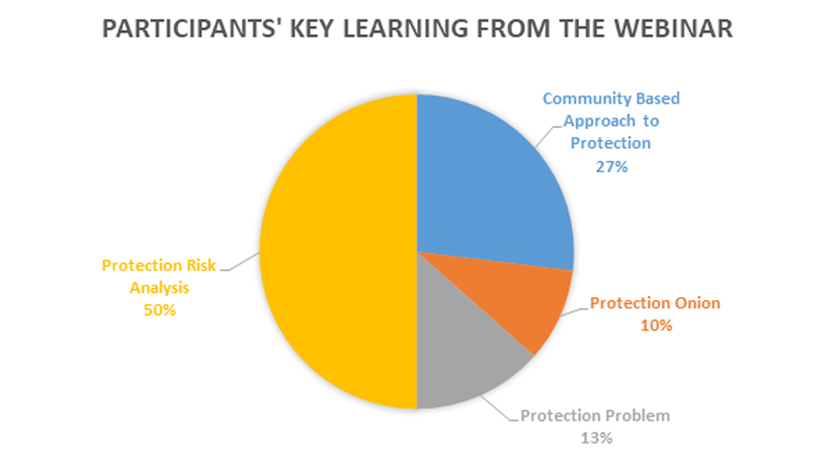 With domestic violence and child abuse rising rapidly as a result of the COVID-19 lockdowns, it is essential to provide protection timely and appropriately manner.
Identifying people at risk is essential as there are many hidden people or groups of people that need protection, such as people living with disabilities. In this case, the Washington Group Short Set of Questions will help identify those groups or individuals in order to give access to protection service and participation
Pro-active coordination and a consideration of contextual sensitivities is required by actors engaged in protection work in countries where human rights are under protected
The three main components of risks; Threats, Vulnerability and Capacity, must be addressed while responding to protection needs
Program designs must respond to an assessment of protection risks along with the identification and breakdown of protection problems in different contexts
Protection Standards, guides and tools:
Humanitarian response resources:
Human rights and civic space resources:
Safeguarding resources:
Country-specific info and situation reports:
Other useful resources, podcasts and webinars:
[1] Minimum protection standards include Sphere protection principles, the minimum standards for protection mainstreaming, safeguarding against sexual abuse, exploitation and abuse, and child protection.