Heavy Rainfall triggers flooding in several areas in Sindh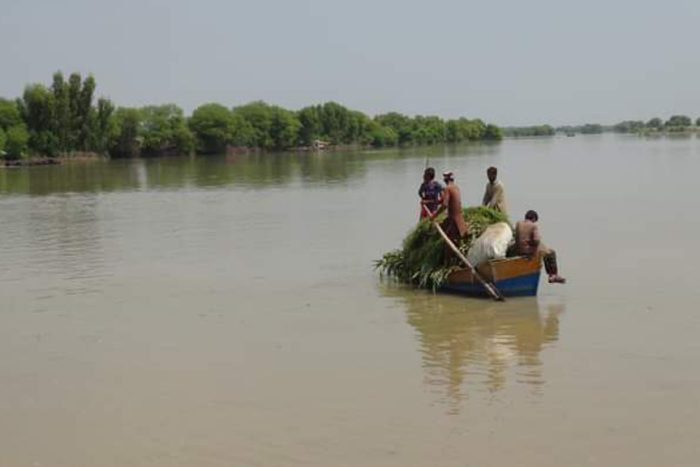 Photo credit: CWSA staff in Khairpur, Sindh
According to the Flood Forecasting Division, the River Indus has experienced high flood levels at Guddu Barrage, with inflow ranging from 4,70,000 to 5,10,000 cusecs. Additionally, at Taunsa and Sukkur barrages1, Indus has been at a medium flood level.
This week's monsoon rainfall in the upper catchment areas of the river has caused a surge in water levels at Guddu Barrage, with an inflow of 4,81,913 cusecs and an outflow of 4,61,563 cusecs.
In Ghotki2, a breach in the Zameendari Bund at Indus has resulted in the submergence of cotton, sugarcane and other crops and the disruption of land links for over ten villages, as shared by local sources. Another twenty villages in the Katcha area of Dadu district3 have also been flooded, leaving hundreds of acres of crops submerged. The situation has led people to move to safer areas on their own.
The Flood Forecasting Division predicts that River Indus will reach high flood levels at Guddu and Sukkur barrages within the next 12 to 24 hours, attributing the higher flows to rainfall in the river's upper catchment areas. The upsurge in water level has also caused flooding in the katcha4 area of Pir Jo Goth and Gambat taluka in Khairpur district, leaving over seventy settlements stranded and at risk. Over 700 households of village Pandhi Mallah in district Khairpur have been left flooded after last night's rains, with its people displaced and relocated to safe grounds, and disconnected from access to roads.
In upstream areas, the Indus River is experiencing low flood levels at Tarbela, Kalabagh, and Chashma, and medium flood levels at Taunsa Barrage.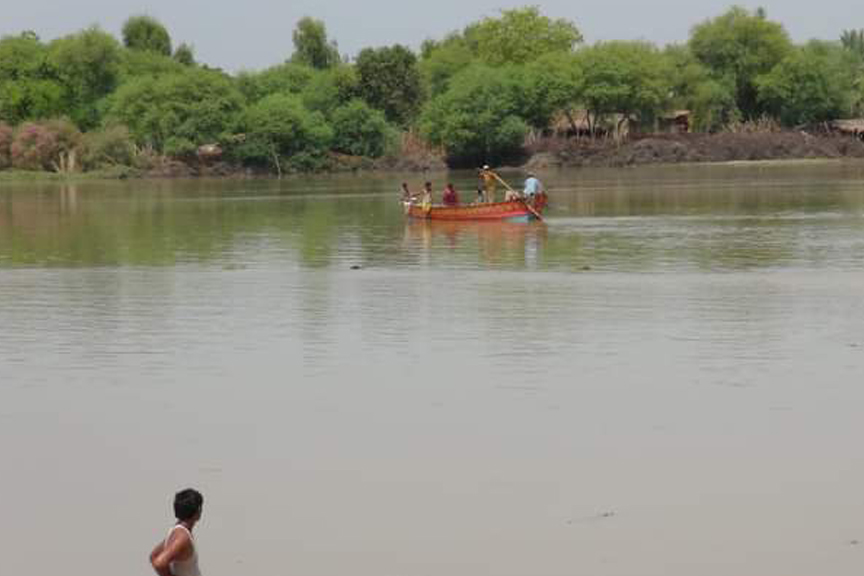 Community World Service Asia Response:
Community World Service Asia's emergency team is in communication with relevant stakeholders, including local authorities, disaster management agencies, and expected affected communities to ensure effective coordination and a timely response. Our team is on the ground, closely monitoring the situation and will immediately start relief operations when and if required. While focusing on preparedness, CWSA has developed a robust emergency response plan that outlines specific roles, responsibilities, and procedures to ensure a coordinated and efficient flood response.
Contacts:
Shama Mall
Deputy Regional Director
Programs & Organisational Development
Email: shama.mall@communityworldservice.asia
Tele: 92-21-34390541-4
Palwashay Arbab
Head of Communication
Email: palwashay.arbab@communityworldservice.asia
Tele: +92-21-34390541
Sources:
www.ndma.gov.pk
www.arabnews.pk
https://pdma.gos.pk
https://reliefweb.int
www.nation.com.pk
---
1. Sukkur Barrage is a barrage on the River Indus near the city of Sukkur in the Sindh province of Pakistan. Sukkur Barrage is used to control water flow in the River Indus for the purposes of irrigation and flood control. Head Taunsa Barrage is a barrage on the River Indus in Taunsa district of Dera Ghazi Khan District, Punjab province of Pakistan. And also controls water flow in the River Indus for irrigation and flood control purposes. 
2. Ghotki District is a district of the province of Sindh.
3. Also in Sindh
4. Riverine area