Fuel Efficient Stoves: a win-win for women and environmental health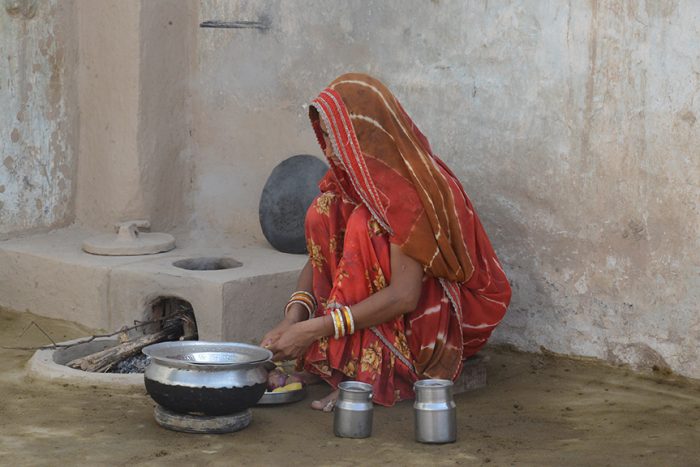 Chothay is a 26 year old mother of three who lives with her husband, Kapil and children in Haji Chanesar village of Umerkot.
"My husband teaches at a nearby private primary school. We also grow cotton and wheat as joint croppers on a 5-acre field close to our house. Together with my husband's salary and our earnings from the field, we bring home an income of PKR 15,000/- (Approx. USD 91) every month."
Most of Chothay and Kapil's income is spent on household utilities and ensuring to provide three meals for their children. The couple's elder daughter attends a private school in the locality for which they pay a monthly fee of PKR 1000/- (Approx. USD 6).
"We are used to cooking on conventional mud-made stoves, which have one burner that results in contiguous smoke emissions. This meant more fuel consumption and the fire was hard to manage. The intense fire also damaged cooking utensils and left dark stains on all our crockery and cutlery. With the fire being unmanageable due to high winds, there have been many cases of houses burning down or women's hands being burned or lungs being affected due to spending long hours in the kitchen. It even took longer to cook the food," explained Chothay.
Gathering wood for the fire was also a laborious job often shouldered by the women in the house.
"Most of us would have bruised hands and legs when we return from fetching firewood due to the difficulty in breaking the branches and shrubs from trees and bigger plants." 
In October 2019, Community World Service Asia conducted a training on making and using fuel-efficient stoves for twenty-five women in Haji Chanesar. The participants of the training were taught how to construct the stoves and were sensitised on its health and environmental benefits, including reduction of smoke emissions and decreased deforestation with lesser wood consumption. These trained women then replicated the same training in more than five hundred households in over sixty villages in the last ten months.
"We witnessed multiple fire flaring-up incidents in Haji Chanesar in the months of May and June last year, resulting in burnt hands, depreciated kitchen utensils and increased air pollution due to the smoke. Whereas, ever since we have started using fuel-efficient stoves, such accidents have minimised. Lesser shrubs and branches are used and cut down now which has also resulted in increased forestry and greenery," said Chothay.
Chothay and many housewives of rural Umerkot now consume less fuel to cook as compared to when using traditional stoves.
"We are now saving time as well as energy while cooking our meals. We are coughing less and cooking more all while using two burners simultaneously. It has also reduced health risks as we do not burn our hands and less smoke is generated. We are using lesser wood which has reduced deforestation in our area and we now see more greenery in our area which is refreshing."