Home
Featured
Newsroom
Focusing on creating a robust Complaint Response Mechanism in the humanitarian aid...
Focusing on creating a robust Complaint Response Mechanism in the humanitarian aid sector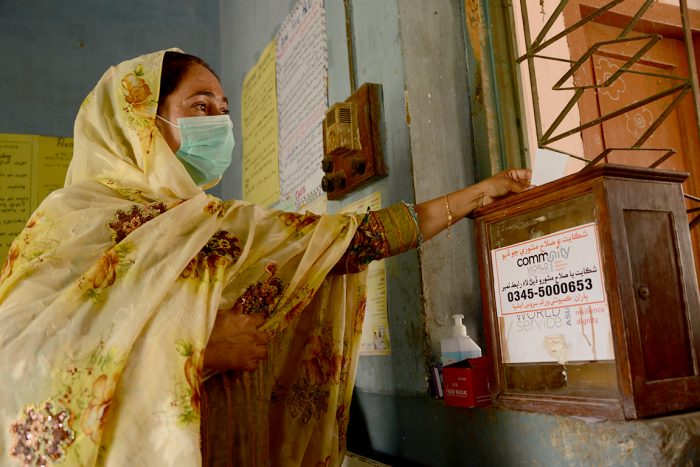 "Over the last two years we have offered different webinars covering various aspects of Safeguarding. We also continue to raise more awareness in key aspects of Accountability such as establishing efficient and transparent complaint systems and protection from and prevention of sexual exploitation, abuse and harassment. Safeguarding is a key pillar to any accountability measures that organisations must integrate into their programs and working cycle," said Palwashay Arbab, from Community Wold Service Asia (CWSA), while speaking in a webinar titled 'Complaints and Response Mechanism (CRM)'. This webinar was the third one of the webinar series on Safeguarding and Complaints Management.
As part of the Quality & Accountability (Q&A) Week 2021, the virtual event was jointly hosted and organised by ADRRN's Quality and Accountability (Q&A) Hub, Sphere, CHS Alliance, ACT Alliance, ALNAP and Community World Service Asia (CWSA).
Ester Dross, expert in humanitarian accountability, facilitated the session and was joined by panelist Ruby Moshenska, Global Safeguarding Lead, ActionAid International. More than 80 humanitarian and development practitioners,from Asia and Europe, participated in this 90-minute webinar that discussed a wide array of diverse expertise and knowledge on safeguarding from all over the region.
Speaking about Complaint Response Systems, Ester Dross, shared the need to understand essential components for establishing an efficient complaints and response mechanism, "Complaining is a right and every individual has this right to exercise. We, as humanitarian aid providers, need to receive and respond to complaints efficiently and in a timely manner. For this, the complaint response system should be a formal mechanism in order to deal with all complaints in the same way."
Key pillars for a robust Complaint Response Mechanism
Ester discussed the key pillars to ensure that organizations have a robust system of Complaints and Responses.

Accessibility – By accessibility, we mean geographical, technological, multi lingual, inclusive access, thinking through different possibilities and different groups of people who would need accessibility to the system.

Transparency – People need to know the policy, procedure, timeline, who will receive the complaint, what kind of feedback they will receive and relevant details about the process.

Confidentiality – Community members must feel that they are secure and can entrust us with sensitive information, which will remain confidential and accessible only on a needs-to-know basis

Safety & Security – Security for everyone includes physical and psychological safety as well as taking into consideration medical issues. Communities must be able to access communications modes with ease.
A complaint is an expression of dissatisfaction
"A complaint for our organisations is an expression of dissatisfaction about our stated commitments. It is clearly linked to organisational policies, programs and obligations. We need to communicate and raise awareness on our commitments so that people can see if we are fulfilling them correctly," said Ester.
The wider and long-term objectives of a complaints mechanism is to create a safer environment for the most vulnerable members of a community and increase community voice and power. "Establishing a complaints system that suits the community needs and helps them exercise their right to complain is critical. Contextual information is essential to design an appropriate community complaints mechanisms and to ensuring that the pillars described above are grounded in reality."
Committees can be established who will be responsible for receiving and responding to community complaints, ensuring that the community is aware of their right to complain, and providing avenues to channel their complaints on activities being implemented by the organisation. "The roles and responsibilities of the committee should be defined and the committee should follow a code of conduct. These committees can be established internally or externally and can include staff or experts. On the other hand, we can have focal points focused on various aspects including complaints, PSEA[1] or safeguarding. They are often responsible for training and awareness raising on PSEA and CRM and are involved in logistics for complaints handling."
Who is responsible for decision making on complaints?
Who decides on which complaint is relevant?
Who is going to investigate the complaint?
These questions were raised by Ester Dross while talking about the Decision Tree and Responsibilities, "We need a formal system in order to address all complaints equally and in a timely manner. A decision making tree acts as a decision support tool, displaying roles and have clarity on who is responsible to make decisions in every stage of the complaint system."
Complaints Mechanisms – People Centred Approaches
"I want to emphasize that we are on this journey as well of strengthening Safeguarding. This is something we are developing and we are always trying to strengthen too at ActionAid. The stronger we all are, the better. Every feedback and complaint is welcomed consequently," said Ruby, while presenting her slides on complaints mechanisms.
When it comes to establishing and managing a complaints mechanism, there are several factors to consider. "One of the most important lessons we have learnt at ActionAid is that one-size-fits-all approach does not work for everyone. People should be able to file complaints in a variety of ways. Furthermore, the complaint takes precedence over us. We need to concentrate on making the complaints process simple for the person filing the complaint, not on making the process simple for the organisation."
Safeguarding that excludes anyone is not good Safeguarding. "The complaint mechanism has to ensure that the approach is inclusive, adaptable and accessible to everyone. A strong complaints management approach cannot stop with Safeguarding. We need to create an organisational culture where people can raise concerns and take actions from everyone."
It is key to create inclusive and accessible complaints mechanisms when working in communities.
According to Ruby, all staff, partners and communities should be aware of why the complaints mechanisms exist, how to use them and how they will be monitored. "Transparency is absolutely critical here. In addition, working with communities to develop complaints mechanism is key and as part of that to work with them to assess risks and map needs. Here we need to ensure that the mechanisms are accessible to groups that are traditionally marginalised such as persons with disabilities. We are also seeing a lot of work being done with children and young people to develop complaints mechanisms that are relevant to them and ensuring these mechanisms are developed for people with diverse literacy capabilities and communities with oral traditions."
Key Messages
Have diverse ways that people can raise complaints – work with staff and communities to create accessible systems that are easy and safe to use
People want to report to someone they know and trust – train staff, leadership to respond safely and responsibly to concerns
Create a safe working culture – encourage people to raise concerns in all areas, not just Safeguarding, and walk the talk at all times
---
[1] Prevention of Sexual Exploitation and Abuse (PSEA)