First Sphere Training of Trainers (ToT) in Iran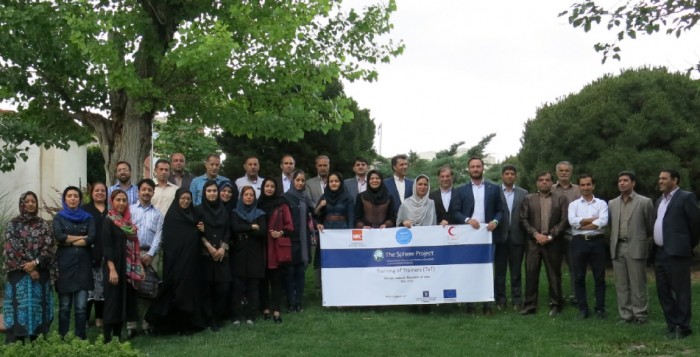 The first ever Training of Trainers on the Sphere standards was conducted in the city of Iran this May. Funded by the Norwegian Refugee Council (NRC) and planned in collaboration with the Iranian Red Crescent Society (IRCS), the training was thoughtfully designed and facilitated by Community World Service Asia considering the Iranian context. To promote effective humanitarian response in Iran, ICRI has conducted a series of Sphere trainings in Iran during recent years in coordination with NRC. Following the three day basic Sphere trainings, the key stakeholders involved recognized the need of creating a larger pool of Sphere trainers in the country to join existing three member sphere trainers' team.
Community World Service Asia has been providing humanitarian support to programs assisting refugees in Iran since June 2015. However, this has been the organization's first experience in its quality and accountability interventions in the country as they provided technical support to conduct this first-ever Sphere ToT. Participants at the training belonged to various sectors of the humanitarian community present in Iran. These included Red Crescent staff, government officials, UN representatives and national aid workers. This event proved essential in providing a joint platform for key stakeholders of the humanitarian community to collaborate on understanding the Sphere handbook and its application.
Discussions are underway to support the selected ToT graduates to become expert Sphere trainers. As an immediate outcome of the ToT, one of the participants introduced the Sphere Standards in his recent lecture at the Iranian Red Crescent's research institute. The respective agencies are looking forward to having a joint strategy in building the national capacity in Iran through the use of the Sphere Minimum Standards.