Home
Newsroom
Stories
Education Centres help returnee students enrol into and adapt to local education...
Education Centres help returnee students enrol into and adapt to local education systems in Afghanistan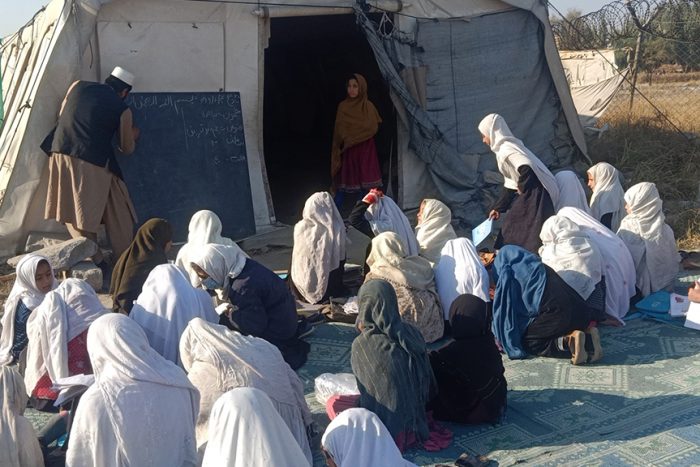 "My parents believed that education was key to building a bright future. This is why they kept it as a priority for us and consistently encouraged us to regularly attend school. Four out of my six siblings, including myself, went to school when we were in Peshawar," said Marwa, a 17-year-old student of Humaira Girls High School in Behsud, Nangarhar District.
Marwa's family is one of the many who were forced to leave their own country in the search of a safer place to live as the violent conflict in Afghanistan continued in the 90s. The family landed in Peshawar, Pakistan in 1998 as refugees and settled there. Marwa's father decided to return to Afghanistan when he learned that most of the conflict in the country had ended and a new government had formed. The family returned to their homeland after twenty-one years. However, their home and native village was nowhere near live-able and was completely damaged by years of conflict, leaving the family no other option but to make the Behsud Returnees Camp their home. The government recognises Behsud Returnees Camp as a Returnees and IDP camp since its set-up in 2012. It accommodates 90 families, with a total of 675 individuals.
While settling in the camp, the family encountered several challenges, including little to no access to essential food items, healthcare services, or safe drinking water. Marwa's father decided to venture into the city, accompanied by his two older boys, aged thirteen and fourteen years, in search of a job or any daily labour. However, finding employment was difficult, and they would often return without a job. "My father did not approve of my brothers working at such a young age but he had no choice. As soon as he was able to get employment at a local store in the city, he encouraged my brothers to concentrate on their education and not to worry about looking for a job," shared Marwa.
Marwa was in 9th Grade when they left Pakistan and had to discontinue her education during the resettlement process. Luckily, once their father found a job, Marwa decided to re-join school in Afghanistan along with her brothers. Marwa in particular experienced various obstacles when she was trying to enrol into a local government school in the district. The procedures and curriculums were completely different from those studied in Pakistan. "I spoke very little Pashto. It was difficult for me to communicate with my classmates. They would make fun of me and my accent. The bullying discouraged me and I stopped going to school. My father, on the other hand, would console me and urge me to face my fears and overcome my obstacles, since dropping out of school would harm my future."
To help Marwa overcome her fears and issues, her cousin advised her to seek help at an education centre set up near their camp. These centres have been established in Behsod and Sukhrod districts by Community World Service Asia, with the support of the United Methodist Committee on Relief (UMCOR), under an education projectⁱ, to ensure the effective use of available educational resources and to foster parental and student satisfaction among local schools and its curriculums.
The centres are also helping returnee students overcome language challenges, facilitating science courses and helping students with completing enrolment documents, and any other school-related matters. Students, parents, and communities are encouraged to consult Education Centres through awareness raising sessions conducted under the project on the importance of girls' education and the role of education in enriching integration.
"I have been learning the local language in the centre for the past month. So far, everything is going smoothly. The education staff at the centre encouraged me to return to school. I am able to speak in class now and comprehend what is being taught to me. In the centre, I am also enhancing knowledge in the subject of mathematics," expressed Marwa happily.
---
ⁱ Titled 'Education and Facilitation Centre for Returnees Girls in Nangarhar Province of Afghanistan'