Developing a pool of financially qualified professionals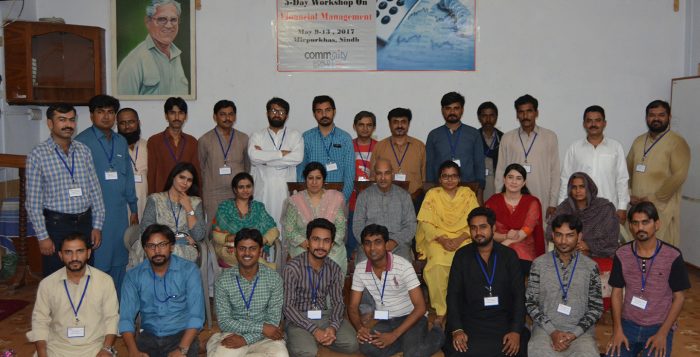 Understanding and application of financial concepts is becoming essential in the nonprofit sector, as donor agencies increasingly prefer organizations that have sound financial management systems in place. A Financial Management training was designed and conducted by our Capacity Institutionalization Project to strengthen the financial management skills of participants belonging to small-scale organizations in Pakistan. The training aimed to equip participants with methods, skills and techniques to help them utilize financial management tools with efficiency and effectiveness.
This 5-day training session welcomed participants from Civil Society Organizations (CSO) and NGO workers, particularly those belonging to small-scale organizations. The training catered to both financial and program personnel. It was a third training of its kind, held at Mirpurkhas Sindh from 9th to 13th  of May, 2017. Twenty-seven participants from fifteen organizations, including 23 men and 4 women, took part in this activity based training.
Nazar Abbas Naqvi, financial management expert and a trainer with 18 years of relevant experience, facilitated the five day workshop.  Mr. Naqvi has worked on international donor funded programmes, including USAID, DFID, Asian Development Bank, European Commission and the World Bank. He has delivered extensive capacity trainings on financial management to public sector staff, Civil Societies Organizations and NGOs across various regions of Pakistan and abroad. Nazakat Bibi, Education Specialist at Community World Service Asia and Nadia Riasat, Senior Program Officer co-facilitated the training with him.
The training imparted specific skills on the fundamentals of financial management, developing effective financial policies and internal controls and streamlining accounting systems as per organizational policies. It geared participants on  preparing budgets, financial reports as per donor requirements, as well as facilitating audits to ensure transparency.
Through the various interactive sessions in the workshop, participants' knowledge on the roles and responsibility of an organization's board members, managers, finance and program team was also enhanced. The importance of budget in planning, control and decision-making was highlighted with key components and language of accounting system. Participants were made familiar with the concept of reconciliation and analysis of books of accounts. The link between budgets, accounting records, and financial reports were also explained in detail. A sample set of financial policy guidelines and procedures required for an operational NGO program were also shared with participants, which will help the participating organizations to strengthen their financial systems.
A session on resource mobilization was taken very well by the participants as it was a new topic for participants, both with financial and non-financial backgrounds. They were sensitized on mobilizing monetary resources. Some of the finance managers attending the training shared their interest in playing a more prominent role in resource mobilization. "It was an ambitious and knowledgeable workshop in which we learnt many things. On behalf of our organization, Orangi Charitable Trust (OCT), I would like to congratulate Community World Service Asia for the successful training from which all the participants benefited," shared Qazi Raheem Bux Qureshi, a participant from Orangi Charitable trust (OCT).
Prem Das: I have learnt a lot about financial management. Risk management was a new and interesting topic for me which I was very little aware of before. Most importantly, the session on resource mobilization has enabled me to contribute more to my organization.

Society for Safe Environment and Welfare of Agrarians – PAK.

MB Khaskheli: The training helped us to understand all the aspects of financial management. This training was designed on building knowledge on basic level. It will be interesting to attend an advanced level training on finance in future. It was an excellent, highly encouraging and full of fun learning experience."

RDA- Rural Development Association

 

Beena Baig: This training gave me an insight on financial management, budgeting and financial reporting. It gave me an opportunity to refresh all, previously learnt, financial theories and policies. I have learnt techniques of resource mobilization which will be more beneficial as we only managed record resources."

Community World Service Asia

Arjun Pattel: I was very lucky to be a part of such an constructive and communicative training. I have learnt a lot in these five days. Prior to this training, my knowledge level about financial management and policies was quite weak. This training enhanced my skills in financial management immensely."

Pakistan Village Development Program (PVDP)

Afshan Waheed: The Financial Management training was a completely new experience for me as it is not my field of work. But attending this training proved to be very beneficial as I learnt basic concepts of financial management and accounting. Now my concepts are clear and I will be able to contribute in financial discussions and decisions.

Sukaar Welfare Organization