Home
Featured
Newsroom
Cash Assistance brings relief to COVID-19 affected repatriated refugees in Afghanistan
Cash Assistance brings relief to COVID-19 affected repatriated refugees in Afghanistan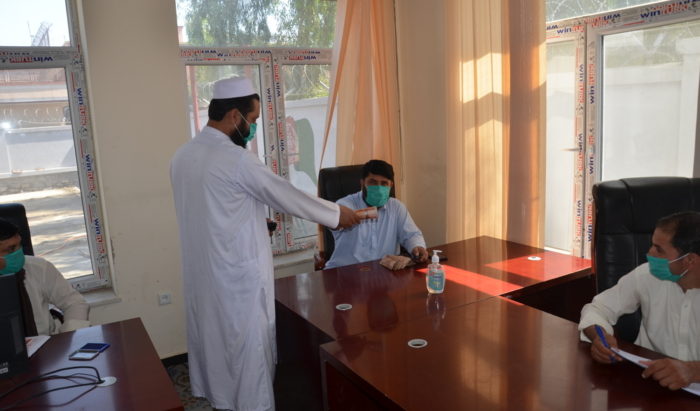 Over the last four decades, thousands of Afghans have fled their war-torn country and have stayed in Iran. However, many of those Afghan refugees are now returning to Afghanistan. While some of the refugees are fleeing on their own, several thousands are being expelled forcibly. As the COVID-19 pandemic spread fast in Iran, more than 1,000 returnees were further coerced to moved out of Iran.
Ehsanullah was among the returnees who came back to his motherland and hoped to settle back in his village Bama Khel located in the Agam District of Nangarhar province before the threat of COVID-19 erupted in January 2020.
Five years ago, Ehsanullah ran a small construction business in Shiraz, Iran.
"I had to leave Iran abruptly. I just left the country and my business and had returned to Afghanistan with my seven children and wife and brought along only essential belongings. I had no one to leave the business to back in Shiraz (Iran), so all the machinery in the factory was lost. In Iran, I had built my business from a loan and had planned to pay it back through the profits of the business. Now that the business was lost, I did not know how I would ever be able to pay back the loan with no business and flow of income."
As soon as Ehsanullah returned to Afghanistan he desperately started to search for a job to earn a livelihood. He soon found work as a mason in Jalalabad City.
"I got a job but i was not able to work for long as I was tested COVID-19 positive and had to isolate myself to recover from the illness."
Ehsanullah was registered as a recipient by the Public Health Directorate and Directorate of Refugees and Returnees (DoRR) for cash assistance. He was also registered by a humanitarian organization and received a sim card to get cash assistance remotely. However, this cash assistance has not been received as of yet.
In coordination with DoRR and online assessment, Ehsanullah was registered under the emergency response project[1] of Community World Service Asia. He did not believe them initially but was hopeful to get some help. He received USD 90 through M-Paisa service (sim card cash payment) in July 2020. He was very happy to have received the cash timely.
"I was so relieved when I received the cash assistance. I purchased food items and kept some cash for to pay back some of the loan. This assistance have to us as a blessing in our most difficult times. I urge such humanitarian organizations to help the vulnerable families, since there are those who are in need of assistance to support their families in this pandemic. We hope that the situation becomes better so that we can find better work to earn a sufficient income," narrated Ehsanulallah.
---
[1] Rapid Response Fund – Covid-19 Project was implemented by Community World Service Asia with the support of ACT alliance