A widow striving to provide for her 10-member family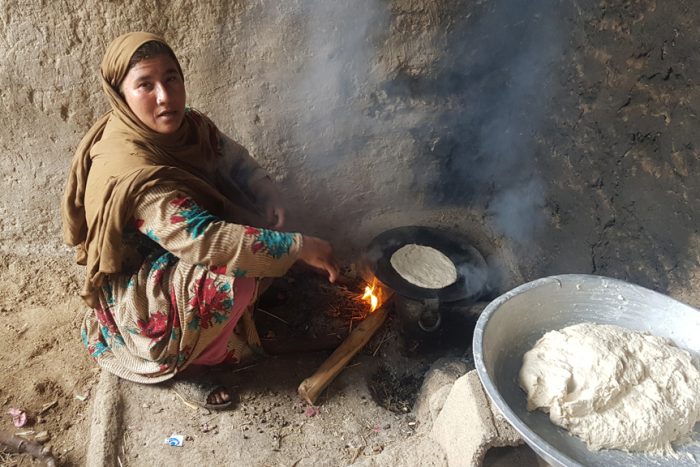 Norzia, daughter of Akhtar Mahammad, is originally from Qilla-e-Jogi village in Mehterlam city of Laghman province. She is now living in Sangar village of Alingar district in a generous family's house. Instead of paying rent, she is working for the family, watering trees and saplings in a small garden. "My husband, Qaribullah, from Khurak village of Alingar district, was a soldier, who died in a conflict four year years ago," shared Norzia.
The care of her eight children and mother-in-law falls heavily on Norzia. While her daughters attend a madrassaⁱ, her 16-year-old son, Omidullah, works in a barbershop to earn AFN 150 (Approx. USD 1.67) every day. In her spare time, Norzia crafts small mattresses and quilts to supplement her family's income. "From the beginning, my life has been challenging. I was just three years old when my father passed away. My mother eventually wed another man, leaving my siblings and I to live with our maternal uncle. For twelve years, he looked after us. He was the only source of income and had to support both his family and ours, so it was hard to make ends meet," said Norzia.
Humanitarian aid was provided in the region by some organisations, but Norzia's family was never chosen to receive it. The first organisation to assist Norzia was Community World Service Asia. Norzia received USD 90 in June 2022 as part of the Church of Sweden and Community World Service Asia's Humanitarian Assistance Project. The assistance is helping conflict-affected families in Nanagarhar and Laghman provinces of Afghanistan protect their livelihoods and increase food security. "I brought basic food items such as salt, wheat flour, sugar, oil, tea, and tea. We used to only be able to eat once a day because we didn't have enough money to buy groceries, but now I am able to make three meals a day," shared Norzia.
---
ⁱ An educational institution, particularly for Islamic religious instruction