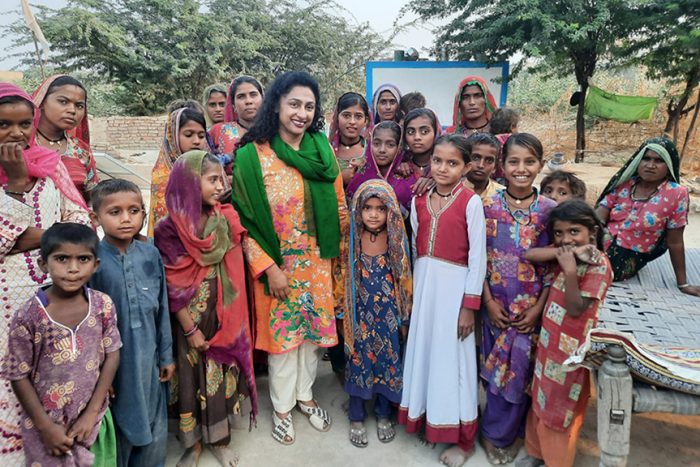 Written and Contributed by Samina Jamshaid, CWSA Staff, Professional Art Therapist, and Visual Artist
What springs to mind when we see a pair of hands?
For me, a hand is that magic that constantly creates miracles, and turns dreams into reality.
During my visit to Umerkot, I came across multiple pairs of such fascinating hands, young and old. Every wrinkle and mark on those hands had a story to tell about the journey it ventured – some of their own and others of the hands used to accomplish someone's dream. Yes! You read that right. Someone's dream living far away, whom they have never seen or met but with the artistry of their hands and a smile on their face, made their dreams into reality; a momento for them to cherish for the rest of their life.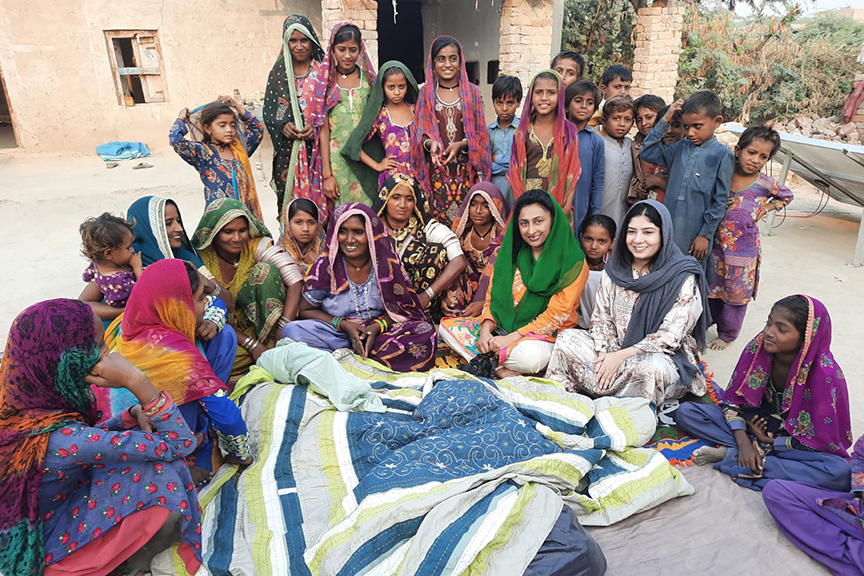 These are the women of rural interior Sindh; no matter which small or remote village in the Province they live in, these women work tirelessly to create miracles with threads and needles and their skillful hands.
A beautiful, warm smile greeted me in a remote village on my first ever visit to Umerkot. While I was waiting in the courtyard of a far-away village, with hundreds of eyes fixated on me and astonished smiles of a handful of children, I saw a lady walking towards us, dressed in mustard yellow traditional Sindhi attire. She had the most mesmerising smile, and a sparkle of contentment in her eyes. The pride of being a bread earner for her family and a supporting hand for her husband, was clearly evident in her walk. She is Kalawanti from Kharoro Charan. Her name means "Talent", making her a walking definition of her name.
Kalawanti's talent and skill was identified by Community World Service Asia's (CWSA) livelihoods team that leads the organisation's skill enhancement and social enterprise programs which are envisioned to empower women and strengthen their roles as key household decision makers and sustainable livelihoods sources. CWSA also launched a social enterprise brand, Taanka1 meaning "Stitch" of which Kalawanti is a part of as an active member of its Women Enterprise Groups (WEG).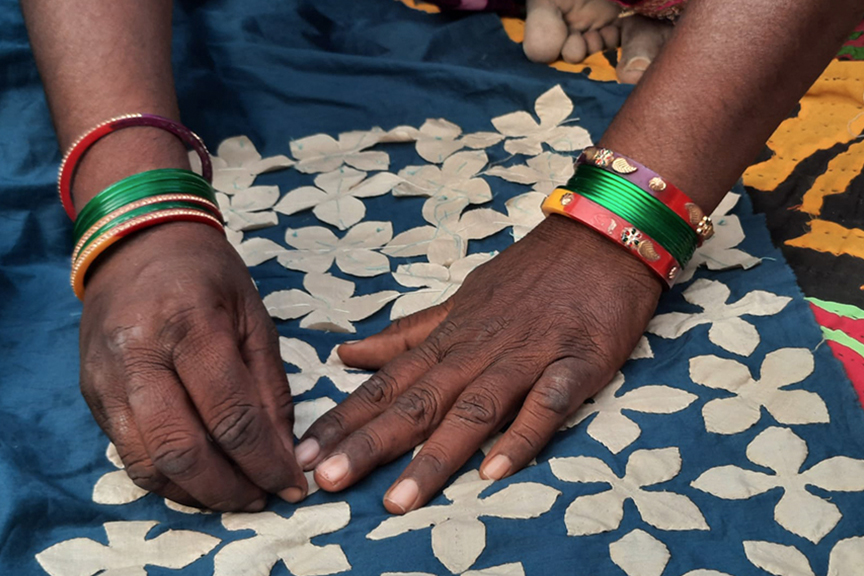 My day with the community and the villages that are supported through Taanka showed me the relevance of the name as it was not only about the literal craftsmanship of the community but the idea is to stitch the communities together with acceptance, love, care for each other and promoting each other's good work. CWSA's Livelihoods program binds the communities together in a way that they become inseparable.
Many of us in Pakistan wear reputed clothing brands and designer fashion wear but do we stop to think twice about the intricate, delicate embroidery and embellishments on our apparel and fashion accessories and whose craftsmanship this is. Many times, it is the creation of women like Kalawanti living in remote villages.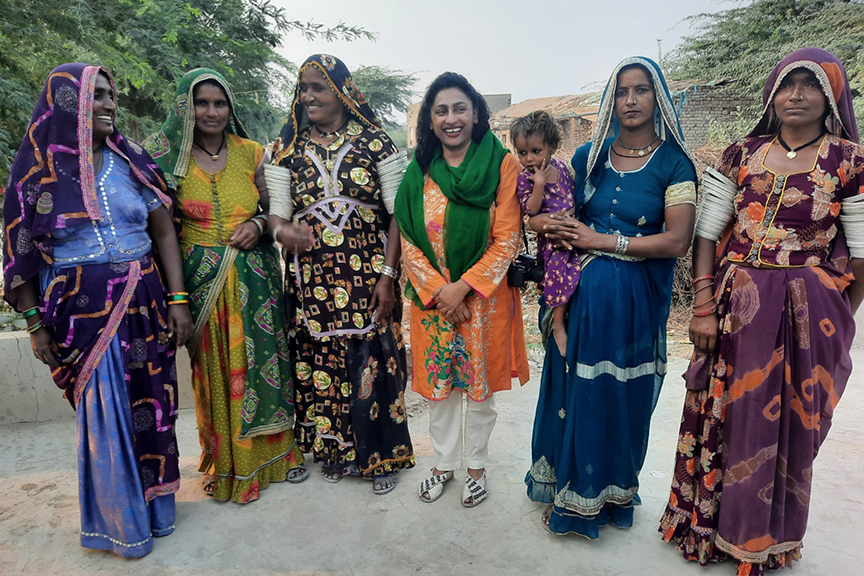 As it is said behind every successful woman there is a man, but I would say behind every progressive community there is a group of dedicated humans and in this case, it is the group of artisans working together under the umbrella of Taanka. Taanka has faced its challenges and took risks but always tried to make things work so that the livelihoods of the artisans behind it don't stop. This is true perseverance.
Artisans like Kalawanti are hard working and resilient. They are not only artisans but housewives as well. They take care of their families, leading all household chores, ensuring everyone is fed, in good health, children going to school. Their everyday struggles are endless but the output of their work as artisans makes all their hard work worth it. The support they get from CWSA through linkages with markets, quality control, and product development ensures their hard work is paid off and valued.
This visit to villages in Umerkot made my heart and soul smile with pride! And i couldn't help but share about it with the world.
---
Taanka is a social enterprise launched by Community World Service Asia in 2016, to develop sustainable market linkages for rural women artisans in Sindh. The brand promotes the finest handcrafted amalgamation of contemporary designs with traditional stitches, produced by rural women artisans from interior Sindh, Pakistan and facilitate collaboration between the women artisans and urban designers, design students, commercial textile companies and fashion brands, to reflect consumers' demands in ethnic designs.