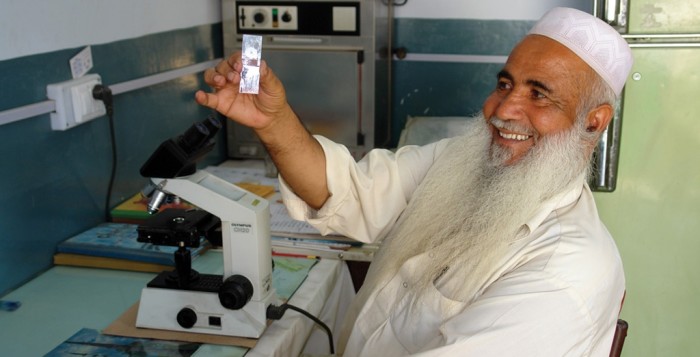 Poor, marginalized, and internally displaced persons in Pakistan and Afghanistan – especially women and children – face difficulty in accessing basic health services due to lack of infrastructure including hospitals, health personnel, and essential medicine.
CWS-P/A mobilizes its resources to provide life-saving, life-sustaining, and poverty alleviating health interventions in response to the health needs of high-risk communities. Primary health care efforts support families affected by disasters – including refugees, internally displaced persons, host communities, returnees, and stayees. In both Pakistan and Afghanistan, prevention and awareness on health-related issues are central to saving lives, combating diseases, and and preventing major outbreaks and epidemics.
In addition, CWS-P/A believes that by responding to the health needs of disaster-affected communities that healthier families are better able to address their other needs and rights – including food, livelihood, education, and gender equality.
Reducing the Burden of Disease
As CWS-P/A engages in primary health care assistance – both through mobile and static health facilities – the organization works under three pillars: preventive and curative health care, awareness raising, and the capacity building of local health structures.
CWS-P/A finds that one of the major barriers to healthy communities in Pakistan and Afghanistan is a lack of awareness on disease prevention and maternal health. Since families and communities can lack access to knowledge and treatment facilities, these countries experience high rates of maternal and infant mortality. According to UNICEF, the infant mortality rate in Pakistan is close to 72 per 1,000 live births, while maternal mortality is 280 per 100,000 live births. For Afghanistan, the infant mortality rate is close to double and the maternal mortality rate is nearly six times that of Pakistan.
Together, religious and cultural factors form barriers to proper health care. Social misconceptions and myths within society can cause families – particularly women to delay seeking treatment. This is why the key component in all of CWS-P/A's health work is the mobilization of community-based health workers. These volunteers form key relationships within communities to raise awareness on disease prevention and the value of seeking timely professional medical attention. In addition to the community-based efforts, simple steps like the provision of essential medicine can help create help create further incentives for families.
In Afghan refugee camps in Mansehra, Pakistan, where CWS-P/A supports 56,000 refugees, health efforts have reduced infant and child mortality rates by ten-fold in the space of just one year because of the increase in community health worker activities. In the Nangarhar and Laghman provinces in Afghanistan, there was not a single maternal death, still birth, or tuberculosis related death during the last quarter of 2009 in the targeted districts where CWS-P/A supports close to 200,000 people. In addition, there was a 0% death rate from malaria during 2009 – reflecting the long-term commitment that CWS-P/A has made to prevent and treat malaria in these districts for years. And there was 0.05% death rate from acute respiratory infections among children under five. Such infections are the largest contributor infant and child mortality, according to the World Health Organization.
HIV and AIDS: Guiding through training and curbing discrimination
CWS-P/A conducts ongoing sessions with adolescents, communities, and other organizations to promote awareness on HIV and AIDS, sexual health, sexuality and sexual rights. Moreover through poster competitions, guest speakers, and other integrated methods students receive knowledge on causes, prevention and misconceptions.
In addition to raising awareness with school-age adolescents in educational institutions and at the community level, a key strategy of CWS-P/A is the multiplication of knowledge on HIV through "training of trainer sessions" with staff from rural organizations.
The training, discussion, and exchange of ideas with key staff helps to raise awareness with new community networks and through the projects of other NGOs. Through awareness raising, CWS-P/A continues to work to remove the stigma and discrimination associated with people living with HIV.
Promoting Reproductive Health
In addition to actively providing reproductive health services through its health projects, CWS-P/A also advocates for mobilizing increased resources for reproductive health in Pakistan. Pakistan's Demographic and Health Survey (2006-07) revealed that 0.7% of its GDP was spent on health care, one of the lowest health spendings in South Asia. And even with some 65,000 registered civil society organizations in Pakistan, there is a lack of networking at a societal level on reproductive health and awareness amongst local communities.
CWS-P/A continues to develop advocacy strategies to help raise reproductive health awareness on a national level with parliamentarians, civil servants, and international donors. The organization also raises awareness within local communities and encourages them to advocate for increased resources and improved access to reproductive health services.