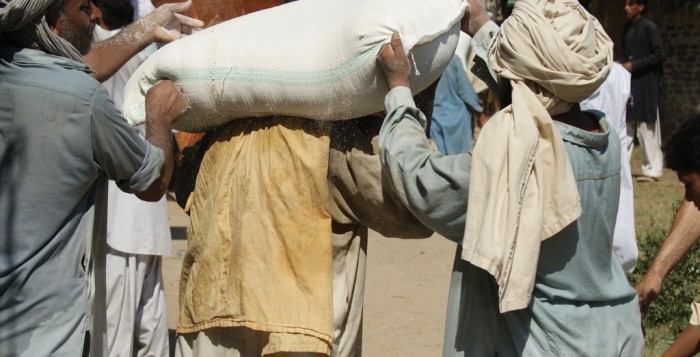 Whether responding to natural disasters or man-made crises, CWS-P/A and its partners work closely with communities to build capacities and reduce potential disaster risks – and provide life-saving assistance in the midst of insecurity and daunting logistical challenges.
And long after disaster strikes, rehabilitation and reconstruction efforts are carried out while strengthening the resilience of communities for the future.
CWS-P/A always aims to help families that are most vulnerable to rebuild their lives with dignity. Projects focus on increasing community participation through assistance ranging from health and hygiene promotion to food aid to school reconstruction. CWS-P/A believes that communities themselves are central to the restoration of their own lives and livelihoods, and that humanitarian actors only exist to help facilitate solutions.
CWS-P/A also works to help communities prepare for future disasters and to better understand their levels of risk. Through CWS-P/A's disaster risk reduction activities, communities can better cope with future disasters through risk management and emergency preparedness. And as refugees and internally displaced persons return home, CWS-P/A facilitates the reintegration of families through vocational training and primary health care to begin to restore normalcy to everyday lives.
It helps to be prepared
CWS-P/A initiates steps for mitigation and preparedness to eliminate or reduce the impact or the occurrence of a disaster. These actions can be structural – such as reinforcing buildings – or non-structural through activities like disaster management trainings.
In the aftermath of the 2005 earthquake, CWS-P/A has helped affected communities in constructing houses, health, and education facilties with high quality structural designs and construction that can withstand the impact of disasters. In addition to the structural efforts, CWS-P/A also conducted of workshops and trainings on disaster preparedness for community members.
Read more about CWS-P/A's response to the 2005 earthquake, which assisted more than 240,000 people.
Hot and Cold: Hardships for Displaced Families
As insecurity continues in many parts of Pakistan's north-west, significant challenges continue to affect the lives of families. Deteriorating climate conditions and seasonal changes add to the hardships people encounter.
During the massive displacement from the Swat valley in 2009, internally displaced families living in Mardan and Swabi endured temperatures as high as 49°C (120°F) –temperatures that were far higher than the temperate climate of Swat. These living conditions caused great hardship for the millions displaced during the armed conflict between the Pakistani military and extremist groups.
In contrast, in the mountains of Afghanistan, the sub-zero temperatures often add to the burden faced by families as they struggle to survive, while the freezing temperatures significantly increase the susceptability to diseases among women and children when winterization needs are not met.
In addition, displaced families face greater food shortages and require additional medical assistance and heating facilities. CWS-P/A regularly distributes blankets, hygiene kits, and basic non-food item kits to families to assist them with their needs during the winter. Moreover, health care services are provided among internally displaced families all year long.
The increasing size and geography of displacement in recent years has indeed been unprecedented. More than 300,000 civilians fled a second government offensive in South Waziristan in late 2009, and thousands more continue to be displaced as a result of other military offensives in Pakistan's tribal agencies. CWS-P/A continues to respond to the massive needs of both those who fled and the communities that accepted them. Then as families who return home, CWS-P/A has committed to assist with their recovery needs communities.
Helping Families Return Home
After living far from home – sometimes for years – CWS-P/A returnee reintegration projects help to restore a degree of normalcy to the lives of returning refugees and internally displaced families. For many returning families, the key need is opportunities for livelihood development. CWS-P/A works through a variety of projects for men and women including agriculture, cash-for-work opportunities, and skills training.
Click here to read more about CWS-P/A's Livelihood work.
Restoring Dignity to Human Welfare
As the scale and scope of disasters continues to increase, the need for international humanitarian aid provided by non-government organizations has become increasingly essential. Humanitarian aid workers in their relief and recovery efforts require the best understanding of the physical needs of survivors and refugees – including the psychosocial impacts. Equally important for the success of humanitarian efforts is the tangible demonstration of commitment to the rights and dignity of disaster survivors.
CWS-P/A is a member of the Humanitarian Accountability Partnership (HAP) International and adheres to humanitarian standards while promoting the rights of beneficiaries. This promotes humanitarian action that is impartial, dignified, responsible, and accountable between CWS-P/A, beneficiaries and other stakeholders. In addition, CWS-P/A also adheres to and promotes Sphere standards to ensure the quality of assistance provided to people affected by disasters.
Read more about CWS-P/A's Quality and Accountability work.
Responding to Emergency Needs
As disasters hit in Pakistan and Afghanistan, CWS-P/A immediately mobilizes its teams to meet the urgent needs of affected families – mostly related to sustenance, health and shelter, of affected families. CWS-P/A works both through its own resources and its partners by supporting district structures already existing in communities.