The health and life of an Afghan child Threatened by Poverty, Conflict and Displacement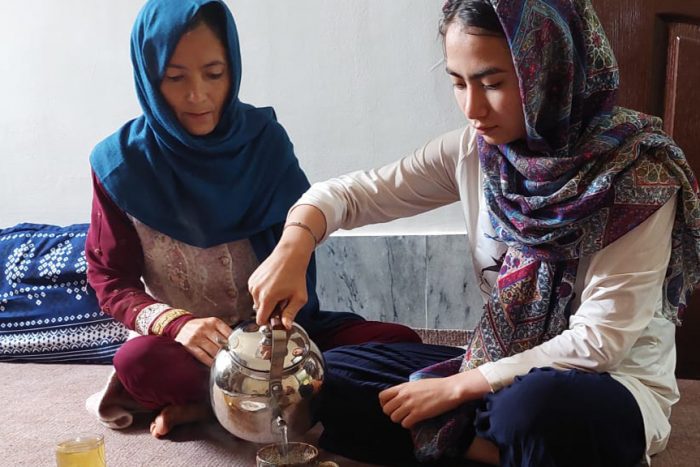 Fourteen year old Fouzia lived with her mother in Jaghori district of Afghanistan's Ghazni province. Her father had abandoned them both after marrying for a second time. Fouzia was only nine at the time. "Since 2017, my mother has worked hard to provide for the two of us. She was not educated nor skilled. She washed clothes for some neighbours and earned a meagre income of AFN 5000 (Approx. USD 56). We were happy living a simple, yet peaceful life. But this did not last long." Three years later, in 2020, Fouzia's mother suffered a sudden heart attack and quietly passed away. "Since then, life has been extremely difficult," sighed Fouzia.
Orphaned as a teenager, Fouzia was adopted by her aunt who she lived with in Kabul for a year until a humanitarian crisis broke out in Afghanistan last year (2021). Her uncle, who worked as a labourer in Kabul, lost his job with the regime change. With barely any livelihood, he found it hard to meet the family's basic day to day expenses. "On the night of August 18, 2021, we crossed over to Pakistan through the Chaman border in Balochistan. Two days later we travelled to Islamabad and settled there."
It has been difficult for Fouzia's uncle to find a job in Pakistan as his legal documents are incomplete; they lack official verification and his academic qualification is below that of what is required for most jobs in Pakistan. Currently, around 2.8 million documented and undocumented Afghan refugees are living in Pakistan, making it the world's second-largest refugee population after Syrians in Turkeyⁱ. Insufficient identification documents limit their livelihood opportunities and leaves them at a risk of poverty and deportation.
Fouzia's adopted family found it difficult to find a house to live in on rent due to a lack of legal documentations. They kept searching until they finally found a house that they could immediately shift into temporarily – a four-room apartment, already home to three families. The monthly rent for a room in the apartment cost them PKR 18,000 (Approx. USD 97), but they had no choice and had to prioritise paying for a home over everything else.
"It has been difficult to fulfil my family's basic needs such as food, healthcare and education. There are three families living in the same apartment as ours. Living in one flat with three families is quite difficult. We are all cramped up under one roof and there is lack of privacy among other issues. The building's water supply is insufficient because water is delivered through the pipeline three days a week," shared Fouzia's uncle. Since the families sharing the apartment cannot afford a water tanker, they resort to borrowing water from the neighbours when they completely run out of it to meet their urgent needs.
Two in every three children in Afghanistan are in desperate need of life-saving aid, according to new UN figures. That's an increase of more than a third since the start of 2021 as the country descends into one of the world's worst humanitarian crises. Conflict and war are a part of daily life for Afghan children. Decades of economic and security disruptions in the country have jeopardised the mental health of Afghan children who are highly vulnerable to being traumatised by the ongoing violence.
Across the border in Pakistan, some 80 per cent of school-aged Afghan refugee population are currently out of school, resulting in extremely low literacy among Afghan refugeesⁱⁱ. Like the majority of Afghan children, Fouzia is also without official identification documents, particularly a birth certificate, thus cannot even enrol in a primary school. She is one among tens of thousands of Afghan refugee children who are deprived of access to education, mainly due to a lack of citizenship cards.
Facing a myriad of challenges since early childhood, Fouzia suffers from a neurological condition and experiences severe migraine. The last migraine attack she suffered was just last month. "We went to the doctor at a health clinic nearby. He prescribed some medicines and a follow-up but I could not go again as we cannot afford the consultation fees. My mother (aunt) was able to buy some medicines which I am taking now," narrated Fouzia.
In February 2022, Fouzia received a cash assistance of PKR 15,000 (Approx. USD 84) under a humanitarian response project under the ACT appeal, implemented by CWSA and supported by key partners. Through this response, CWSA and its partners aim to improve food security conditions and the wellbeing of conflict affected, displaced families of Afghanistan. Fouzia's family was able to purchase monthly food essentials and pay for her health condition through the cash received. "My aunt bought food items so that we have sufficient meals every day as we barely had enough food for all of us in the family. She also bought my medicines for my migraine and is planning to take me to the doctor for follow-up consultation soon," shared Fouzia with a sense of relief.
---
ⁱ https://www.aa.com.tr/en/asia-pacific/why-do-young-afghan-refugees-in-pakistan-lack-education-skills/2279000
ⁱⁱ UNHCR report – https://www.thenews.com.pk/print/940987-statelessness-keeps-young-afghan-refugees-away-from-education