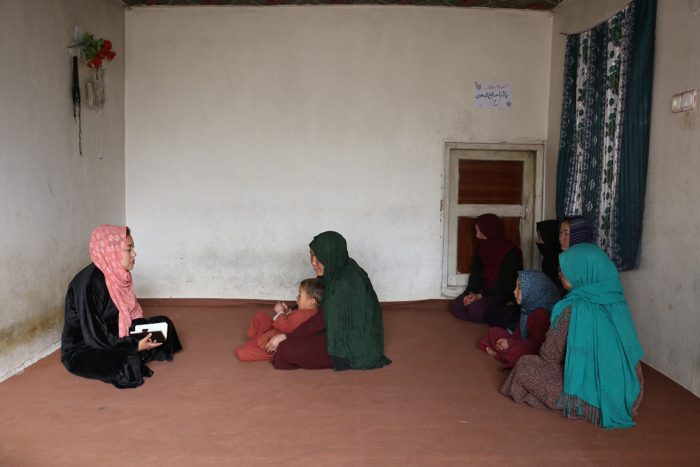 Over the past two years, Afghanistan has undergone significant political change, consequently, the country's economic situation has been unstable, adding to the daily distress faced by the people of Afghanistan. Women, in particular, are facing numerous challenges. New rules that prohibit women from engaging in education, work, and social activities has led to the diminishing of women's presence in society. Many women are confined to their homes without opportunities for employment or income.
The lack of access to basic rights such as education and work is significantly adding to the suffering of women and young girls in a country that was already at the far end of the gender parity index. With mental health services hardly available in a conflict struck country, women here have nowhere to go to seek professional psycho-social care or support. Many are also afraid to ask for it or seek it, matters of mental health being considered a taboo.
With operations in Afghanistan, Community World Service Asia had no choice but to abide by the rules and regulations set by the De-Facto Authorities (DFAs) regarding the restrictions on women. Thus, CWSA's women staff in Afghanistan were asked to work from their homes and were committed to ensuring the well-being of its staff, CWSA continued to support many of their Afghan women staff through this difficult time. They were offered the essential facilities required to stay engaged in work related activities and the flexibility to work from home and on flexible hours. However, despite these efforts, more than twenty-five staff members lost their job over the last two years.
Naghma Kazimi, a 25-year-old married woman, had been working as a school teacher with CWSA for nearly three years under its education project. Unfortunately, she served her last month in March this year as the project came to an end. Her income had been a vital support for her family of nine members. Naghma faced many financial difficulties and struggled to support her family after losing her job with CWSA.
Despite having a bachelor's degree in Agriculture, Naghma's husband started to work as a daily-wage labourer due to the scarcity of job opportunities. Earning AFN 5000 (approximately USD 70) per month, his income is insufficient to provide for the needs of his nine family members. With no children of their own yet, the husband and wife provided for the whole family. Naghma's sister-in-law, a 9th-grade school student, was also forced to stay at home because the new law did not allow higher education for girls.
Naghma appears deeply disheartened by the current circumstances. "My mother-in-law has a chronic respiratory illness that requires an inhaler. When I was working, I could afford to provide her with this necessary equipment and contribute to other household needs. However, my husband's current income is insufficient. We do not own agricultural lands or have any alternative sources of income, and opportunities to earn are almost non-existent in the vicinity."
"We find ourselves borrowing money from fellow villagers just to secure the inhaler for my mother-in-law. Since losing my job, we have had to cut back on food expenses to allocate some funds for her inhaler. This situation worries me greatly as it's pushing us into accumulating significant debt."
With the generous support of the Presbyterian Church (U.S.A.) under the grant program of Presbyterian Disaster Assistance (PDA), Community World Service Asia provided financial assistance to ten women staff members who were facing difficulties in securing employment. Naghma expressed her gratitude, stating, "I received a total of USD 300 in three instalments between May and July 2023. This financial support enabled me to purchase essential groceries such as wheat, flour, cooking oil, rice, beans, vegetables, and fresh fruits. With these provisions, I was able to prepare nourishing meals that filled the stomachs of my family members. Additionally, I was able to acquire inhalers for my mother-in-law, providing much-needed relief for our family over the course of a few months."
Within the framework of the same project, women staff members working in CWSA received psychological support through professional counselling sessions. An expert psychologist conducted these sessions online, both in group settings and on an individual basis as needed. These sessions played a pivotal role in supporting women staff with managing the accumulated stress resulting from their ten-month-long remote work arrangements. With this support we aim to ultimately contribute to an improvement in the overall psychological well-being of these strong and resilient women.