Focusing on handling investigations into sensitive complaints within the humanitarian aid sector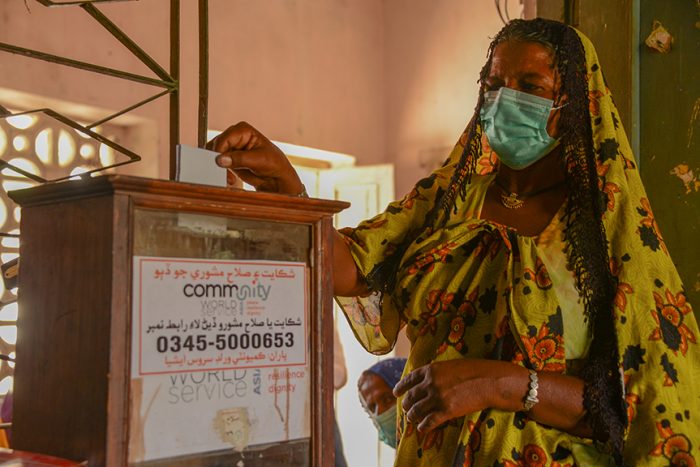 "How do we handle complaints? What are the processes involved during the investigation? Today, we will understand key principles of an investigation and have clarity on the investigative processes from the angle of the organisation, independent investigator and the complainant / survivor," said Ester Dross, lead facilitator of the webinar titled, 'Handling Complaints, Managing Investigations', conducted on February 2, 2022.
As part of the Quality & Accountability (Q&A) Week 2021, the fourth virtual event, jointly hosted and organised by ADRRN's Quality and Accountability (Q&A) Hub, Sphere, CHS Alliance, ACT Alliance, ALNAP and Community World Service Asia (CWSA), was more focused on exploring ways to manage investigations.
Ester Dross was joined by panelist Susan Grant, InternationalSafeguarding Director from Save the Children International and Nabila Myers, Complainant. More than 60 humanitarian and development practitioners, from Asia and Europe, participated in this 90-minute webinar that discussed a wide array of diverse expertise and knowledge on safeguarding from all over the region.
44% of the participants have been investigating complaints, while 37% are managers of the Complaint Response Mechanism at their respective organisations. The remaining 19% have been indirect and direct witnesses, experts or whistleblowers.
Complaints are an important way for the management of an organisation to be accountable to the public, as well as providing valuable prompts to review organisational performance and the conduct of people that work within and for it.
While discussing the key principles of managing investigations, Ester Dross said, "Confidentiality is essential to build trust with the users of the complaint system and the investigation teams. Another key principle is that the investigation must be survivor/victim centred in terms of health, welfare, safety, legal and dynamic risk assessment. Moreover, the investigation processes need to be thorough and planned to execute the investigation professionally. It is equally important to work in partnership if a complaint involves different organisations. Respect for everyone from the survivor to the whistleblower and the different witnesses and managers involved in the processes is key to guarantee fair outcomes."
Responsibilities can differ from organisation to organisation in the investigation processes. "Usually there is a Board or Senior Management who has the overall responsibility of the process. Then there is the crisis/case management team who sets up the investigation in terms of terms of reference (ToR), identification of investigation team, initial document gathering and logistics. The investigation team, led by an expert or team leader, conducts the investigation and is tasked with document review, interviews, ongoing risk assessment, analysis, report writing and identifying external support if needed (child counsellor, legal expert, psychologist, etc.). The witnesses have a key responsibility to participate truthfully and are bound to confidentiality," shared Ester.
Taking Action and implementing the Zero Tolerance Principle is a Key Responsibility
"As an international organisation,we have an obligation to ensure that we are doing everything we can to avoid sexual exploitation, abuse, and harassment of children and the affected population," said Susan while speaking about the responsibility of international organisations in the investigation processes.
Why are we investigating or addressing these allegations?
In response to this question, Susan said, "Since 2017, there has been increasing scrutiny with regards to international organisations on sexual exploitation, abuse, and harassment committed by working staff. The Charity Commission of the United Kingdom, donors, media, and the general public all contributed to this scrutiny. As a result, there was a lot of pressure on organisations to put emphasis on safeguarding and take a more compliance-oriented approach. We must strike that balance and ensure that the investigations are carried out because we want truth, justice, and fairness."
"At Save the Children, our goals for 2022 are to increase the quality of our investigations and strive towards more consistency of that quality throughout the regions and countries we operate in. We are seeing this as a chance to reinforce and communicate periodically, to the senior management and throughout the organisation, the importance of supporting any investigations into violations, sexual exploitation, and abuse against children and adults," Susan added.
Speaking out as a complainant in the investigation process
Nabila moved from Kuala Lumpur to Nairobi for a six-month role at an international organisation as head of partnerships, where she believed she could show her leadership potential. Instead, she became a survivor of sexual harassment. "I reported the case after two weeks of being sexually harassed by a colleague. In late November 2019, I was contacted by an investigator in relation to my complaint — three months after it was initially lodged. In that period of three months, I was subjected to retaliation and rumouring at a level I did not expect. I had peers and colleagues from other agencies contacting me with their version of the story. Moreover, my personal life and relationships outside and within the organisation were questioned and scrutinised."
After being questioned repeatedly at professional and personal, Nabila became a different person. "I was not as friendly, smiley or open as I used to be. My perpetrator was not put on immediate leave, instead I was continuously exposed to him. Only after approaching a specific person at leadership level for answers did I receive a response from the HR department."
Nabila was told her charges had been substantiated and disciplinary sanctions were enforced nine months after she filed her complaint. "I was given no information about these measures, and when I asked for additional information about the disciplinary action taken, I was informed I did not have the legal right to know any further," Nabila said.
Nabila is now devoting her time to communicating to other survivors. "This is not just one woman's narrative. This is the story of many women. It is also crucial to note that many women are not as confident or assertive as men are when it comes to confronting such occurrences. Going through the investigation process as a complainant was the loneliest experience I have ever had. I am one of the few people that is publicly speaking up. To empower more women to share their stories or fight against SEAH, a network has been developed to unite survivors, called Nanshe. More platforms like this are needed to raise awareness on violations, discrimination, and harassment within and outside of organisations."
"This is not about any single individual. This is about the system and changing it to address the concerns and challenges and protecting individuals at risk," said Ester as a conclusion to the exchanges made during this webinar.