World Health Day: Addressing the Causes of High Blood Pressure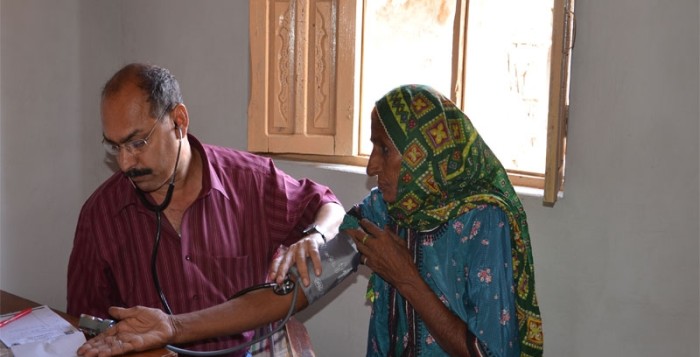 April 7 is dedicated to highlighting priority public health concerns across the globe. This year's theme for World Health Day is high blood pressure; a serious condition that can lead to coronary heart disease, heart failure, stroke, kidney failure, and other health problems. Unawareness plays a key role in the spread of this condition, particularly within countries such as Pakistan where health education and access to proper health facilities is often critically low in rural areas. Globally, 40% of people aged 25 and older are affected by high blood pressure, and it is suspected to cause 12.8 percent of total deaths (WHO, 2013). Within Pakistan, clear and accurate data on its prevalence is not easily found. An estimated one-third of Pakistanis struggle with high blood pressure. For this reason, high blood pressure has been known as one of the silent killers within the country (Tribune, 2011). However, steps can be taken by individuals, health care providers, and the humanitarian community to address the causes and reduce the prevalence of high blood pressure.
A closer look at Thatta District, Sindh Province reveals the severity of high blood pressure among poverty-stricken communities. The health workers at CWS-P/A's Maternal, Neonatal, and Child Health (MNCH) Center report that high blood pressure affects approximately 30% of patients from the surrounding villages. Seen most prevalently in patients aged 30-40, the health staff account this disease to four main causes: poor diet, unawareness, stress, and the use of narcotics. First of all, poor socio-economic conditions do not allow many households to consume the proper balanced diet necessary for a healthy life. Moreover, even with an increase in income, families do not know which foods are healthier for their bodies because of a lack of education. The families in this area are flood-affected and living in deprived conditions. Living day to day – never knowing if there will be enough money to feed the family – adds much stress to one's life. High stress levels have also been known to be a major factor in the cause of high blood pressure. Finally, the use of narcotics also increases the occurrence of this health condition throughout Thatta. Gutka is a mild narcotic which can be found in any market within Thatta. Due to its low price, people of any age or gender use it freely. The prevalence of those smoking cigarettes is also high. These four causes are significant factors in the occurrence of high blood pressure within the area.
In order to meet the direct need of the community in reducing cases of high blood pressure, CWS-P/A is working not only to address the health problems caused by high blood pressure, but also addressing the root causes. Within the clinic, patients are treated according to their symptoms and can discuss in detail their health issues with the doctor. Community health sessions occur four times a month to address the most pertinent public health issues within the surrounding villages. This past week, a community health session on high blood pressure took place. Community members were grateful to learn more about this condition which affects so many of them. Based on feedback and questions from the community during these sessions, follow-up health sessions on causes such as the use of narcotics and the importance of a balanced diet are planned for the near future.
Although conditions are unique in every community, some commonalities among vulnerable, poor communities exist. In order to address the root causes of high blood pressure, efforts to reduce the stress caused by poor socio-economic conditions can have a positive impact on reducing the prevalence of high blood pressure. Empowering women through livelihoods development is one example which helps individual families overcome the negative effects of poverty, including health-related issues. Through income generation activities and comprehensive training in a variety of topics, families may become less-stressed and have ample money to purchase healthy food or get the education necessary to make wiser health decisions in the future.
Furthermore, the value of integrating disaster risk reduction (DRR) into development initiatives prepares communities and reduces losses during an emergency. Reduced losses and preparation save the communities from the cycle of debt, absolute poverty, and complete loss of property and livelihoods that poor communities frequently experience during disasters. This complete loss is a significant factor that contributes to increased stress, decreased access to healthy foods, and inability to access require health care or medicines. Therefore, implementing DRR into development activities will also aid in reducing the prevalence of high blood pressure among disaster-affected communities.
High blood pressure can affect anyone, anywhere—whether it is by taking care of their own health or by working to improve the health of others, every individual can help reduce the risk and prevalence of high blood pressure. Individuals can take steps to reduce their risk by regularly having their blood pressure checked, exercising, eating a balanced diet, and avoiding harmful drugs. Health care providers play an important role in treatment and prevention through health education on the topic. Humanitarian and development workers must also recognize the role they can have in reducing the prevalence of this silent killer. The discussion should not end with this World Health Day; rather it must be addressed throughout the year through concerted efforts to reduce poverty, increase awareness of DRR, empower women, and improve accessibility to health care.
Reference List:
WHO, 2013. Global Health Observatory. Raised Blood Pressure. http://www.who.int/gho/ncd/risk_factors/blood_pressure_prevalence_text/en/
Tribune, 2011. The silent disease: there is no real data on hypertension patients in Pakistan, claims experts. http://tribune.com.pk/story/103803/the-silent-disease-there-is-no-real-data-on-hypertension-patients-in-pakistan-claim-experts/