World Health Day 2014: Preventing Vector-Borne Diseases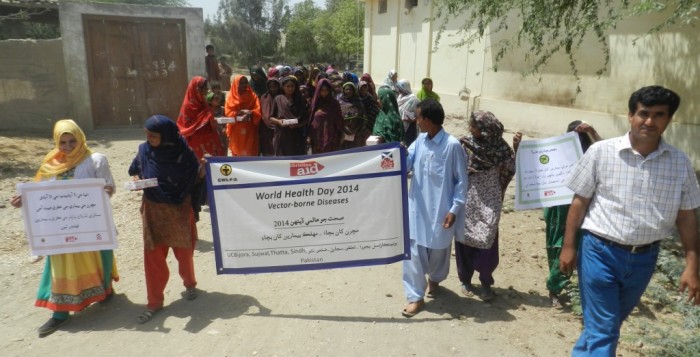 More than one million people die every year from vector-borne diseases which include malaria and dengue. Vectors such as mosquitos, bugs, and ticks transmit pathogens and parasites from one infected person to another. Malaria causes more than 600, 000 deaths every year globally, most of them are children under five years of age and more than 2.5 billion people in over 100 countries are at risk of contracting dengue. These infections are most commonly found in tropical areas and places where populations have inadequate housing and lack access to safe drinking-water and sanitation 1. Vector-borne diseases are attracting attention globally and are also the focus of this year's World Health Day.
Pakistan and Afghanistan are among the countries where vector-borne diseases pose health concerns. Particularly among poorer communities where living conditions place people at greater health risks, the lack of awareness of the diseases or how to prevent them is a concern. Furthermore, urban areas, camps, and other areas where large populations live in close proximity are breeding grounds for epidemics. The number of refugees, disaster-affected, and conflict-affected individuals that are currently displaced in the two countries is more than eight million 2. Therefore, increased awareness and the provision of resources for the prevention and treatment of vector-borne diseases are essential.
Currently in Pakistan, the government is implementing a nationwide strategy for early diagnosis and prompt treatment at general health facilities. Prevention measures include the promotion of insecticide treated bed nets and materials, targeted use of residual insecticide spraying, and introduction of biological and environmental vector management approaches. To enhance public knowledge on treatment and prevention, comprehensive messages are shared to create awareness. Humanitarian organizations also contribute to awareness and prevention measures. Some activities include the distribution of hygiene kits, safe drinking-water, and mosquito nets; the provision of health services; and increasing awareness on health related issues 3.
Church World Service-Pakistan/Afghanistan (CWS-P/A) emphasizes the importance of good health practices and frequently provides emergency health services, health education, and forms health committees among marginalized, disaster-affected, and conflict-affected communities. In Sindh, Pakistan on April 3, 2014, the village health management committees (HMC) and the CWS-P/A team organized an event in Ranta Village to celebrate World Health Day. "The theme selected by World Health Organization (WHO) to celebrate this year's world health day is vector-borne diseases, as last year there was an outbreak of dengue which caused many deaths in Pakistan and all over the world. Similarly malaria and leishmaniasis are diseases caused by different types of mosquitoes, insects, flies, and germs which are harmful for health. We can prevent ourselves from all these by taking precautionary measures," shared Dr. Shazia Shah, Female Medical Officer at MNCH Center in her opening statement.
Community members appreciated CWS-P/A for their ongoing interventions in Union Council Bijora, which was badly affected during the 2010 floods. "Today CWS-P/A has introduced us to the World Health Day and informed us about dengue, malaria, and leishmaniasis diseases and their preventive measures. We will continue to practice and adopt this knowledge of preventive measures practically, and I shall disseminate this information in different villages through local gathering," said Phul Jakhro, President of men's HMC.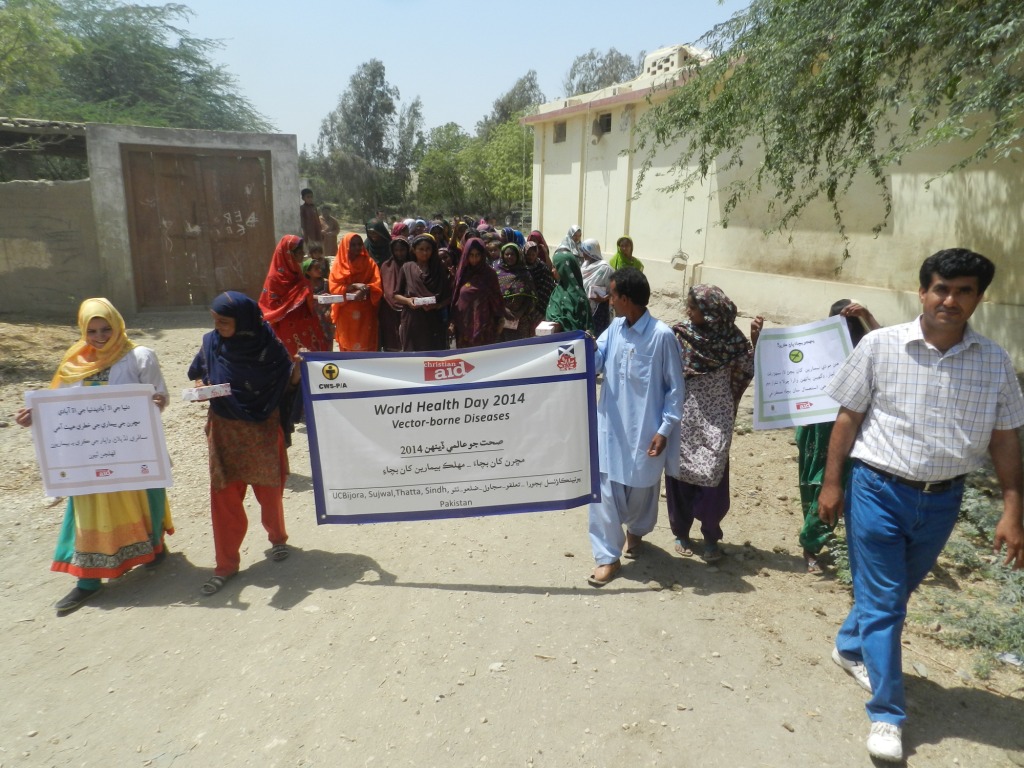 Chago, President of the women's HMC, valued the efforts to celebrate World Health Day in their village to create awareness about vector-borne diseases. "This is a deprived union council in District Thatta and is always at risk of disasters; CWS-P/A has facilitated us on how to tackle these risks through DRR [disaster risk reduction] trainings and also through health awareness services and sessions. Previously we followed our traditional methods for treatment which caused many deaths, but now we are aware on how to take preventive measures in case of any health related issue. We regularly consult with Dr. Shazia Shah at the MNCH Center and also hope that CWS-P/A will continue these services for a longer period along with health awareness sessions."Following the event, the health management committee and members of the community rallied and moved around the village chanting slogans. "Reduced garbage – save life; prevent from mosquitoes – prevent from diseases; preventive measures guarantee a healthy life."
[1] http://www.who.int/mediacentre/factsheets/fs387/en/
[2] http://www.unhcr.org/pages/49e486eb6.html
http://reliefweb.int/report/pakistan/pakistan-humanitarian-snapshot-20-mar-2014
[3] http://www.dmc.gov.pk/index.php?option=com_content&view=article&id=55:about-domc&catid=34:domc&Itemid=78