World Food Day 2013: 'Sustainable Food Systems for Food Security and Nutrition'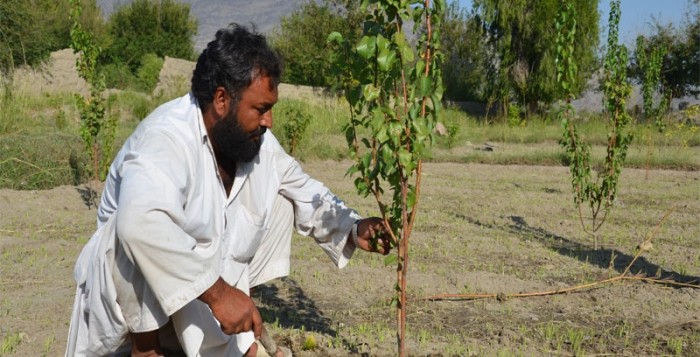 Food is integral to human survival and viewed as an agricultural act that begins with planting. In modern industrial societies, food sources are further processed by mega factories mostly into ready-to-eat sustenance that originates from the land. Yet, food which is necessary to sustain life is not easily accessible by all. Today, almost 870 million people worldwide are chronically undernourished.[1]
The present need is to ensure that both poverty and hunger are minimized as outlined in the Millennium Development Goal – 1. This year on 'World Food Day,' the focus among stakeholders should include assistance to farmers around the world and especially in developing countries in the form of fair prices, certified agricultural inputs, and best farming techniques. These steps help support sustainable food systems which work to reduce hunger and increase food supplies for future generations. It is also important to note that agriculture remains essential for income generation and poverty alleviation in most developing countries. Statistics show that three-quarters of the poor live and work in rural areas and food also accounts for a major share of their expenditure.[2]
While a sustainable food system includes cooperation at all levels among various stakeholders, it also includes farming practices which prevent the degradation of the environment, ecology, and biodiversity. Such practices help our future food supply and improve ecological conditions which are essential to the success of this year's 'World Food Day' theme – 'Sustainable Food Systems for Food Security and Nutrition.'
In Pakistan and Afghanistan, poor farmers face numerous challenges in sustaining their livelihoods. These challenges include inaccessibility to agricultural inputs, indebtedness, water scarcity and poor irrigation systems, and limited knowledge of integrated crop management and improved livestock rearing practices. Other challenges include difficulty in accessing markets, frequent disasters, and varying climate conditions.
Poor famers in the two countries have little or no access to purchase good quality seeds that can increase yield and utilize the land's production to full capacity. By not being able to invest in quality seeds, the harvests do not produce the quantity or quality which is possible from the land. This reduces the amount of food available for consumption by the farming families as well as the potential for income generation. For many farmers and their families who work the land to bring food to markets locally and internationally, three meals per day is rare rather than the norm. Food insecurity and malnutrition are prevalent in farming communities across both countries.
Farmers often rely on loans with high interest rates to cover the cost of agricultural inputs. Moreover in Pakistan, poor farmers work the lands that often do not belong to them. For these Pakistani farmers, the share crop system brings huge indebtedness during a bad harvest or year of calamity. Debts are not forgiven when crops are destroyed by disasters, and farmers often find themselves taking more loans to meet basic survival needs. Small-scale farmers in Afghanistan, may own a meager amount of land either purchased or often handed down with family inheritance. The situation is not any better for the farmers in Afghanistan who also remain indebted to pay back money borrowed for agricultural inputs. These debt cycles continue, often for years without escape. This sends the farmers further into poverty.
In both countries, farmers face irrigation difficulties owing to repeated droughts, disasters, or simply lack access to irrigation channels and water sources suitable for agriculture. Due to frequent flooding in many parts of Pakistan and Afghanistan muddy and polluted water has threatened crops and human life.
Additionally, small-scale farmers in Pakistan and Afghanistan use farming and livestock rearing practices which inhibit them from maximizing productivity and quality from their crops and livestock. This includes the use of detrimental pesticides and fertilizers and poor maintenance of farm equipment among others.
In Laghman Province, Afghanistan, Church World Service-Pakistan/Afghanistan has incorporated sustainable models of food security into its development initiatives with farmers, widow-headed households, and agrarian community members. Over a span of four years, various food security interventions help vulnerable families to increase their food supplies. Among these interventions are the distribution of certified wheat seeds to farmers, farm animals to widow-headed households, and the development of nurseries and orchards. The capacity of project participants is also enhanced through training and the availability of veterinary services.
The project participants are optimistic and actively support the need to reinvest production and resources into the community so that more families can benefit. "Through the improved variety of wheat seeds I had enough wheat production for my family," shared Mohmmad Tahir, a farmer from Safokhel Village, who initially contributed 50% of the subsidized cost of the seeds so that additional farmers could benefit for the next season.
Women-headed households received training and the distribution of poultry kits or goats and their offspring. "My son, Shah Hussain, sells the eggs in Surkhan Bazar. He sells them for 10 afghani (USD 0.2)," said Bibi Hoora. The provision of health treatment for the animals through the availability of basic veterinary workers and services helps ensure that animals are treated, dewormed, and vaccinated. Breeding services ensure that other families will receive the quality breed offspring.
The project also includes a longer-term investment in the establishment of orchards and nurseries. To ensure expanded development, farmers with nurseries provide tree saplings to the project equal to 50% of what they received. These tree saplings are used by other famers to develop orchards. "My economic conditions will improve because of selling the fruit, and there will be orchards in the area," says Mahuddin, a farmer who received apricot and orange saplings.
Overall, the project's success stems from the comprehensive approach to sustainable livelihoods. The impact is multiplied by community ownership and paying back into the resource pool so that additional families can benefit. While some of the benefits are seen immediately by families, the longer-term benefits will include greater food security for the community at-large.
On a global scale, the principles of food security and sustainable food systems require more work and long-term interventions which address underlying factors including social, economic, and environmental considerations. The models of sustainable food systems emphasize cooperation and coordination, specifically between governments and farmers and farmers and buyers as key stakeholders in policy-making and agricultural practice.
Finally, the way ahead also requires concrete farm policy to help sustainable food production that protects the environment, promotes animal welfare, and maintains food security. The farm policy must rightly focus on small-scale local farmers and rural communities. This also entails a revised system of trade where foods whose environmental benefit must be prioritized to help secure food systems that are beneficial and nutritious for human and animal health as well as future generations.
---
[2] Open World: / The Truth About Globalization, Page 214 – Food For Thought