World AIDS Day – 'Getting to Zero'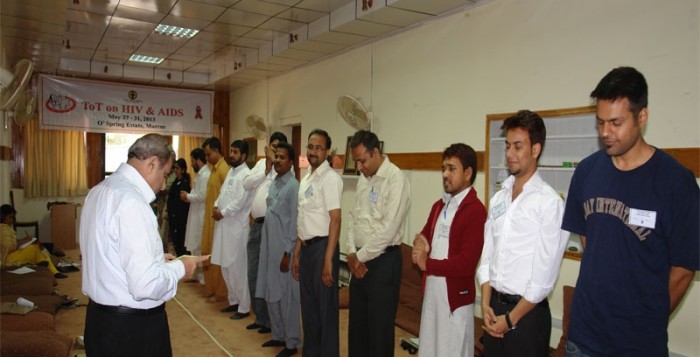 December 1 each year marks World AIDS Day and is commemorated all over the world. World AIDS Day was the first ever global health day and the first one was marked in December in 1988. Ever since then, people around the world use this day as an opportunity to unite in the fight against HIV, create awareness, show their support toward people living with HIV, and pay their respect to the many people who have lost their battle. The theme for Word AIDS Day from 2011-2015 is 'Getting to Zero.' The theme is used all year to advocate and remind governments and political leaders for the need to eliminate new infections in HIV.
Pakistan aims to halt and reverse the spread of HIV by 2015 according to the Millennium Development Goal – 6. For many years, the total number of HIV infected persons remains stagnant at approximately 90,000. This has been disputed by many as grossly underestimated and inaccurate. However, recently the disclosure of 800 newly identified cases in Sindh alone by the Sindh AIDS Control Program makes the MDG-6 seem a bit far stretched goal for Pakistan to achieve.
One landmark achieved this year in Sindh, however, must not be overshadowed. The Sindh Assembly in September this year unanimously passed the Sindh HIV and AIDS Control, Treatment, and Protection Bill (2013) which envisages the establishment of a commission for the prevention, control, care, support, and treatment of HIV in the province.[1]
The Sindh HIV and AIDS Control, Treatment and Protection Bill (2013) provides protection against discrimination on the basis of any person's HIV status in healthcare services, education, employment, or provision of utilities or services and accommodation for lease, rent, hire, or purchase. The bill states that any person who deliberately exposes others to the risk of transmission by not disclosing his HIV/AIDS status would be liable to be punished with imprisonment up to five years and a fine which may be up to Rs 200,000 (USD 2,000). The bill provides that any health facility negligent of transmitting HIV/AIDS through exposure to contaminated biological material will be liable with imprisonment of not less than two years and a fine up to Rs 10,000 (USD 100).[2]
This is a highly appreciative step taken by the Sindh Assembly; it would be greatly encouraged for this bill to be adopted by other provincial assemblies and also by the National Assembly. The passage of the bill alone does not guarantee any change in the situation; however, the true test of the bill will be how it is practically applied.