Women – The Visible Force of Resilience: Spirit of Survival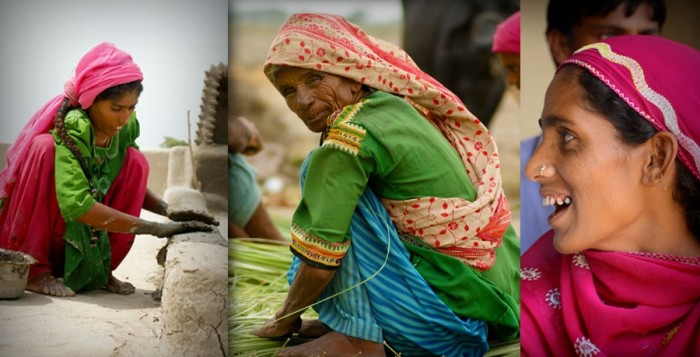 "My husband shouted that it's a flood; take some of the important belongings and valuables then evacuate the house as we are moving to higher place," shared Benazir, 30 years old, a flood survivor from Thatta District, Sindh Province. Benazir is one among millions of women who stood side-by-side their families and made extraordinary efforts to survive the worst disaster in Pakistan's history, the 2010 floods. They demonstrate the strength to minimize the loss both economical and human. However, in many developing countries which are prone to disaster, women's efforts are often overshadowed by the resilience associated with men. The reality, however, indicates that women play a significant role in survival following a disaster as well as implementing disaster risk reduction practices in their communities.
Biasness in gender is a major factor of social vulnerability during disaster, relief, recovery, and rehabilitation phases in developing countries. There have been many efforts to mainstream gender equality in every aspect of social life. Particularly in disaster risk reduction (DRR) special attention is given to female contribution before, after, and during disaster. Hyogo Framework for Action and Gender states, "Gender perspective should be integrated into all disaster risk management policies, plans and decision-making process, including those related to risk assessment early warning, information management, and education training". According to UNISDR, various reports and survey show that females of all ages contributed equally to cope with disaster whether it is DRR planning or practical implementation.
Whenever someone talks about DRR, the first reference is toward improving infrastructure to be more resilient and stronger. However, it is equally important to empower individuals with lifesaving skills and ways to manage risk. In Pakistan, the government and development sectors work to promote DRR activities through training and different campaigns following years of devastating disasters. In different regions the social and cultural constraints inhibit the full and equal participation of women despite the significant role they have in implementing lifesaving practices. In addition to a lack of equal participation in seminars, workshops, orientations, and trainings that aim to develop a disaster resilient society, the lack of follow-up and coordination among responsible stakeholders results in failure to achieve the desired objectives at the ground level.
Initial efforts of some of the early promoters of DRR included an approach that tried to respect local culture by providing training to men and requested them to further replicate the learning and practices within their family, specifically to the women. Unfortunately, this method rarely resulted in the desired results. UNISDR, UNESCO, UNDP, and other international organizations work with National Disaster Management Authorities to promote DRR awareness with special focus on females. Gender mainstreaming in disaster risk reduction helps to bring survival struggles of women in front of entire world and simultaneously encourages initiatives that will more efficiently protect families and their assets during future disasters.
Church World Service-Pakistan/Afghanistan (CWS-P/A) contributes toward empowering communities and raising awareness about DRR through various activities. Women's participation plays a significant role when it comes to the implementation of DRR at the community and household levels. A recent example is the housing project in Thatta, Sindh where CWS-P/A is providing 600 houses to flood-affected families. Beside the provision of disaster resilient houses, a series of trainings are included which sensitize the communities about health and hygiene, leadership role, quality and accountability (specifically the complaints mechanism), and disaster risk reduction. Following training, the communities now demonstrate a greater ability and inclination toward community leadership and remarkable changes in attitude and practice are seen, DRR included.
Soon Benazir will receive her house, and she already participated in training sessions by CWS-P/A. She shares, "If we have floods again, then I will be ready for that. I learned how to minimize the risk and damages. If I ever have to evacuate my house, then I will be putting everything five feet above the floor and will take only the most valuable things with me."
Samee, aged 70, is another woman who will also receive a new home. She contributed toward making rooftop material out of grass which will work as insulation to decrease the intensity of the sun's heat during the summer and also in case of a situation during which the roof collapses, the risk of death or injury will drastically decrease as compared to harder materials.
Another beneficiary of the same project, Hijani, and her daughter decided to construct a small boundary wall around their newly handed over house which will eventually protect it from floodwater up to a couple of feet deep.
Many of the women who participated in trainings are also actively involved in increasing DRR awareness in their community. Some of them are promoting health and hygiene to fight against basic health issues. Effective leadership role training empowered them to be more organized during disaster and to manage risk, evacuation, and rehabilitation situations effectively in addition to overall community organization during non-emergency times.
Efforts of these women of the housing project in Thatta are only a few of the many great efforts made by women in Pakistan. The untold stories of about women and girls who contributed to saving lives and minimizing risks should never be underestimated. Benazir, Hijani, and Samee are role models and examples of leadership, strength, and ownership. Aside from surviving the county's largest disaster, they are rebuilding their lives from scratch with safer future planning and encouraging others to adopt the same. To the many organizations and government agencies that work to promote women's roles in DRR, now is the time to share successes on a broader platform so that greater encouragement reaches the wider humanitarian community to reach out to women. The impact is already great, but more needs to be done. As Desmon Tutu (1984 Nobel Peace Prize winner) said, "If we are going to see real development in the world, then our best investment is women".