Vaccination and De-worming Campaign in Sujawal, Sindh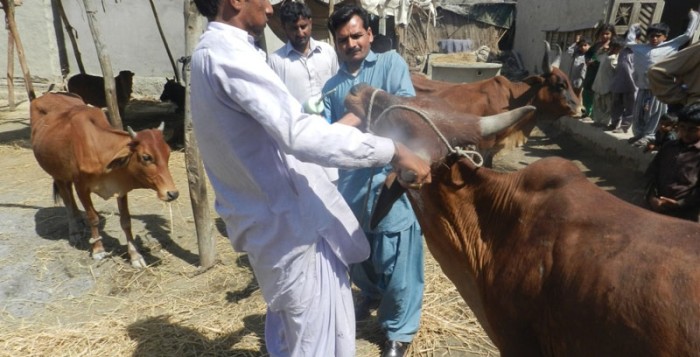 "We have never before vaccinated or de-wormed our animals," stated Begi from Doso Himayati, a village in Sajawal District. While livestock act as a major source of livelihood and food security within the district, widespread poverty and unawareness regarding livestock management practices have hindered proper animal care. In order to meet this need, Church World Service – Pakistan/Afghanistan (CWS-P/A) initiated a vaccination and de-worming campaign in Sujawal from April 11-25, 2014 as part of a livestock management project funded by the United Methodist Committee on Relief (UMCOR).
A total of 2,237 animals were de-wormed and received treatment to prevent foot and mouth disease through this campaign; including 1,740 large animals and 433 small animals.
Mohammad of Usman Mehando Village stated, "Before the vaccination and de-worming campaign our animals were very weak, mainly due to liver fluke disease. After this campaign our livestock seem in good condition. I do not have enough money to buy vaccines for my animals so I am thankful to have gotten this service for free." It is anticipated that by interlinking project activities in capacity development on vaccination and de-worming and the practical vaccination and de-worming campaign, community members will be able to clearly see the benefits of moving forward with proper and timely livestock care. Community members are already noticing an improvement in the health, activity, and milk production of their animals. This in turn should lead to better nutrition for their families and a potential increase in income. With this additional income, they can ensure that their animals continue to receive vaccinations in the future.
The targeted communities, already equipped with increased knowledge on livestock management techniques through trainings conducted earlier in the project, now understand the importance of caring for their livestock and the benefits that this can give them.