Universal Children's Day: Education for Afghan Refugee Children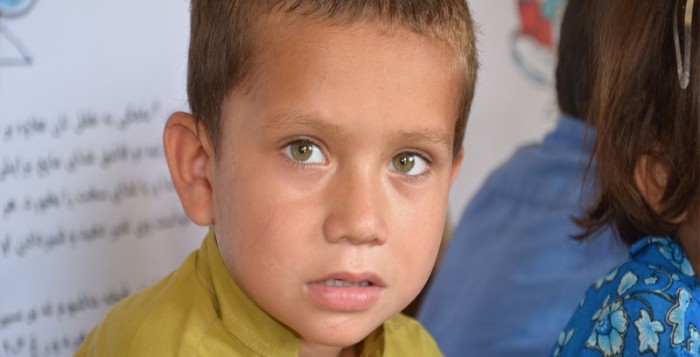 Afghan refugees in Pakistan are known to be one of the largest refugee communities in the world. UN records for 2013 show that around 1.6 million displaced Afghans live in Pakistan.[1] The Government of Pakistan estimates that there are an estimated one million unregistered refugees.[2] Life for the majority of Afghan refugees remains difficult and uncertain in Pakistan, and sources also report the hardships they face in finding employment. The UNHCR figures state that less than one quarter of Afghan refugees are employed and almost three quarters of children do not attend school. [3] The economic status of Afghan refugees and the education they are able to attain or provide to their children in the host country are correlated. At the same time, education previously gained in Afghanistan is often not recognized in Pakistan. This results in employment difficulties and lower economic conditions for refugee families.
In Pakistan, a large number of underprivileged Afghan refugees are deprived of education. Beside economic status, there are many other factors that contribute toward the inability of Afghan refugees to send their children to school. Many Afghan refugee settlements lack schools, learning centers, and resources. Issues of safety and security as well as the added cost of transportation also prevent families from sending their children to schools in other areas. More specifically owing to legal barriers, unregistered Afghan families are unable to enroll their children in government administered schools.
While access to education for Afghan refugees in Pakistan is required, efforts are also needed to ensure that other key requirements of Afghan children are met through child-friendly education interventions, social support systems at schools, and emphasis on quality health services, food security, and nutrition. Furthermore, attention should be given to ensure Afghan children who repatriate to their home country continue to access education and other basic rights. The following story of one girl who lived as a refugee in Pakistan reflects not only the need to address education for refugees but also the opportunities and better future these children can have when their educational rights are fulfilled.
"This is our homeland and country so we came back," said Tajala. At the time of the interview, Tajala was in class six at a school located in Jalalabad.[4] She grew up in Pakistan and was home-schooled in Peshawar District. The eight member family moved back nearly a year ago to Afghanistan after the tragic death of her father. Tajala's family members include an elderly mother, five brothers, and a sister.
"Only one brother goes to school and the others are working. I was not allowed to go to school. My elder brother said that my mother is old and she is unable to manage household work and I should work at home," explained Tajala.
In Afghanistan, Church World Service-Pakistan/Afghanistan's (CWS-P/A) education initiatves, which are financially supported by Presbyterian World Service and Development (PWS&D) and Act for Peace, include enhancing enrollment rates through awareness-raising activities. Success of the approach is due to the active involvement of the shura (religious council) and parent-teacher committees (PTC).
Said Waseem, an active member of the PTC, said, "We are going to houses to talk to parents to send their daughters to school. Our first option is to send letters to them and if there is no response then we opt to visit the homes. We have also started to interact with the local mosque to spread messages on the importance of education." In response to the efforts of bringing girls back to school and increasing enrollment of female students, he said, "Tajala's presence in school serves as an example of our success."
Tajala's brother shared that she did not have the relevant schooling documents from Pakistan; however, the PTC approached the directorate of education in Afghanistan to grant approval for her to enroll back into school.
Said Waseem said, "Tajala passed the entry examination to be in class six."
While Tajala's success and the efforts extended by the PTC serve as an example to reintegrate Afghan students and enhance the enrollment of girls in schools, her story also reflects the difficulty of accessing education in Pakistan and the challenges of obtaining an education once young Afghan refugees return to their home country. Tajala did not attend formal school in Pakistan, but she was fortunate that through home-schooling she received education. For many Afghan refugee children, home-schooling is not an option due to illiteracy and lack of education of other family members. Returning to Afghanistan, therefore, for many Afghan children means that they do not attend school. Like Tajala's brother initially felt, it is preferred for girls to engage in housework and related responsibilities. For boys, the need to support the family financially often takes precedence over formal education. Issues related to the quality of education in Afghanistan, security at schools, and poverty also discourage parents from sending their children to school even after returning to Afghanistan.
All children have the right to education. Denying this right, particularly to poor families or marginalized groups, often means continued or deepening poverty for the family, issues of child labor and exploitation, early marriages, and an inability for children to grow into adults who can contribute to the development and leadership of their country. As the world celebrates Universal Children's Day, it is important to highlight the needs for Afghan refugee children and in general for improved access to quality education for children, both in Pakistan and Afghanistan. While increasing awareness on the importance of education is an essential step, the way forward also requires investment in infrastructure and school resources, capacity building of teachers and improved quality of education, and addressing the root causes of poverty and insecurity.
---