Transforming Classrooms and Promoting Development in Afghanistan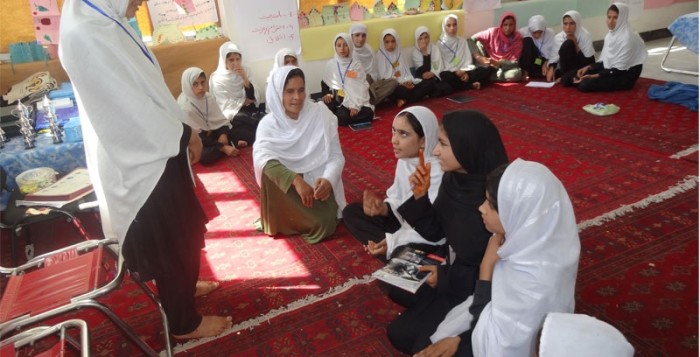 Since 2009, CWS-P/A has worked to improve the quality of and access to education in Laghman Province, Afghanistan with specific emphasis on girls' education. Enhancing teachers' capacity is one aspect of the initiative. During 2011, CWS-P/A's team under the transformational learning and development project facilitated training on pedagogical skills, an initiative which is also successful in Pakistan. This methodology for teaching promotes student interaction with the learning environment.
In April 2012, CWS-P/A organized the first training camp for twenty-five female students from grades four through six and five female teachers in Laghman. The training focused on improving the skills related to effective interaction between the teacher and the students. As a new experience, an interactive classroom produces fear or low confidence in some teachers and students. Therefore, confidence building activities and encouragement toward freedom of expression were an integral part of the training. A message that was reinforced throughout the camp is that learning should be hands on and fun. Role plays, creative writing, storytelling techniques, and games were some of the relevant examples used during the camp.
As with its other capacity building initiatives, CWS-P/A takes training events as opportunities to raise awareness of key issues that are not regularly part of school curriculum. The camp included sessions on health and hygiene, child rights, peace education, first-aid, and types of disasters and how to react during emergencies. As a way to reinforce the learning, the participants developed role plays and speeches that they presented to the group.
The participating teachers and students appreciated the camp. The positive response gives hope that when they return to their classrooms, they will be examples for their fellow teachers and students. Successful implementation in one classroom will encourage other teachers to adopt this interactive teaching methodology. The presence of the Director of Education and the presentation of certificates at the closing ceremony of the camp further encouraged the participants to make efforts to incorporate their learning experience into their classrooms.
Additional trainings are being planned to build the capacities of more teachers and students in Afghanistan. The continued investment to improve education will help to enhance cognitive skills and development in children. Combining this capacity building initiative with other activities such as parent-teacher committees, awareness campaigns on the importance of girls' education with community members, and promoting the involvement of community leaders in the education process will help to bring continued change in Laghman. As more girls and boys gain access to quality education, they will have access to more opportunities in the future, and, thus, social and economic development will also benefit manifold in the longer term.